Can it really be seven years since Katy Perry burst onto the Official Singles Chart with I Kissed A Girl, the anthem for any secret girl sniggers and cherry Chapstick enthusiasts the world over?
Well, yes, it certainly is. To mark the occasion, we look at the stats and fact behind Katy Perry's lip-smacking debut.
It's I Kissed A Girl… in numbers.
3
The number of weeks I Kissed A Girl had been at Number 1 today in 2008. The track would go on to spend another two at the top. Two other songs would spend five weeks at Number 1 in 2008, they were Basshunter's Now You're Gone and Duffy's Mercy.
670,500
I Kissed A Girl has been downloaded over 670,500 times.
28,340
Remember CD singles? Sure you do. Round and plastic, came with pretty cases. Useful as coasters. Anyway, I Kissed A Girl has sold over 28,300 of those.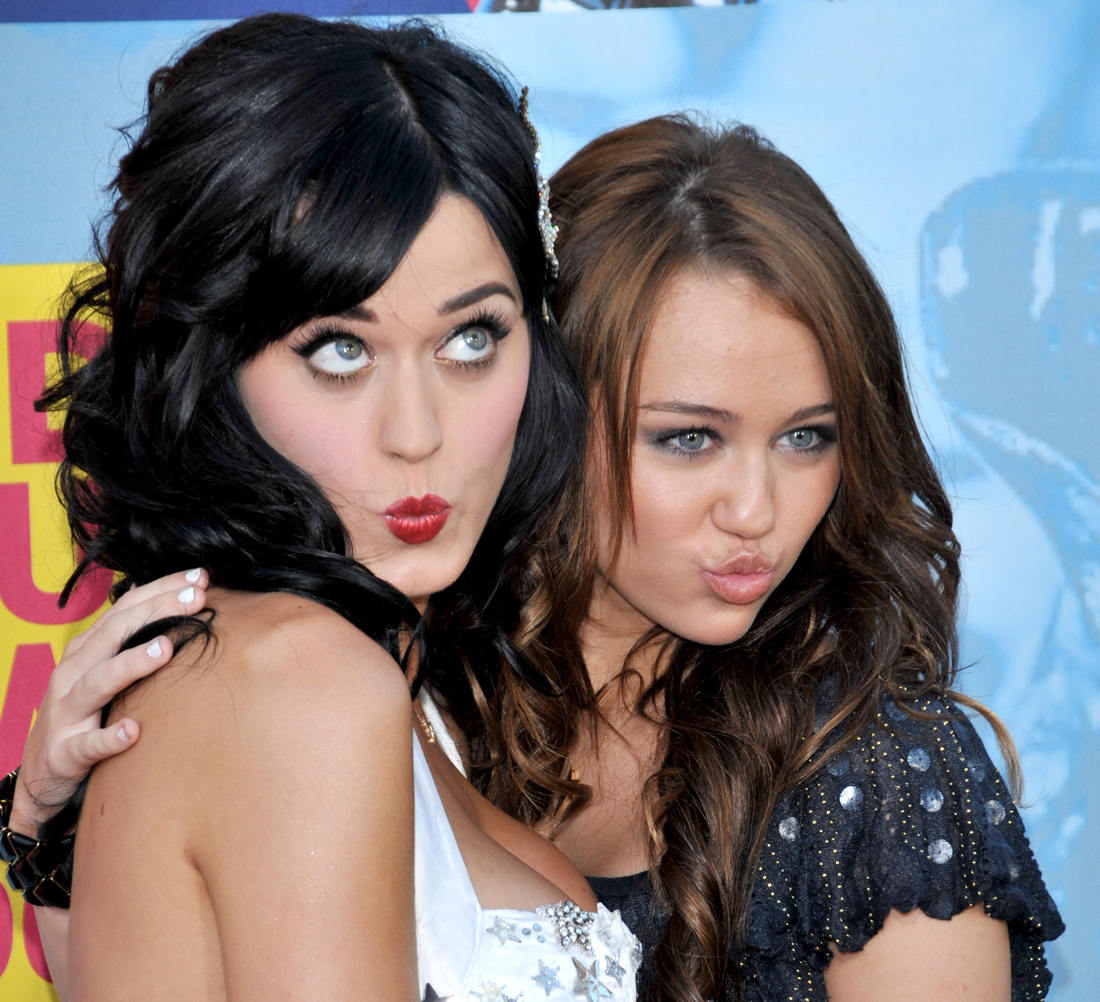 Katy Perry puckers up with Miley Cyrus at the 2008 MTV VMAs. Image: Stewart Cook/REX
4
I Kissed A Girl started off an impressive chart record for our Katy. She has had four chart-toppers in total: California Gurls ft. Snoop Dogg (2010), Part of Me (2012) and Roar (2013) complete the quartet. 4 is also where I Kissed A Girl entered the Official Singles Chart the week before it went to Number 1.
10
After I Kissed A Girl, Katy's gone on to have 10 more Top 10 hits. Her most recent was Dark Horse ft. Juicy J in early 2014.
2,328,900
Katy's very first Number 1 has been streamed over 2.3 million times since we started counting back in 2014.
45,930
The number of copies Katy sold to reach Number 1 in her first week at the top. Her highest weekly sales were actually during her fifth and final week at Number 1 – 46,200.
4 (again)
There are four credited writers on I Kissed A Girl. Katy, of course, then Max Martin, Lukasz Gottwald and another chart star, Cathy Dennis, who wrote chart-toppers like Kylie's Can't Get You Out of my Head and Britney's Toxic.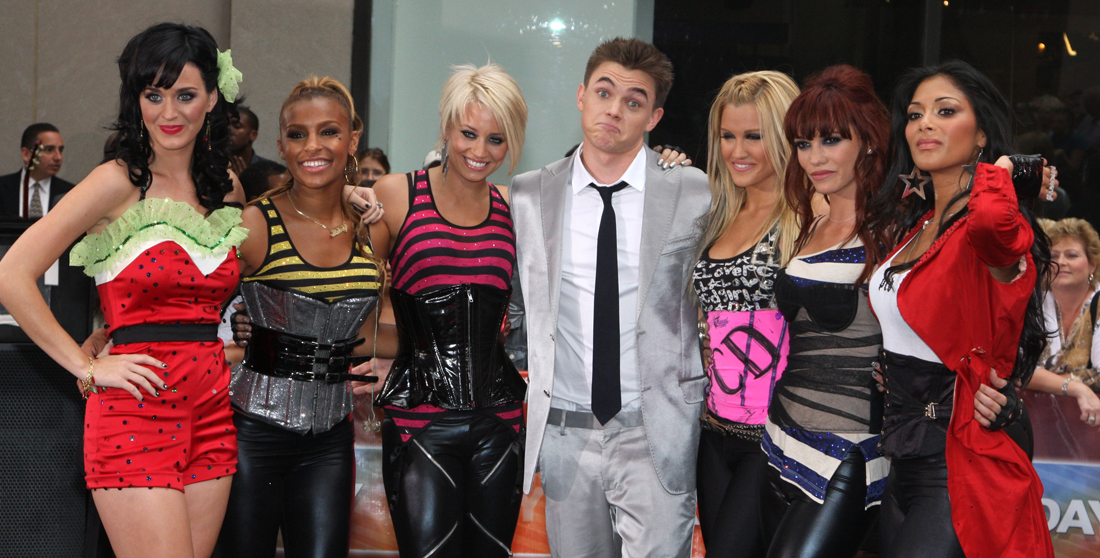 In what scientists from future generations will one day call the most 2008 photograph ever taken, Katy Perry lines up with Jesse McCartney and Pussycat Dolls for the Today Show. Scherzo's pout is on point as ever. Image: REX Shutterstock
10,423
The magic number of sales Katy beat Kid Rock's All Summer Long by when she nabbed the Number 1 spot from him in August 2008
11
The number of weeks I Kissed A Girl spent in the Top 10.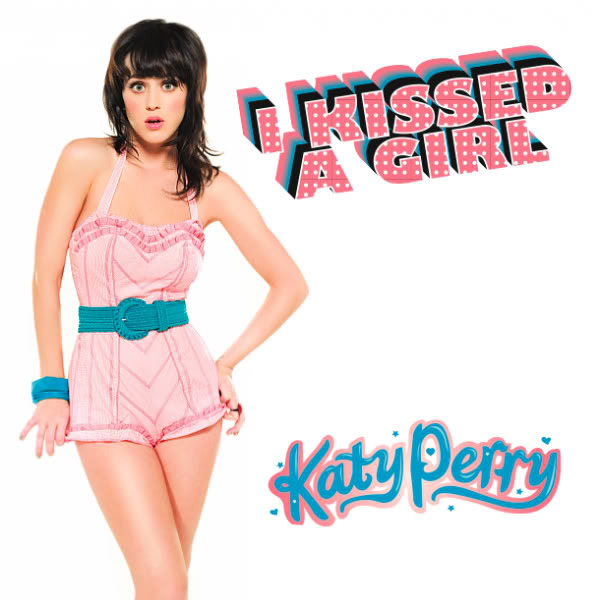 22
After finally dropping out of the Top 40 in December 2008, I Kissed A Girl made a huge return just two weeks later, going back in at Number 22. Why? Well, no office party was even worth going to unless it had everyone from Accounts doing expert choreography while I Kissed A Girl blared out the speakers.
2
The number of million-sellers currently in Katy's portfolio. Firework was first, even though it only reached Number 4, and Roar made it a twosome in January this year.
19
Katy's cherry Chapsticked lips have smacked their way to Number 1 in 19 countries worldwide.
722,140
Putting together all the downloads, the physical sales and the streaming figures, I Kissed A Girl has notched up a chart sales tally of over 722,000. Not bad!
The rest of the Top 10 that week
Click on the image to see the full Top 100 from this week in 2008: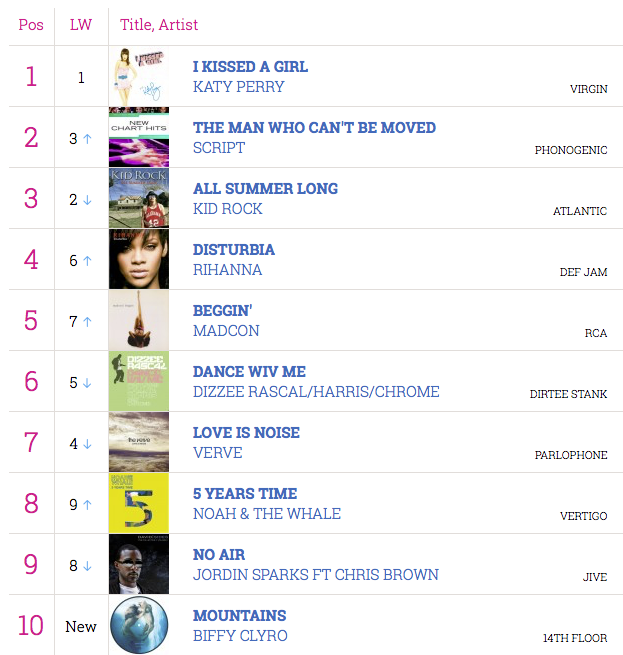 ChartFacts
Biffy Clyro's highest new entry at Number 10, Mountains, was their first Top 10. IT became their highest chart peak when it climbed to Number 5. In 2010, they'd find renewed success when X Factor winner Matt Cardle covered Many Of Horror and took it to the Christmas Number 1.
The Man Who Can't Be Moved (2) was The Script's first Top 10 
Love Is Noise (7) was the last Top 10 hit for The Verve before they broke up.
This time last year…
It was another Number 1 for David Guetta, this time with Sam Martin and Lovers On The Sun. Plus there was a surprise new entry for Taylor Swift wit Shake It off and other big tracks from Wanklemut & Emma Louise and Union J.