The charts are no stranger to keeping things in the family. Kylie and Dannii, Beyonce and Solange, Ashlee and Jessica, Hilary and Haylie – there's always room for a little bit of friendly sibling rivalry. 
Daniel Bedingfield had already scored three chart-toppers of his own before his little sister Natasha came along to carry on the family tradition of chart domination. Her first single, called, erm, Single, had reached the Top 3 but it was follow-up These Words that gave Natasha something to brag about over Christmas dinner, going straight in at Number 1 and spending a second week at the top today in 2004.
These Words is a rare breed of pop song that is actually about writing a pop song. While it doesn't get quite as meta as Carly Simon classic You're So Vain, Natasha's tribute to trying to come up with the perfect love song successfully conveys the plight of the everyday songwriter. And you thought coming up with a Number 1 hit would be easy!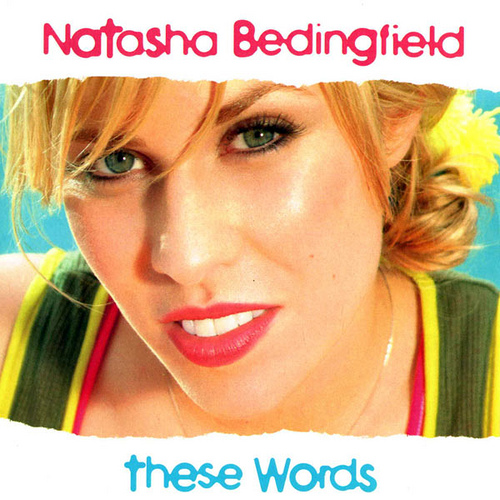 These Words was Natasha's only chart-topper, and five more Top 40 hits followed, racking up a total of five Top 10 singles in the UK, including Unwritten and the extremely un-subtle I Wanna Have Your Babies. Look at Natasha Bedingfield's complete Official Chart history. 
These Words has sold over 282,000 copies in the UK to be Natasha's top selling single. It spent two weeks at Number 1 before being knocked off by rapper Nelly with My Place/Flap Your Wings. It's held up surprisingly well in the streaming era with, 12 million plays logged since 2014. The song's parent album, Unwritten, was also Number 1 the same week and has sold one million copies in the UK.
Watch Natasha and bro Daniel perform Chaka Khan's classic Ain't Nobody at the 2005 BRIT Awards - because why the heck not, right? - below:
Elsewhere on the Official Singles Chart Top 40 this week in 2004, genuine one-hit wonders 3 Of A Kind had a late summer Number 1 hit with Babycakes, a 2-Step garage track with a highly suggestive video, dropping to Number 2.
New in at Number 3, a second Top 10 hit and an all-time personal best for girl group The 411. The follow-up to their debut hit On My Knees, the super-catchy Dumb had a starring role in a Sarah Jessica Parker commercial. Sadly, there'd only be one more hit for the quartet, Teardrops, which sampled trip-hoppers Portishead, and The 411 disbanded in 2005. Dumb shifted 116,000, including streams.
Meanwhile, Maroon 5 were enjoying their second Top 10 with the sickly sweet She Will Be Loved (4), and Sugababes landed their eighth Top tier hit with ballad Caught In A Moment (8) and 'Horny' DJ Mousse T. followed up his Top 3 hit Sex Bomb with Is It Cos I'm Cool (9).
Listen to the UK Top 40 from this week in 2001 on our streaming channels. Subscribe to our weekly Flashback playlist on Spotify, Deezer, Apple Music.
More 00s nostalgia! Remember these acts?