Back in the early '00s, one way of ensuring your single would be a hit was by getting heavy rotation on music video channels.
And if like us you spent your days flicking between MTV Hits, The Box, TMF and the like back in 2000, one video that was unavoidable was Madison Avenue's Don't Call Me Baby. It certainly did the trick though, as the track stormed to Number 1 on the Official Singles Chart precisely 16 years ago this week. 
Madison Avenue were a short-lived Australian duo comprising of writer/producer Andy Van Dorselaer and singer Cheyne Coates - she was the one wearing those skimpy outfits and delivering a sassy dance routine in said video.
Don't Call Me Baby charged to the top spot with opening-week sales of 93,794, knocking the previous week's Number 1 - Britney Spears' Oops! I Did It Again - down to second place. Here's how the rest of the Top 10 looked this week in 2000 (hello Sex Bomb) - and you can click on the image to see the full Top 100: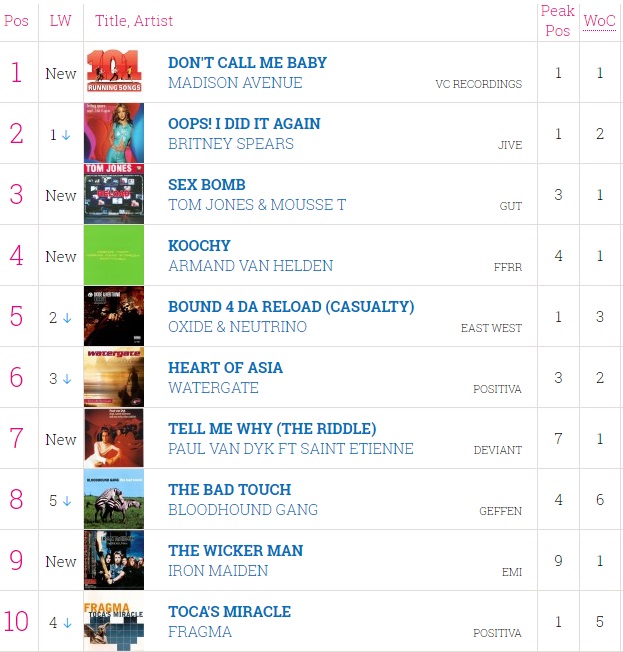 Don't Call Me Baby's lifetime chart sales stand at 365,605, and it seems some of you are still discovering it - last week 67 people downloaded the song in the UK alone. 
But what became of Madison Avenue? They followed up their Number 1 with Top 10 hit Who The Hell Are You?, but they called it quits shortly after their album, called The Polyester Embassy, stalled at Number 74. It was probably for the best, as they were never going to top that album title, were they?
Still, Madison Avenue leave a legacy of two solid pop songs, and this incredible Top Of The Pops performance (and this one where she dances around a glass of water, but let's not talk about that):