24-year-old Sannie Carlson – that's Whigfield to you and me – ended Wet Wet Wet's amazing residency at Number 1 and, with europop classic Saturday Night, broke a new chart record too.
Whigfield chats exclusively to OfficialCharts.com – yes, actual Sannie speaking to use – about her memories of being the dragon-slayer of pop and what she's been doing since. Whigfield, in her own words.
It's 20 years since Saturday Night went to Number 1
I can't believe it! I don't think about it much – it's kind of weird. It's like somebody else's life. I don't feel the real age when you see yourself in the mirror – I don't feel any older than 26!
It still seems like yesterday, really
I guess if I'd stopped everything and become a mum and stayed at home it would've been different, but when you live a fast life, the time seems to fly.
Saturday Night had been around since 1991 and nobody wanted to release it
Saturday Night was just part of a few demos that had been put down that year. We tried to release it in so many countries but nobody wanted to pick it up until this very very tiny record label in Valencia, Spain – these two guys they had a record store and they picked it up. One of the main DJs on one of the main radio stations in Spain, Los Cuarentas Principales (Spanish for ''Top 40', fact fans!) started playing it every Saturday night, and it just kind of went from there.
The "dee dee na na" in the intro was a mistake
People think it was meant on purpose, but it was actually a bad take. Larry, the producer, put it in the song because he thought it was catchy.
I still remember where I was when I heard Saturday Night was Number 1
I was driving round going from one gig to another in Portugal and my manager called me up and said" "You're going to receive a phone call from the BBC in five minutes so pick it up!"
At first I laughed off being Number 1
The next morning when I was flown into the UK and I got out of the plane, there were, like, 10 photographers and that was weird. Even when Saturday Night had been a big hit in Spain I could easily walk around. The guy I was dating at the time was a Spanish DJ and was much more famous than I was, so if we were in a restaurant people would come up and ask for his autograph and wouldn't even look at me! So that was pretty funny.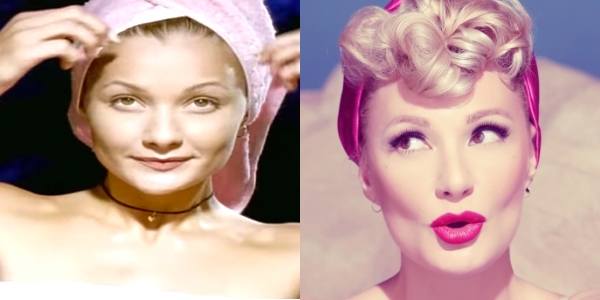 Sannie in that iconic pink towel in the video for Saturday Night (L) and as she is now, looking pretty amazing!
I knocked Wet Wet Wet's Love Is All Around off Number 1 after 15 weeks
I made them dry, dry, dry! I remember an interview they did after and they said "Oh actually we're happy she came along, we're tired of being Number 1" and I was like yeah, right whatever, haha!
I was Number 1 for a month before Take That's Sure knocked me off
Oh, I thought "good for them". I remember I did Top Of The Pops and Take That were standing right in front of me on the stage and Robbie came over and said hi and we were hanging out in the rooms waiting before we went to go on – they were quite nice. In fact, I remember Jason Orange trying to hit on one of my dancers!
I was the first female solo artist to debut at the top of the Official Singles Chart
I went into the Guinness Book of Records. My grandmother used to cut bits out of newspapers and she couldn't believe it, she was so proud.
The Saturday Night dance wasn't my idea
We still don't know who was the first person to come up with it. We've been contacted by several people who claim it was them, but the story we think is true is that a gym instructor would do it on the beach in the summer and then tourists on the beach would just copy him and take it round the clubs – that's how it actually went around.
I remember I did some promotion in this place north of Madrid and when I was doing the track saw everybody doing this thing and they all jumped at the same time… I hadn't even known about the dance until then.
I never actually did the dance myself!
I still remember the dance, but I didn't do it. I thought it was kind of nice that it was just the people doing it. I did a photo session for a magazine and they MADE me do it. I remember the session because the guy who did my makeup not only had horrible breath, he did the worst makeup I have ever had slapped on my face. The whole thing was just so cheesy.
The Macarena was very similar to the Saturday Night dance
They even got Bill Clinton doing it! But that was because the Macarena (a Number 2 hit for Spanish duo Los Del Rio in 1996) did well in the States – Saturday Night didn't get anywhere in the States. We were signed to a small country label but that was it.
Saturday Night has sold over a million copies in the UK
Yeah, 1.17 million copies! And 17,000 people bought it in 2013 alone, which is pretty good! I guess it's still selling because it's a unique song, so different from anything else out there. Should I do a remix or re-release it? No, it's such a hard song to redo that I wouldn't do a remix, because it might end up worse and, I think I'd rather do a brand new hit.
I have new music on the way
It's pretty good. It's not bubblegum pop, more EDM. I'm working with some guys in the UK and I got together with Planet Funk, and I'm putting down some ideas for some good old house music.
And what did the rest of the Top 5 look like as Whigfield took the throne of the Official Singles Chart?
2: Wet Wet Wet – Love Is All Around
After 15 weeks, the love finally ran out for the Scottish foursome's million-selling theme tune from Four Weddings And A Funeral. The band actually deleted the single, meaning once all copies in the shops had run out, there'd be no more. Read the full story of Wet Wet Wet's lengthy summer reign at Number 1.
3: Luther Vandross & Mariah Carey – Endless Love
A seventh Top 10 hit for Mariah, and a second for Luther, Endless Love was a cover of another movie theme tune, from the film of the same name. The song was originally recorded by legends Lionel Richie and Diana Ross, who took it to Number 7 in 1981. Mariah and Luther's version fared better, of course, peaking right here at Number 3 and selling 250,000 copies.
4: Kylie Minogue – Confide In Me
After being chart-top-blocked by Wet Wet Wet the previous week, Kylie Minogue's first post-PWL single fell two places. It would be her last Top 10 hit for almost six years – when big comeback single Spinning Around did the job and hit Number 1 in 2000. It would be her first chart-topper in over a decade. Read the full story of Confide In Me's foiled attempt to knock Wet Wet Wet off Number 1.
5: Corona – The Rhythm Of The Night
Following a brand new entry last week, the Italian disco pop group Corona climbed four places with this joyous dance classic. It would eventually peak at Number 2, selling over 380,000 copies and giving the band the first of three Top 10 hits – Baby Baby and Try Me Out would follow in 1995.
The song was covered in Bastille's 2013 mashup Of The Night, which also featured Snap's 1993 Number 1 Rhythm Is A Dancer. Bastille's version also reached Number 2 and sold over 400,000 copies. Bastille's Of The Night has been streamed over 8 million times!
See the full Top 40 from today in 1994, including new entries from REM, Cyndi Lauper, M People and many more.
This time last year…
It was a brand new entry and a fourth Number 1 for Katy Perry, as Roar went straight in at the top of the Official Singles Chart, ending Ellie Goulding's impressive three-week tenure with Burn. See the full top 40 from this week in 2013, including new entries from You Me At Six, Neon Jungle, London Grammar and a return to the Top 40 for a 1987 Number 1 from Starship.