"Everyone seems to know the score – they've seen it all before." 😢
There have been plenty of football songs to make the Official Singles Chart, some even hitting Number 1, but only one of them has done the big one and made it past seven digits, giving it a place in the million sellers' club. And 20 years ago this week, that song began its journey, as Three Lions, went straight in at the top.
The Lightning Seeds' Ian Broudie had been approached by the Football Association to write an official theme for the European Championships which were, coincidentally, to be hosted in England that year. Ian said yes, but wanted to bring on board popular comedians David Baddiel and Frank Skinner, both football nuts who hosted the cult show Fantasy Football League.
When it comes to rousing football anthems, most songs were all about being all powerful and beating all rivals. Three Lions, however, took a different route. Named after the badge worn on England players' shirts, Three Lions spoke wistfully of England's proud but difficult history with the game – "30 years of hurt", for instance, referring to the gap since England's World Cup win – along with the hope that maybe this year they could turn it around, thanks to its unforgettable chant "Football's coming home".
"We decided to write it from the point of view of what it was like to be an England fan," said David Baddiel. "Previous songs were about triumph."
An inspired nation quickly got behind the track – in its first week, almost 100,000 copies flew off the shelves. And you really did buy singles off shelves in those days. England didn't win Euro '96, but Three Lions did manage two non-consecutive weeks at the top, bookending a five-week million-selling run by Fugess' Killing Me Softly.
Two years' later World Cup fever and and an England team who actually looked like they were in with a pretty good chance of winning meant there was fresh demand for the song. Baddiel, Skinner and Broudie reformed to re-record it as 3 Lions '98 and the revived version was an even bigger success, shifting 232,000 copies in its first week and spending three straight weeks at the top, denying fellow football anthem Vindaloo, by Fat Les, a shot at the top spot. The song has sold a total of 1.566 million copies in the UK.
As sure as the World Cup comes round every four years, so does the public turn once again to Three Lions – the song came back to the Top 40 in 2002, 2006, 2010 and 2014. In 2010, the original version even managed to out-peak an all-new rendition, which included Robbie Williams. Will it make a comeback for the Euro championships this year, or will we have to wait another couple of years for the next World Cup?
Oh, and while we're here, let's have a look at that Top 10 back in Three Lions' first week at Number 1. It was a bad day to be Gina G ☹. Click on the image to see the full Top 100.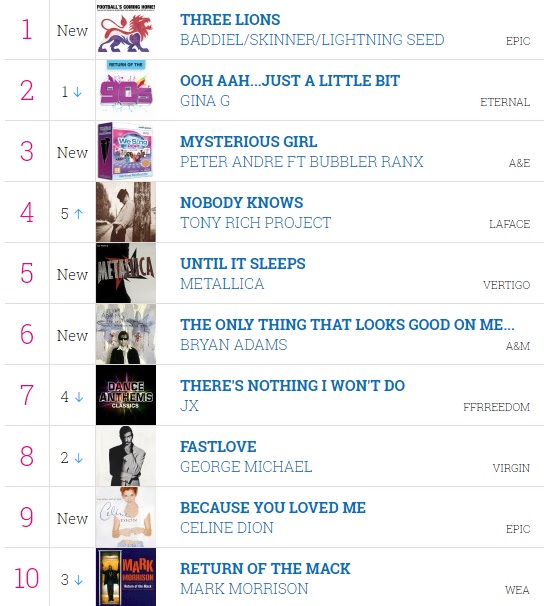 Image: Nils Jorgensen/REX