Starships really were meant to fly, and Nicki Minaj has successfully piloted her very own craft past a huge sales milestone. 
The Trinidad and Tobago-born rapper's hit single Starships  didn't take too many light years to reach the million-sellers' club, safely docking four years after its original release, OfficialCharts.com can reveal.
The track, which was then Nicki's highest chart peak back in 2012, was produced by RedOne and was one of her first forays into pop, switching out her more usual hip-hop beats and heading straight to the dance floor with a banging chorus.
Starships becomes only the 166th song to have sold over one million (not including streams) in UK chart history.
MORE: See all the UK's of million-selling singles
The track climbed steadily upon entering at Number 16, before hitting a wall and peaking at Number 2, held off the top spot by Gotye and Kimbra's Somebody I Used To Know which, coincidentally, is also a million-seller.
Click on the image below to see Starships' full UK chart run and all Nicki's hit singles and albums: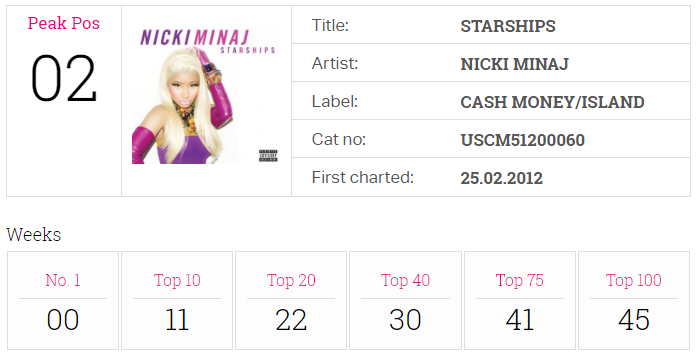 And let's just remind ourselves what a solid-gold floorfiller Starships is. let's go to the beach, each:
But that's not all, because OfficialCharts.com can also confirm another song has made its way into the million-sellers' elite.
Gerry and the Pacemakers' You'll Never Walk Alone has passed the million sales mark, becoming the 165th to do so, over 52 years after its original release. The track spent four weeks at Number 1 in 1963 and has been adopted as the anthem for Liverpool football club. The track has returned to the Top 40 twice, in 2010 and 2012, and a new version, which also featured Gerry Marsden, reached the top in 1985, released as a charity single for the Bradford City fire.
MORE: See the history of all versions of You'll Never Walk Alone that have charted in the UK