Nicki Minaj will release two new songs this week.
Dual singles Barbie Tingz and Chun-Li will be Nicki's first headline material since March 2017 and will be released this Thursday (April 12).
Nicki dons a period look for the cover art of Barbie Tingz, while takes on a more assertive aesthetic for Chun-Li, a track seemingly based on the video game character of the same name.
Rocking a jacket and thong emblazoned with 'FℲ' (we're guessing to represent Femme Fatale), Nicki fashions her hair like Chun-Li's, who was the first female character introduced into the Street Fighter series. A female in a male dominated world - we're here for the metaphor, Nicki.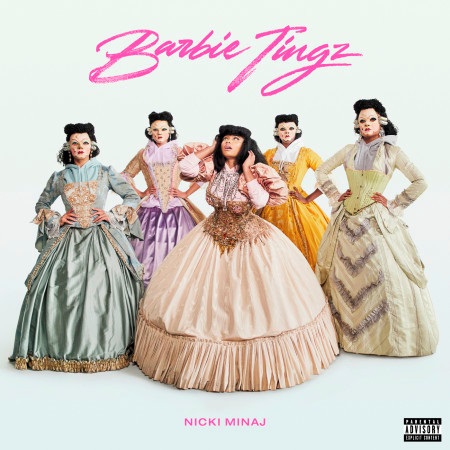 Nicki last released music as a lead artist over a year ago, dropping her tringle set of songs Changed It ft. Lil Wayne, Regret In Your Tears and No Frauds with Drake & Lil Wayne. Following a mixed reception and a backlash to the music video of the latter following the Westminster Bridge terror attack, Nicki has been quiet since, until now.
"This album is everything in my life coming full circle and me being truly, genuinely happy," she told New York Times in September. "It feels almost like a celebration. I am getting Nicki Minaj figured out with this album and I'm loving her."