"I thought I saw a man brought to life…" Instantly recognisable, desperately heartbreaking, and sounding as fresh as ever – it's time for Torn to come of age. 
Natalie Imbruglia was known to millions as Neighbours' wholesome Beth, but that was all about to change, thanks to the brilliant Torn, which entered the Official Singles Chart at Number 2 this week, 18 years ago – all the way back in 1997. Seriously.
Selling a whopping 135,000 copies in its first week, Torn was kept off the top spot by monster smash Barbie Girl, by the wacky Aqua (which had shifted an incredible 239,000 that week alone). Both tunes stayed in deadlock at Numbers 1 and 2 for three tense weeks with Natalie selling over 100,000 copies a week in her first month, and eventually were both shunted down by the BBC's all-star charity recording of Lou Reed's Perfect Day.
So who better to relive that heady time of combat pants, slouchy hoodies and trainers the size of Cadillacs than the lady herself?
We talked to Natalie Imbruglia in actual person about the song that made her a star.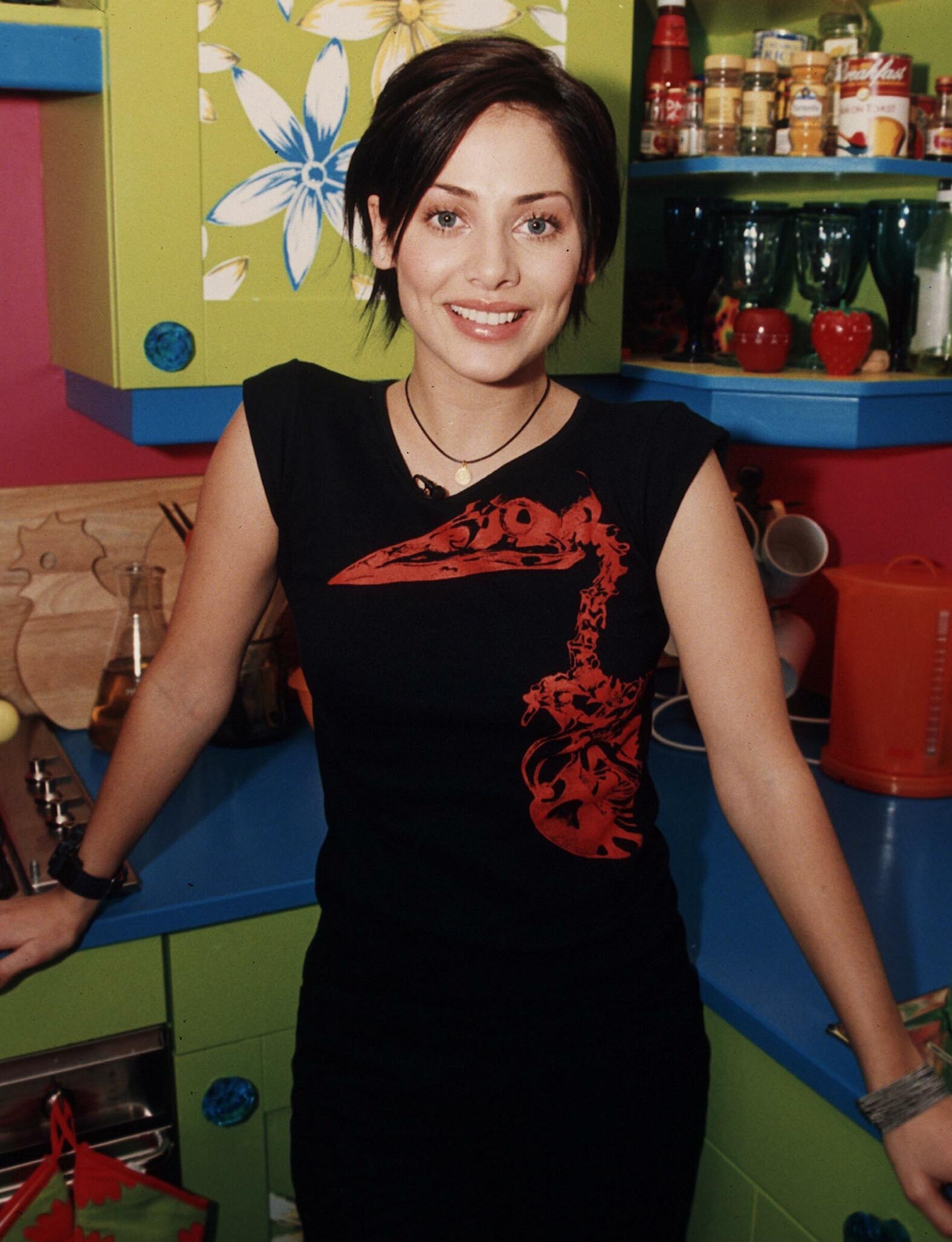 Natalie! Hello! Torn is 18 this week! How scary is that? We're #feelingold right now.
"18 years? Shit, that's crazy. It doesn't scare me – it's just that that song stopped time and people can't believe it's that old, but obviously it is. That's a teenager – that's someone's entire life!
"It was one of those well-produced tracks that hasn't aged badly. When that happens, you know it's because of a good producer."
Come on, admit it – you've got to be secretly sick of Torn now, right?
"I made a promise to myself I wasn't going to ever get bitter about that song. I knew I'd be singing it forever so I'd have to stay friends with it forever. And I have! The song has only bought joy and happiness to my life, and allowed me to be very generous to my family. It changed my life, so it's important that I always feel good about it.
"If you're performing it live and you secretly hate it, I think people can always tell. I know I hate it when I go to a concert and the artist doesn't play the songs I love. It's about the fans at the end of the day, isn't it?"
You're not wrong. And that iconic video is still amazing…
"It got parodied recently! When I saw it, I thought, amazing! They went to so much trouble and they got it so right. I messaged her saying, 'you do me so well', and she said, 'I'm so glad you like it!'. That's the sign of a hit – when you're getting parodied."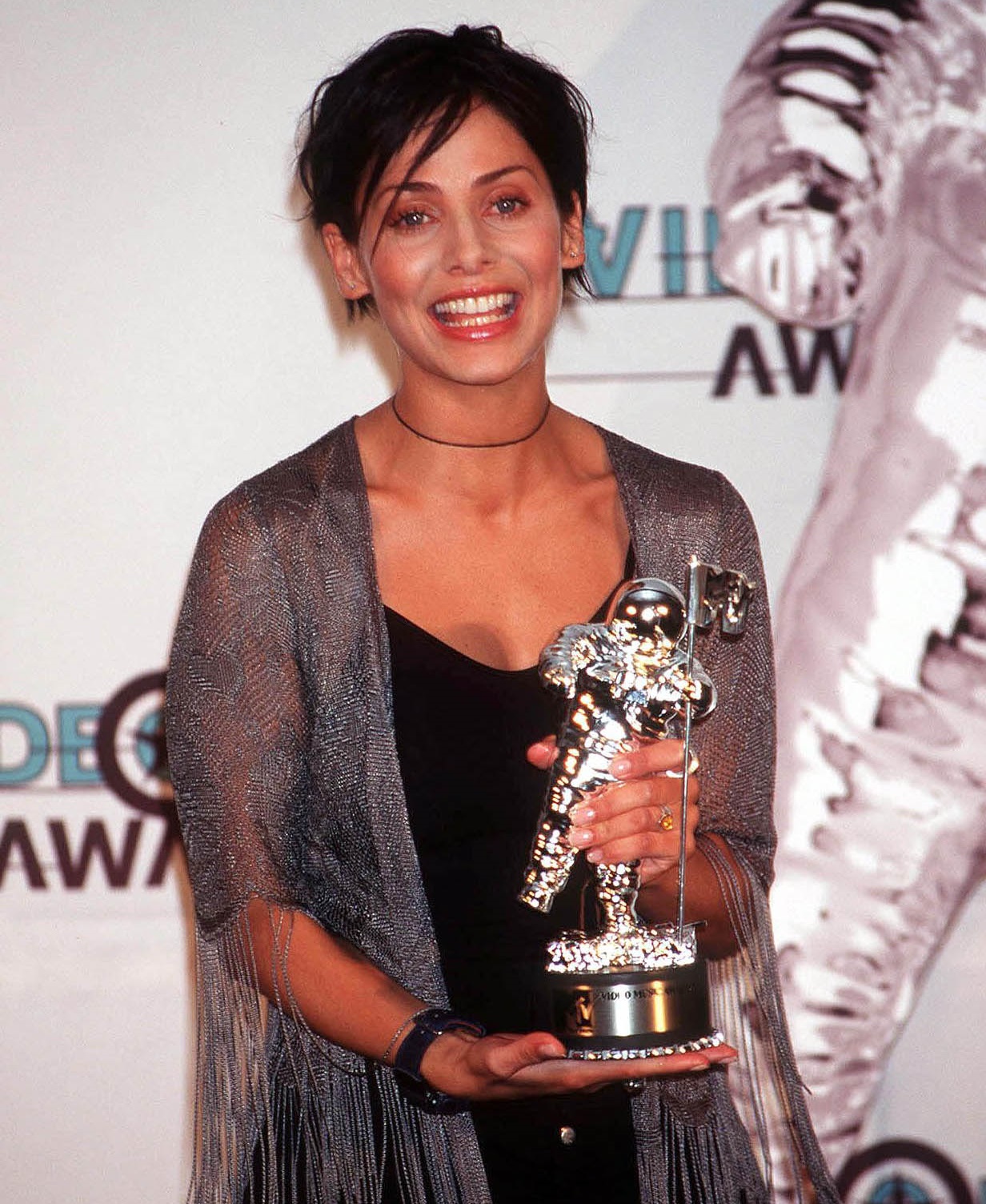 Torn was a pretty big deal globally – Natalie won Best New Artist at the MTV VMAs in 1998. (REX)
That debut album was a corker. How do you feel about Left In The Middle these days?
"It's funny because I recently listened to all my albums again, which I never ever do, but I was putting together the setlist for my new shows. It was so weird listening back to my first album. I mean who does that? It felt very weird.
"It was so sweet though, looking back at that young person – it was quite emotional really. The songs took me back to what was going on at that time, when everything was fresh and new and everything was ahead of me. I still love all the songs on it.
"I have to give Phil Thornalley a lot of credit for that album, but I was songwriting with so many random people in so many different countries. I can't believe how it all came together. Pigeons and Crumbs – I really love that one so much!"
Pigeons and Crumbs is a brilliant song ❤️. Now, why was the original cover of you on the beach with mirrors switched out for a close-up?
"Oh yes! It was a label decision – something about having my face bigger on the cover. I loved the first one we did with Rankin and all the mirrors. It was one of those strange, mystical label decisions I had no say in."
Is Torn the ultimate Natalie Imbruglia song?
"Whatever song you like is your favourite. Although I am defined by that song in many ways, I don't define myself by it. That Day is as much me as Torn is.
"Big Mistake was a big one for me as well – I loved doing the video for that. Jeez, I guess I've been really lucky, haven't I?"
So have we!
MORE: Natalie Imbruglia's Official Chart archive
When it comes to kicking off a pop career, Torn was a pretty perfect start – it's sold over a million copies, despite not getting to Number 1, spending 11 weeks in the Top 10.
Torn was actually a cover, originated by rock band Ednaswap and covered many times before Natalie got her hands on it
Torn was the first of 10 Top 40 hits for Natalie, which includes five Top 10s. Its follow-up Big Mistake also reached Number 2, and her most recent Top 10 was 2005's Shiver, which peaked at Number 8.
Torn's parent album, Natalie's debut Left Of The Middle, was the first of three Top 5s for her – 2005 album Counting Down The Days actually topped the Official Albums Chart in 2005.
MORE: Natalie Imbruglia – "Sometimes you just have to be bold and brave"
The Top 10 from this week in 1997
Click on the chart to see the full Top 100 – it's worth a look.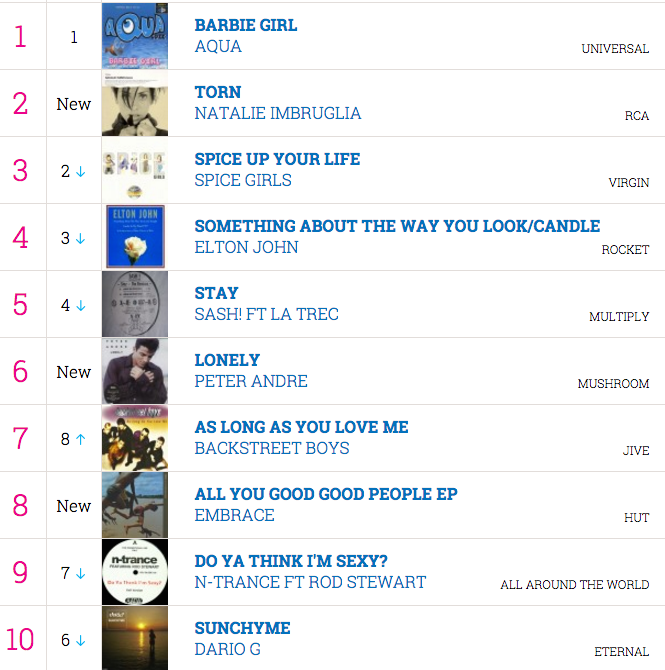 ChartFacts:
It was Aqua's second week at Number 1 – they'd knocked off the Spice Girls the week before. Barbie Girl is a million-seller.
Lonely (6) was Peter Andre's sixth Top 10 hit.
Torn (2) was co-written and produced by Phil Thornalley, who was responsible for Pixie Lott hits including Mama Do and Boys And Girls.
Further down the chart at Number 20, Stereophonics were scoring their first ever Top 20 hit, with Traffic. Their first of 11 Top 10s, The Bartender and the Thief, would follow in a year's time.
This time last year…
Get busy with the clicky to see the full Top 100: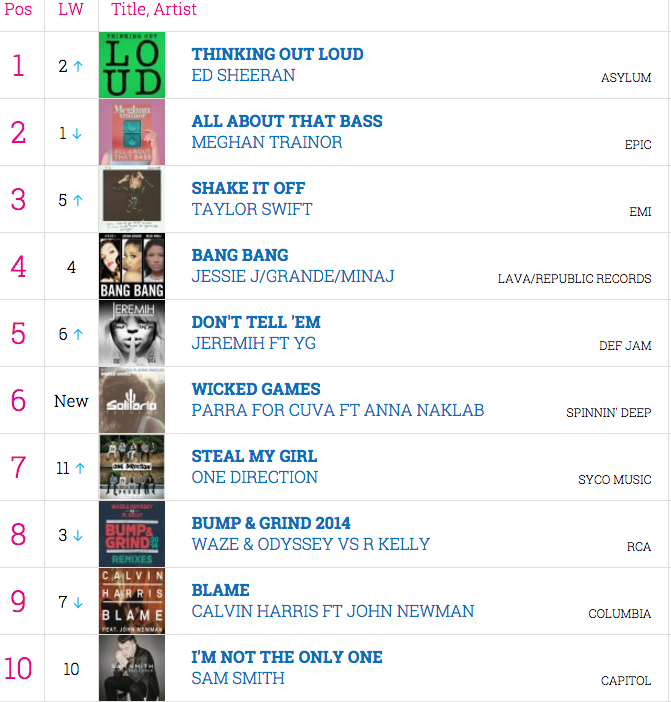 ChartFact:
Got a favourite song or artist who you reckon deserves some Flashback love? Let us know who you want to see featured by getting in touch on Facebook, Twitter, sliding into our comments below, or maybe drop us an email on editorial@officialcharts.com
Interview: Rob Copsey