Resentment over a signature hit is surprisingly common among musicians; but while bashing your best-known song can put you on dodgy ground with fans, sometimes the reasons are just.
Whether it's the changing social landscape, an image reinvention, or they're simply just plain fed up of it, below are 12 acts who have admitted to hating (at least) one of their big hits. 
Ariana Grande and Nicki Minaj - Bang Bang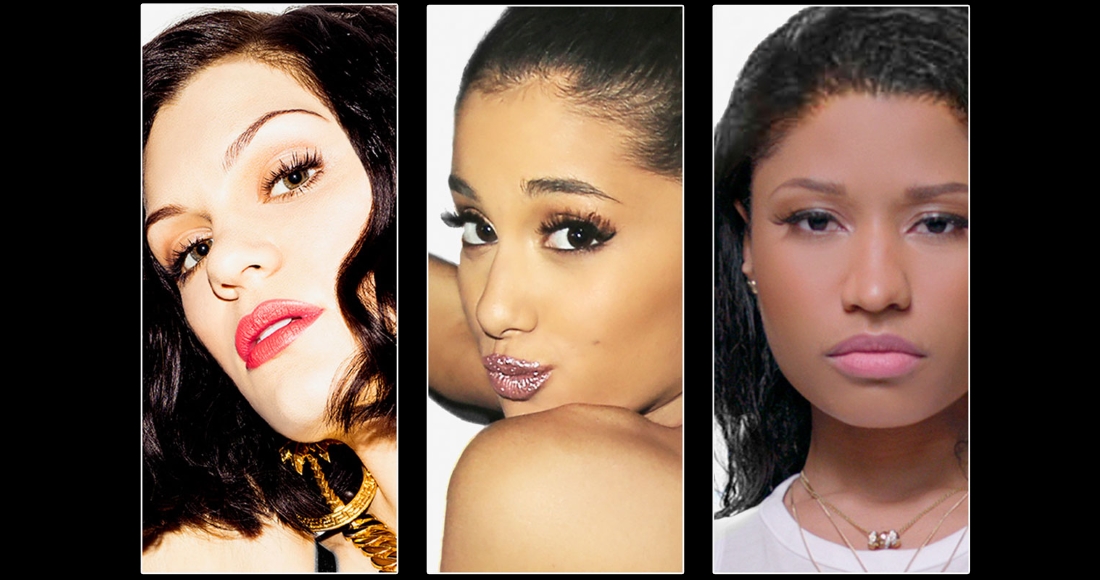 The Jessie J/Ariana/Nicki Minaj extravaganza was a global smash in 2014, but Ariana has since made her feelings about the song clear. During a Twitter Q&A with fans in 2018 around the release of her fourth album Sweetener, Ari was asked if she was planning a new tour, to which she replied: "I think that sounds really nice. Lots of new materiaaaaal + oldies (the oldies we like). I mean unless y'all wanna hear bang bang again." When a follower replied: "Girl, I never wanna hear that s**t agan," Ari said: "Thank God. Can't wait to show this to my team."
Celebrating the song's seventh anniversary this month, Jessie J discovered Nicki wasn't much of a fan of it either. Correcting Jessie's story to Glamour that Nicki asked to jump on the track, Nicki tweeted (then deleted): "I didn't hear the song & ask 2get on it. The label asked me2get on it & paid me. How would I have heard the song? Chiiille what am I the damn song monitor?"
Selena Gomez – Come & Get It
Selena's 2013 single was a Top 10 hit in the UK and an instant fan favourite, but she isn't a fan. "I love [the song's producers] Stargate more than anything, but it's very difficult for me to perform live," she told Entertainment Weekly. "It's not my song. To me, it sounds like a Rihanna reject." Fun fact: It is!
Kanye West – Gold Digger
"I never really liked [Gold Digger], but I always knew that I would get paid for doing Gold Digger," Kanye said in an interview with Zane Lowe in 2017. 
Madonna – Holiday/Like A Virgin/Material Girl
Madonna famously doesn't dwell on the past, so adulation for her early hits isn't to be expected. However, her dislike of Holiday and Like A Virgin run deeper than that. "I'm not sure I can sing Holiday or Like a Virgin ever again," she admitted in an interview with Z100 Radio in 2008. "I just can't, unless somebody paid me, like, $30 million or something." She did sing slightly reworked versions of these songs on her Rebel Heart tour in 2015/2016, but will we ever hear them live again in their original form? Someone launch a kickstarter campaign now, quickly.
Britney Spears – Sometimes
We wish this wasn't true, but Britney isn't keen on the cutesy follow-up to her global smash …Baby One More Time. The singer made the confession during the filming for her Onyx Hotel Tour in 2003. Waving goodbye to the crowd, she can be heard saying: "I have to go? I haven't even sung Sometimes yet. Oh God! I never liked that song anyway!". Sob.
Radiohead – Creep
Radiohead have made no secret of their disdain for their biggest hit, but so unstoppable was Creep that not even the band's own sabotage efforts could kill it. Member Johnny Greenwood admitted he tried to ruin the song during its recording by playing "the guitar hard – really hard" during the verses. The band retired it for seven years but have played it on occasion at shows in recent years.
Paramore - Misery Business 
In 2018 Paramore's lead singer Hayley Williams announced at a gig in Nashville the band will no longer perform their 2007 breakout hit after criticisms its lyrics were anti-feminist. 
Demi Lovato – Give Your Heart A Break
Demi told Latina Magazine in 2016 that: "I don't care about radio hits" and that they quickly grow bored of singing them on tour. They added: "Stone Cold… I don't get tired of singing on tour. I get tired of singing Give Your Heart a Break and even Confident."
Nirvana – Smells Like Teen Spirit
In an interview with Rolling Stone in 1993, Kurt Cobain said: "It's almost an embarrassment to play [Smells Like Teen Spirit]. Everyone has focused on that song so much. The reason it gets a big reaction is people have seen it on MTV a million times. It's been pounded into their brains… I can barely, especially on a bad night, get through 'Teen Spirit.' I literally want to throw my guitar down and walk away."
Pretenders – Brass In Pocket
Chrissie Hynde says she has never been a fan of the song and, in an interview with The Observer in 2004, admitted "[I] told the producer he could release it over my dead body".
R.E.M. – Shiny Happy People
Recorded as a joke after the band's label asked them for something happy and up-tempo, Shiny Happy People went on to become one of R.E.M.'s best-known songs. Regardless, they made their feelings about it clear when they left it off the tracklisting of their 2003 greatest hits album In Time. "If there was one song that was sent into outer space to represent R.E.M. for the rest of time, I would not want it to be Shiny Happy People," Michael Stipe told the BBC in 2016.
Oasis – Wonderwall
"I can't f**king stand that f**king song!" Liam once famously said. "Every time I have to sing it I want to gag. You go to America, and they're like: 'Are you Mr. Wonderwall?' You want to chin someone."
Lily Allen – Air Balloon
When a fan tweeted her saying that the new music she was putting out from her 2014 Sheezus album was – in their opinion – "rubbish", she replied: "What you've heard so far yes. All I can do is do my best, the labels and the radio stations won't play the better stuff."
The Who – Pinball Wizard
Guitarist Pete Townshend admitted he only wrote the song to impress a music critic. "I knocked it off," he explained. "I thought, 'Oh, my God this is awful, the most clumsy piece of writing I've ever done." He continued, "I scribbled it out and all the verses were the same length and there was no kind of middle eight. It was going to be a complete dud, but I carried on."
Who have we missed? Tell us in the comments below: