If she isn't already, Mimi Webb's on the cusp of becoming the UK's new Main Pop Girl. All the makings of a proper, bona fide super star are there. Viral TikTok hit? Check. Celebrity fans including actual Charli D'Amelio? Yep. Huge, Cirkut-produced hit song? You bet.
So, as House On Fire looks set to become Mimi's highest-charting UK single to date, we caught up with her backstage in Newcastle (via own our sofa and the wonders of technology) to talk everything from tour life to Lewis Capaldi's words of wisdom.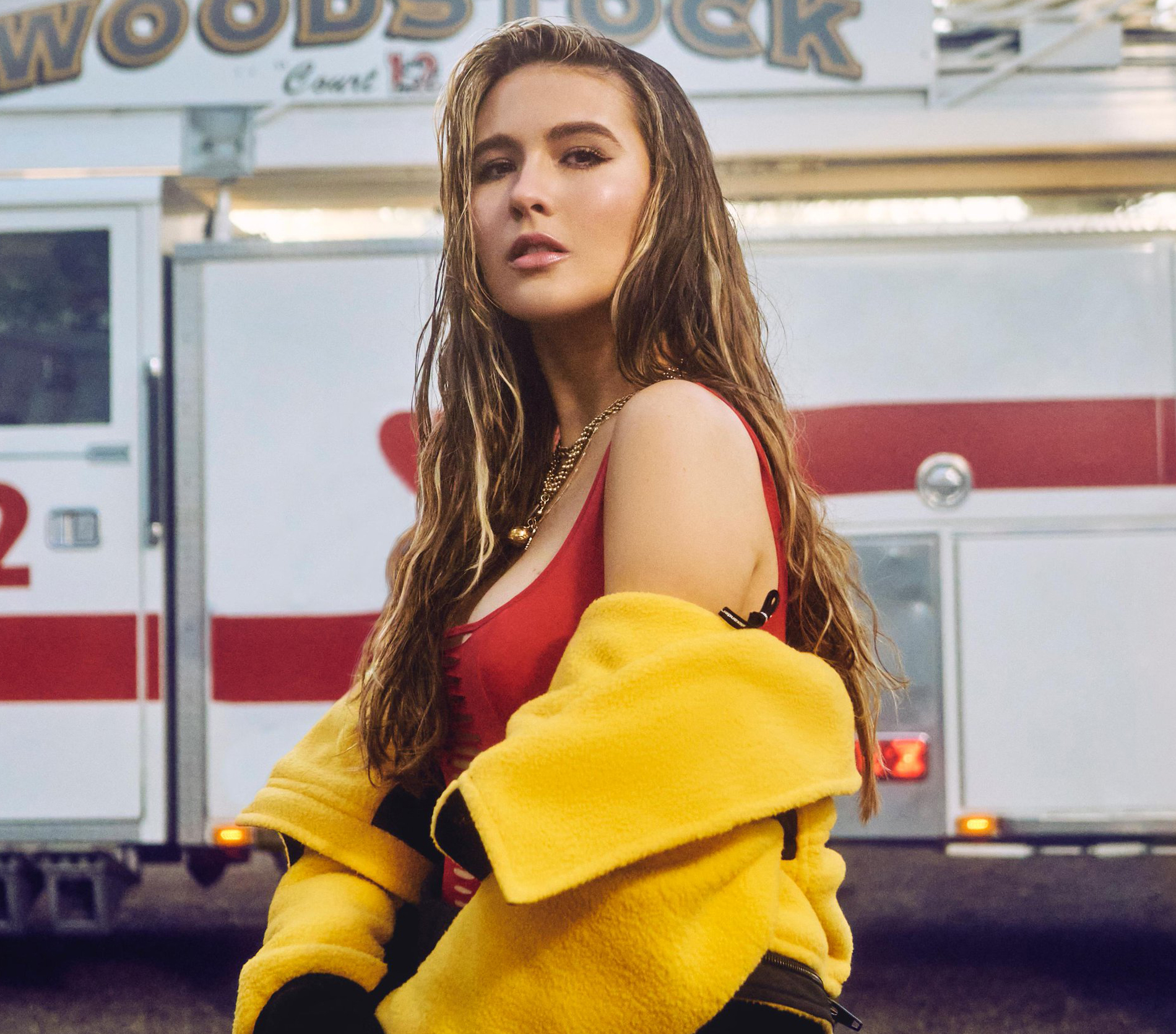 Hey, Mimi. You're all over the place at the moment gigging - how's tour life treating you?
"It's so amazing, I'm absolutely loving it. I'm very tired, but we're smashing through it. After this tour, I have five days off before going on the Tate McRae tour in America. It's so exciting."
Speaking of Tate, we're really gonna need a collab from you two.
"Oh my God, that would be insane. I'd love that, it'd be incredible. I love her and we get on so well. We're going to be on tour together for a while, out in America. Fingers crossed."
The world isn't ready, to be honest. Let's talk House On Fire - it's a bit of a departure for you sonically, but it's really worked...
"It's crazy seeing the response to this song. The fans absolutely love it. After coming out with the last EP [Seven Shades of Heartbreak], it was all very much about my heartbreak and things that I'd been through.
"I wanted this song to be closure to that chapter; a fun, tongue-in-cheek track. I'm just going for it and having a laugh. It's such a cool song to start the year with."
And surely no guy will ever cross you again, post-arson admission?
"Haha, hopefully I've warned them all off. Sorry, a songwriter's gotta do what a songwriter's gotta do.
"Obviously the song's from the perspective of a character - a very dramatised version of a story. The best revenge on an ex is just to do you, showing them you're good and making yourself a better version of yourself."
Yes, honey. Now, you've recruited a fair few celebrity fans. We're pretty sure we spotted Lewis Capaldi at your gig last year...
"Lewis came to my Scala London show last year, and that was so much fun. When they told me Lewis was there, I was like 'oh my God, that's crazy!'
"That was so cool to know that he knew of me and was willing to come and watch the set. He was such a legend. He's so sweet, he gave me advice and just pushed me to keep going."
Do you get nervous performing these big shows?
"I'm just going with it. I never know what to expect until I'm up there. Then I have to settle down, focus and get into doing the show. I'm now just revising the set; you end up knowing it like the back of your hand. By the time the London show comes around, I just want to focus and really sell the show.
"I do get a bit nervous, but as soon as I get out there and see the audience, they get my through it. My fans get me through it; seeing their faces keeps me going as they're smiling and singing away. They're there, singing every lyric. I'm not even sure you can hear me.
"My sound guy, Curtis, is like 'Mimi, I can't turn you up any more. They're singing over you. It's a dream come true."
Mimi's single House On Fire is out now.