It's still hard to believe that the iconic Michael Jackson passed away almost seven years ago. Thankfully, his music is still with us and he has even managed to maintain chart success with 'new material' – scoring a Number 1 album in 2014 with Xscape, a set of remixed offcuts from his glory days.
What's almost as hard to believe is that it's almost two decades since Michael was at Number 1 on the Official Singles Chart. While he had no way of knowing it then, he would reach the top for the final time in his lifetime this week, 19 years ago, with one of his classics.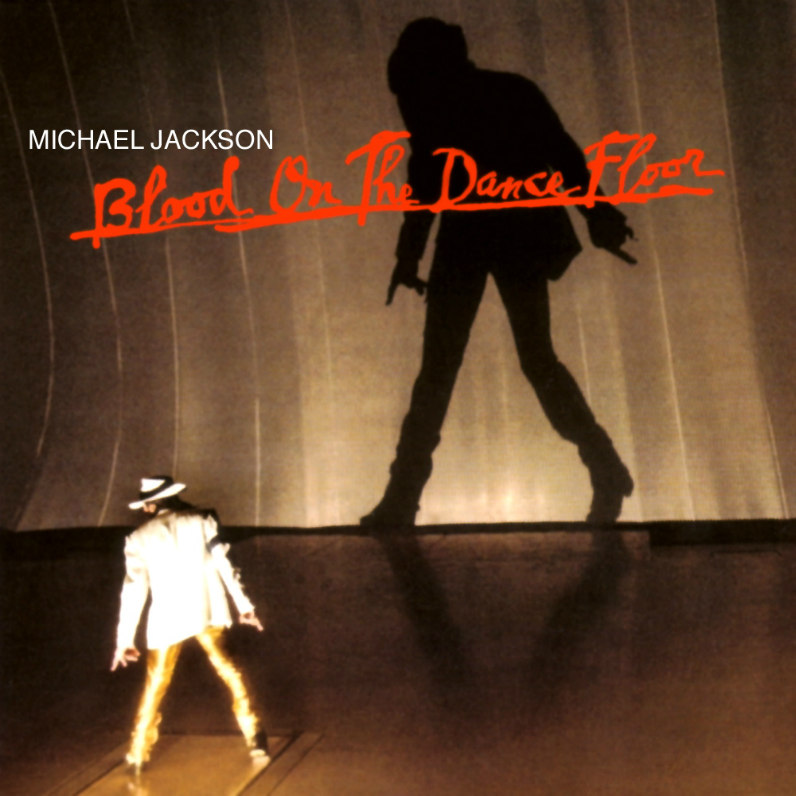 There's certainly a Michael Jackson 'sound' that's instantly recognisable, yet Blood On The Dance Floor felt like something of a departure for Michael. Despite on first appearances seeming like the usual banger we'd learn to expect from the King of Pop, beyond the energetic beats and catchy hook was a dark message. Returning to the slightly murderous undertones he'd first explored in 1988's Smooth Criminal, Blood On The Dance Floor saw Michael explore violent themes. This time, however, it wasn't Smooth Criminal's 'Annie' who was in danger, it was Michael himself – this time at the hands of seductive Susie, who was plotting to charm Michael into her arms via a dance-off (kind of) and then stab him, for reasons best known only to Susie herself.
As this is all happening in Michael Jackson world, of course, it's nowhere near as scary and gritty as it sounds – Blood On The Dance Floor was accompanied by one of his trademark big-budget, glossy videos. Terrifying murder in the club has never looked so appealing.
Michael's success meant it was ta-ta to R Kelly's I Believe I Can Fly after three weeks at Number 1, with Mike selling 83,767 copies in his first week, well over double R Kelly's sales. There's always someone waiting around the corner to burst your bubble, though, isn't there? And that pin prick came pretty quickly for Michael – Gary Barlow muscled in the following week with the Madonna-penned Love Won't Wait and deposed the King from his throne.
MORE: See all Michael Jackson's UK hit singles and albums in his Official Chart archive
During these 19 years, Blood On The Dance Floor has notched up a combined sales tally of over 207,700. It was the seventh solo Number 1 of Michael's lifetime, following One Day In Your Life (1981), Billie Jean (1983), I Just Can't Stop Loving You (1987), Black Or White (1991), You Are Not Alone and Earth Song (both 1995). 
Click on the image to see how the full Top 100 looked today in 1997: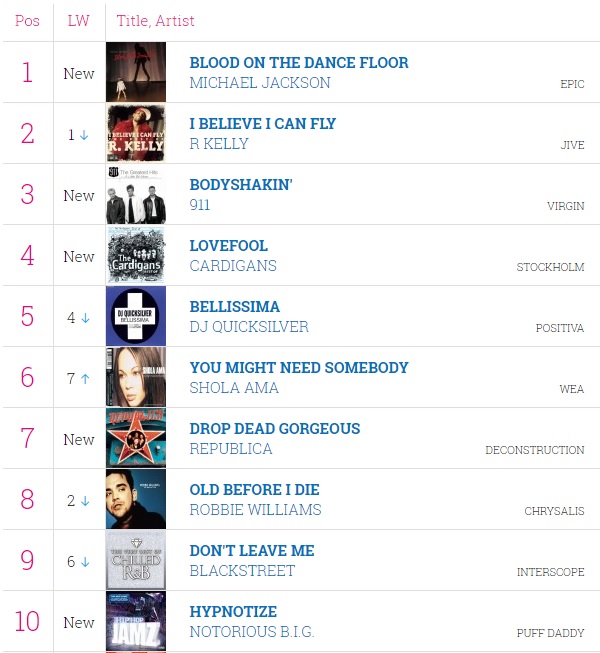 Elsewhere in the Top 10, a personal chart best for 911 (at this point in their career anyway) as Bodyshakin' went in at Number 3, while Swedish band the Cardigans were about to score their biggest UK hit wit Lovefool, new at 4, although it would later peak at 2.
Republica's follow-up to Ready To Go was new at 7. While Ready To Go might be more famous now, it missed the Top 10, landing at 13, so that's a comfortable 1-0 to Drop Dead Gorgeous there.
And at 10, a new entry from Notorious BIG. Hypnotize was the rapper's first UK Top 10, but sadly he didn't live to see it – he had died the previous month.
Further down the chart, D:Ream's Things Can Only Get Better made a return to the Top 40 thanks to its adoption by the Labour party as its official song of the election campaign – it had been a Number 1 in 1994.
But today it's all about the King of Pop and the inexplicably stabby Susie. Here's Blood On The Dance Floor: