Marina and the Diamonds is making her long awaited return this week with her new single, called Handmade Heaven. 
Now just going by Marina - a decision she says doesn't have a big reason behind it and that "it just felt natural and right to me" - it's the singer-songwriter's first headline release in four years following two collaborations with Clean Bandit. 
To celebrate her proper return, she recently posted a clip of her evolution as an artist, looking back over ten years since her first release: 
When it comes to Marina's music, expecting the unexpected is the norm, and going by her recent posts on Twitter, she's got a few surprises in store for her next collection. "When people hear the first song they'll probably think 'Oh, I think I know what this album is gonna sound like'," she said. "But they have noooooo idea". 
When it comes to chart success, Marina has been pretty consistent on the Official Albums Chart, where all three of her records have peaked inside the Top 10, including 2012's chart-topping Electra Heart. But what about her singles? Let's count down her Top 5 biggest. 
5. How To Be A Heartbreaker 
"Rule Number 1 is that you've got to have fun..." goes the first of Marina's instructions on how to be an A-grade player. It was the third and final single from her Electra Heart album (added to the tracklist after the record's release) and missed the Top 40, peaking at 88, but ranks as her fifth biggest track to date with 95,000 combined sales. 
4. I Am Not A Robot 
A fan favourite from her debut album Family Jewels, I Am Not A Robot is Marina at her quirkiest but also her most vulnerable. At the time, she said the song was "me singing to myself. It's me saying, stop being so ridiculous, you can't let having a fear of failing hold you back and you're just one person." The single became her second Top 40 single at 26 and has shifted 132,000 combined sales.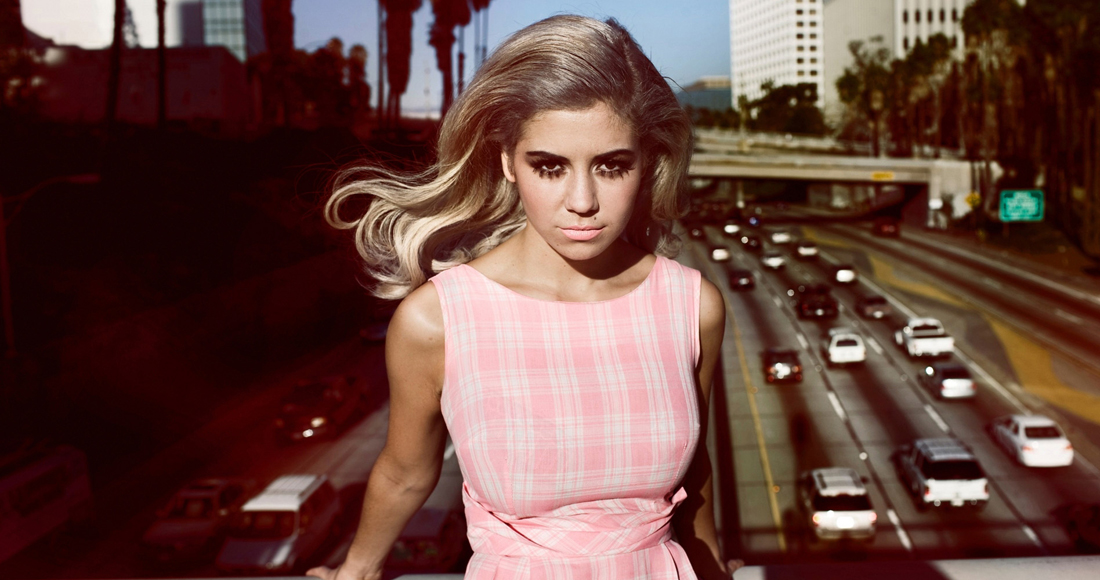 Marina as Electra Heart
3. Baby (with Clean Bandit and Luis Fonsi) 
Marina snuck in her name change on last year's Clean Bandit/Luis Fonsi collaboration, a latin guitar-flecked number that sets the tone for her upcoming, radio-ready pop. It's her third biggest single with 207,000 combined sales, powered by 16 million streams. 
2. Hollywood 
A whopping great chorus, sharp lyrics about being "obsessed with the mess that's America" and the best use of a cod-American 'Oh my GAWD!' since Janice in Friends, Hollywood is quintessential Marina and is one of her best performing singles, peaking at 12 and with combined sales to date of 211,000.
1. Primadonna
The lead from her Electra Heart album saw Marina take on the female archetype of drama queen, the result a part Mean Girls, part Kate Bush pop monster. It narrowly missed the Top 10 (just 545 sales away on its first week!) but remains her biggest single overall with 334,000 combined sales.
Look over Marina's complete Official UK Chart history in full