As the Christmas season gets under way, Mariah Carey's All I Want For Christmas Is You finds itself back in the Top 40 this week (December 2) for the tenth consecutive year running. 
The festive classic is at Number 29 on this week's Top 40, climbing an impressive 43 places from the previous week. 
This the 12th time the song has entered the Official UK Top 100 Singles Chart, first hitting in 1995 where it famously peaked at Number 2, losing out to East 17's Stay Another Day. The track has since re-entered the Top 40 every year since 2007, shortly after downloads started counting towards the chart.
MORE: Check out Mariah Carey's complete Official UK Chart history
Streaming plays a significant role in its resurgence this year, having been played 1.2 million times in the UK in the last seven days on services including Spotify, Apple Music and Deezer.
All I Want For Christmas Is You is one of 167 songs to have sold one million copies in the UK (not including streams). To date the track has spent 45 weeks in the Top 40, eight of which were in the Top 10. Click below to see the song's full, week-by-week char run.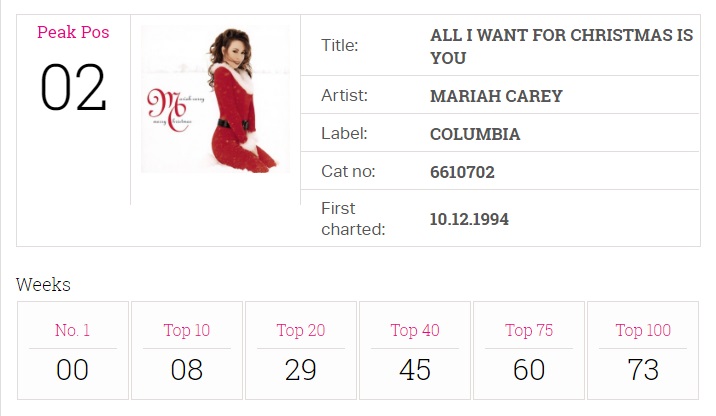 The last time the song entered the Top 10 was Christmas 2007, and it has (somewhat frustratingly) reached Number 11 twice since then. Will this be the year the classic reclaims a spot in the Top 10? 
Meanwhile, three more Christmas songs are also back in the Top 100 on this week's Official Singles Chart: The Pogue's Fairytale Of New York (66), Wham's Last Christmas (75), and Shakin' Stevens' Merry Christmas Everyone (93). Expect more to enter the Top 40 as we edge closer to Christmas...