As the Christmas season gets under way, Mariah Carey's All I Want For Christmas Is You is set to re-enter the Top 40 on this week's Official Singles Chart (Nov 24) for the eleventh consecutive year running. 
The festive classic is currently at Number 40 on this week's Official Chart Update, so far climbing an impressive 48 places from the previous week. 
This the thirteenth time the song has entered the Official UK Top 100 Singles Chart, first hitting in 1994 where it famously peaked at Number 2, losing out to East 17's Stay Another Day. The track has since re-entered the Top 40 every year since 2007, shortly after downloads started counting towards the chart.
MORE: Every Official Chart Christmas Number 1 ever

Streaming plays a significant role in its resurgence this year, with 71% of its sales so far this week coming from plays on services including Spotify, Deezer and Apple Music.
All I Want For Christmas Is You is one of 167 songs to have sold one million copies in the UK (not including streams). To date the track has spent 50 weeks in the Top 40, 12 of which are in the Top 10. Click below to see the song's full, week-by-week chart run since 1994.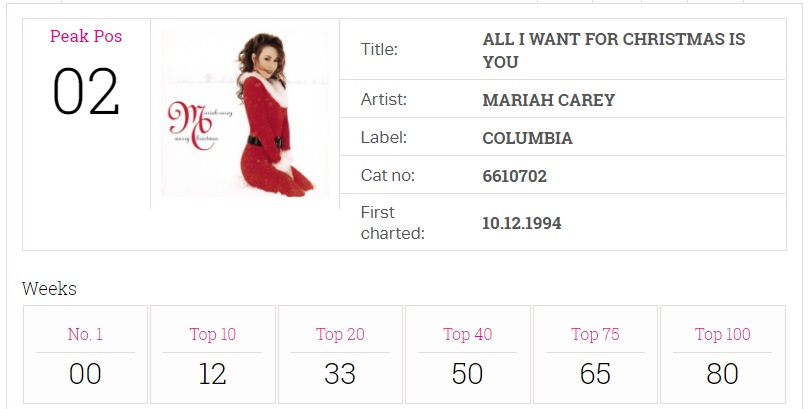 Last year marked the first time the song entered the Top 10 since Christmas 2007, topping out at Number 5. Will this be the year the classic goes all the way and finally claims chart glory?  
MORE: Christmas songs that you thought got to Number 1... but didn't
Mariah leads the way when it comes to Christmas songs re-entering the Official Chart. Wham's Last Christmas - another festive favourite that never reached Number 1 - is at Number 94 in today's Official Chart Update.

Article image: Rex
Look through every Official Chart Christmas Number 1 single below: