As part of pop punk band Good Charlotte, siblings Joel and Benji Madden released five successful albums and scored worldwide hits with songs Lifestyles of the Rich and the Famous, Girls & Boys and I Just Wanna Live.
But after nearly 20(!) years with the group, the pair are braving it alone under the new guise of The Madden Brothers. Their latest single We Are Done has already hit Number 1 in Australia, and this week sees them release their new album Greetings From California across the globe.
Congratulations on the success you've had so far with your new single We Are Done. It's a very different sound compared to Good Charlotte; were you nervous about how fans would react?
"We weren't really sure how it was going to go down with people as not only is it different for us, it's different to a lot of what's out there on radio at the moment. It was important for us to put out a song that represented what the record was like, but in some ways the whole record is a risk. We weren't going to team up with a superstar DJ and record a big pop song. That was the direction a lot of people wanted us to go in because that's where music is at."
A dance album?! If you had gone down that path, who would you have worked with?
"I actually have quite a few DJ friends and I've done a lot of backing vocals for songs in the past. Steve Angello is someone creatively I get along with, so we could have done something with him. Basically we're like big kids when we get in the studio - I'll try out anything."
Why have you decide to rebrand as Madden Brothers rather than just releasing new music under Good Charlotte?
"Creatively, there are things Joel and I have wanted to do for a while to keep us happy as artists. When you listen to the album it really makes sense as to why it's not under Good Charlotte. This is something completely different, but at the same time, it doesn't feel like a side-project. We wanted to be genuine and this is something we had a strong desire to do. We started Good Charlotte when were 16, put out our first album at 20 and now we're 35. It's time to have a go at something else!"
We're hearing a lot of '60s and '70s soul-rock on the album Greetings From California; where did that influence come from?
"You're definitely right there! We basically listened back to all the records with grew up with that our parents played to us. Beach Boys, The Beatles, The Eagles, Stevie Wonder, Bill Withers, etc. The record has a distinct California vibe to it. I remember rebelling against that sound as a teenager, but we seemed to have come full circle. After the whole Good Charlotte vibe, this is where we're at."
What's the best song on the album?
"There's a song on the album called Brixton that I wrote in Brixton. I wrote a handful of songs in London that I hated, but when I sent them to Joel he said he really liked it and we turned it into something great. I also love the song Brother; it's probably the best song we've ever written together. It tells the story of the relationship we have with our father in such a way that we won't have tell it again."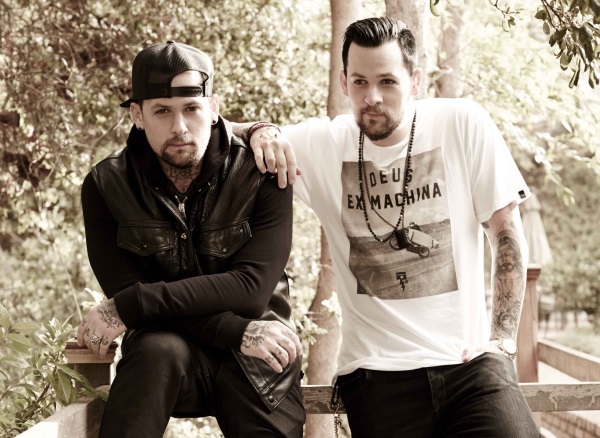 The original pop punk sound you had with Good Charlotte feels like it's also having a resurgence with band's like 5 Seconds of Summer. Does that make you feel a bit old?
"Yes and yes! But 5 Seconds of Summer remind me of Good Charlotte in the best possible way. They're a younger us. I'm glad they're doing this sound and I'm very happy to pass the torch. The thing is, me and Joel have always written pop songs - we just dress them up differently. We actually wrote 5SOS's song Amnesia, and it's to see that sound coming back and being a part of it Back in the day we often felt the brunt of being a rock band singing pop melodies. I'm glad it wasn't for nothing!"
The Madden Brothers new album Greetings From California is out now through Capitol Records.