"Why have one powerhouse vocalist when you can have three?" That's what British soul star Beverley Knight told her record label earlier this year when they suggested that she record an album of musical theatre covers.
The singer has teamed up with fellow West End stars Amber Riley (formerly of TV show Glee and now Dreamgirls fame) and Cassidy Janson (lead in Carole King musical Beautiful) and formed supergroup Leading Ladies for a new album, aptly titled Songs From The Stage.
As well as songs from the shows they appear in (opener One Night Only from Dreamgirls is about as glitzy as you can get), there are slightly more unexpected additions such as Queen's Somebody To Love from We Will Rock You and Helpless from musical of the moment Hamilton.
"I said, 'I see your idea and raise you CJ and Amber!'" quips Beverley of those initial label meetings, who herself regularly takes on Whitney Houston's most challenging belters night after night in The Bodyguard musical as well as soul jukebox production Memphis.
"I just didn't think doing it on my own would be that interesting. I am someone who is moved by what brings out the passion in me. The idea of singing with Amber and CJ (Cassidy) massively brought out the passion in me. This is much more special."
You all agreed to make this album despite having never met each other. How long did it take work together vocally as a group?
Beverley: "I'm still learning about it all because I'm only four years into this really, but everybody is working at the same time, so you're aware of each other but don't see each other unless you're working together. Me and CJ met on West End Live and I'd not met Amber before, but knew that voice!"
Amber: "We just made it work. We recorded most of it together, but the label was good at finding time for us to go in individually if we needed to make sure everything was done. For the most part, as far as setting up the music and vocal arrangements, we did that all together. The recording kind of happened separately."
Beverley: "It took us two weeks in total but I'll tell you, it would have been even quicker. CJ was still in Beautiful at the beginning of this and Amber is still in Dreamgirls now. If all of us had been free it'd probably have taken us a week. Still, it was done like lightning compared to the rest of the music industry."
MORE: Beverley Knight's complete Official Chart history, including 14 Top 40 singles
Starring in a West End musical and recording an album at the same time must have been vocally challenging, especially since you, Beverley, were recovering from surgery?
Beverley: "That's a difficult one to answer in a way. When we got to the recording process, it was the first singing I'd done since the surgery. It was a lot of work for my body, but vocally everything was in working order. That when you sing, your entire body needs to be up for it."
CJ: "It's like being an athlete, I suppose we're vocal athletes. It can sometimes be frustrating - as a singer you get told that you're too precious and take too much care of yourself and it's like, would you say that to world class sprinter?"
Amber: "Vocal chords are the most delicate muscle in your body and you're putting so much on it when you're recording or performing. You really do have to look after it."
MORE: Exciting albums still to be released in 2017
While we've got you, please give us some singing tips. Are there any tricks to preparing your voice for a big vocal?
Beverley: "I wish! It's coughing season at the moment as well."
CJ: "You have your tricks that relax your voice. Whoever came up with straw therapy is a genius. You blow into a glass of water through a straw and there's something about the vibrations that just works. That sounds rude, doesn't it?"
Bev: "That reminds me, when I was in Toronto, the vocal therapist that was there took out this egg-looking thing and I was like, 'ooh! Is that what you get up to in your office?!' She put this vibrator all over my throat and by my larynx and you know what, it worked! I thought, I won't be following your lead and buying one from Ann Summers because the shame will kill me, but thanks!"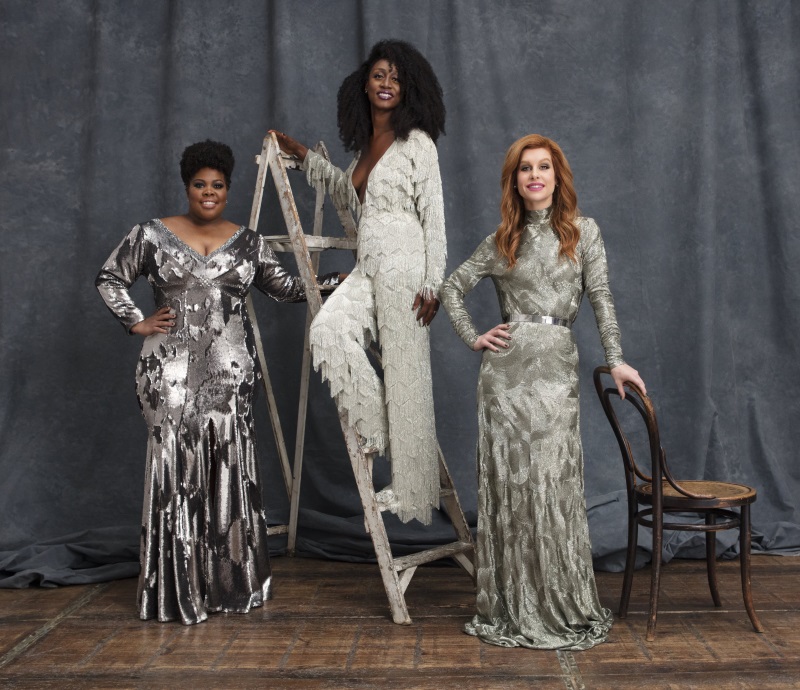 You're all from very different backgrounds, which is reflected in the album's surprisingly varied track list. Were there any off-the-wall suggestions that were recorded but ultimately left behind?
Beverley: "There was nothing massively wild. On this album we wanted to reflect what we're about, anyway. Something a bit more contemporary? When people think musical theatre they think of the very traditional [sings] "I-am-go-ing-to-have-a-cup-of-tea". Which wanted something that was much more funky.
CJ: "Ball and Boe have been nailing the classical genre, so why wouldn't we do something that's not our skillset?"
Finally, each tell us which is your favourite track on the album.
[All singing together] "Will you still love me tomorrow!"
CJ: "The song is an absolute classic, and when we went into the studio and started to have a go at blending our harmonies, it all happened so naturally and quickly. It took about half an hour. No-one has ever done the song this way."
Leading Ladies - Songs From The Stage is out on November 17.