Kelly Clarkson is one of pop music's ultimate troopers. The Texas-born singer-songwriter is at the tail end of a week-long promo trip to the UK when we interview her; and while most people would have sloped off to the pub long before our Friday 5.30pm meeting, she's still her usual upbeat, unfiltered, dialled-up-to-ten self when she sits down with us for her final interview of the week.  
It's this kind of dedication and geniality that has not only help her sustain a hugely successful career in music for the last 15 years, but in 2015 saw her cross the finish line on her eight album contract with Sony, her prize for winning the inaugural series of American Idol in 2002.
Back then, things kicked off reasonably well with her punchy R&B-pop debut single Miss Independent and to this day it remains a favourite in her canon – though she had to fight tooth and nail to release it. Subsequent records saw her pushed further and further down the pop-rock route that, she tells us slumped casually on a plush sofa in a London hotel, "is something I enjoyed but wasn't necessarily my first choice".
So what does the real Kelly Clarkson sound like? Her new album, The Meaning Of Life, is her first after signing to Atlantic Records, and it's stuffed-to-bursting with sass, sensuality and soul.
Hi Kelly! The Meaning Of Life has been billed as the album 'you always wanted to make' which, eight albums in, might come as a surprise to some of your long-time fans. Still, hurrah!
"Yes! I threw my own cheer just like that a couple of weeks ago. It's exciting to finally be able to make an album that was 100% me."
There was no easing us in to the new – real – Kelly sound, was there? After 15 years of pop-rock, you've dived head-first into a soul album, whether that's what everyone wanted or not.
"Yep, pretty much! I wanted to switch directions back to what people first heard from me on American Idol and just how I started in life, the music that really inspired me to be a singer. I was like, this is a new chapter for me and I wanted to do it right off the bat.
"The overall goal was 'soulful'. I grew up singing a lot of soulful country, soulful pop and rock. I remember one time when I met Craig [Kallman, chairman of Atlantic in the US] and I told him Aretha was one of my all-time favourite artists and her career really took off when she signed with Atlantic years ago. We talked about what those kinds of soulful songs would sound like if they were made in 2017 – that was the whole idea of the record."
MORE: View Kelly Clarkson's complete Official Chart history
It's your first album on Atlantic since leaving Sony, which you recently described as being like an "arranged marriage". Were things really that bad?
"Comprises. That's the operative word! Sometimes the compromising wore me down, like anything in life. Sometimes it felt it wasn't worth it. I said it was like an arranged marriage because, in fairness, they didn't pick me either, they had to sign me after Idol. We all did the best we could and we were very successful – but that 'we' was me and five different label executives during my time there.
"It was always ever-changing, never engaging and never investing with me. I'm all about character of people. I'd rather hang out with cool people and have fun with what I do and maybe not be as successful as I've been. Or maybe you can be super successful and happy and work in a respectful environment."
Be honest, are there any songs from the pop-rock years that you're glad to see the back of?
"Honestly, none really. I still love performing all of them – Miss Independent remains one of my favourites. Those songs all mark different chapters in my life. It's like looking back through a photo album of your childhood years and going, oh, I thought that dress was so great then! The songs had their moment."
The Meaning of Life manages to feel like a proper soul record without being a kitschy throwback, which a lot of artists fall into the trap of when going down this direction. How did you avoid that?
"What I didn't want was for it to sound like a time capsule. I wanted the influence, but I wanted it to be progressive. I was taking cues from a bunch of people; from Annie Lennox to Bonnie Raitt and Whitney Houston, Mariah, En Vogue, TLC. I love Melissa Etheridge and Rosemary Clooney. I love a lot of different styles of singers but they all have one thing in common: They're very empowering, very bold and very much themselves. No-one was like them, and I just really wanted to do that."
MORE: Kelly Clarkson's 10 biggest hits on the Official Chart
The best songs on the album - in case you were wondering - are Heat, Medicine and Would You Call That Love...
"Those are the three everyone says! We're fighting over Heat and Medicine for the next single. Would You Call That Love almost didn't make the album because of me. Craig fought me on it and told me straight that it was. It's because I'm hard on myself – the whole album is very sensual, very sassy… I felt like it was the only one that had a different vibe about it, but that was the thing that everyone loved about it. I'm so happy we kept it on there." 
Pop-rock has been your signature sound for the last 15 years; was any re-training of your voice or brain to write lyrics needed for this album?   
"None at all. It's funny, how I sound on this record is how I sound when I cover peoples' songs. Part of my career, especially for the last decade, a lot of the stuff that goes viral for me is when I sing soulful covers of things. It's always what I do on tour, it's just not something I've been able to relay on an album until now.
"Honestly, now having four kids and a family that's pretty big, it wasn't a goal for me [to write]. I felt inspired to write the four that I did. I wanted to be a singer, first and foremost. I wanted to cement that. I've felt in the past that I've gone in the studio and people over-produce me and they strip away that essence that a live, soulful vibe can have when I'm on tour."  
Speaking of which, you've been married for four years now, and you've previously said this album deals with the subject of how much your life has changed since then. Any pearls of wisdom for us?
"I learnt a lot about Brandon [Blackstock, husband and manager] when we first started dating. I had been single for so long… I knew where we were at before we got married. I'm very much a gypsy in the sense that I don't like to live on my phone, I like to be with whoever I'm with in the moment. You only get one life!
"What I can't reiterate enough to people in especially in their twenties is that's the time you should be selfish and do what you please with your time and money. Whenever you decide to settle down with someone, that does drastically change, especially with children. You create a selfless environment and it's a lot to take on. I'm glad I waited!"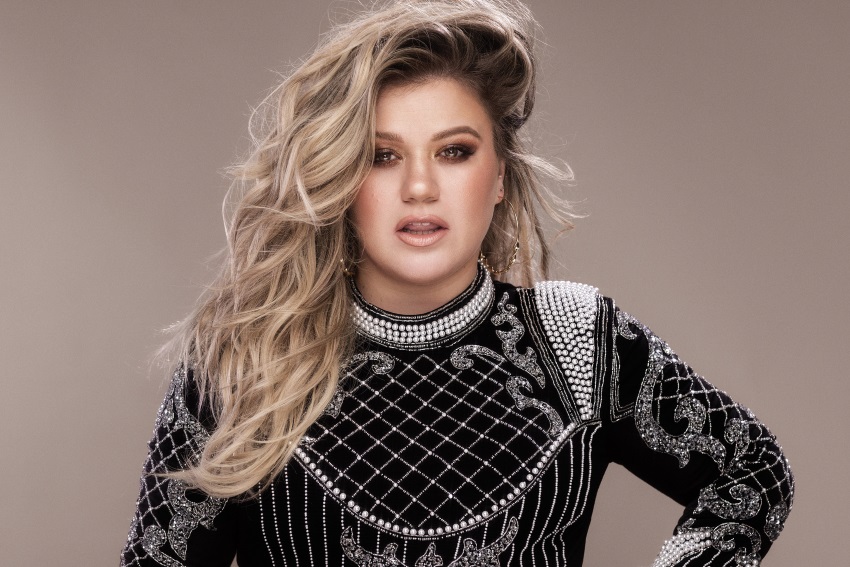 Image: Vincent Peters
The New York Times recently described you as a "music industry unicorn" and in many ways they're spot on, don't you think?
"I do go through a lot of different genres of music, but I take that to mean about my personality. Even back on American Idol, I didn't fit the mould that everyone wanted me to. Not that I was a rebel, just that I'm me and I'm comfortable with that and unapologetic about it. It seems like a rarity in this industry because a lot of people will do whatever they need to win or be famous or popular. I'm willing to be me, and if it works then great. If doesn't, oh well. It's funny they said unicorn though, because I have a horse called Unicorn. He's called that because anyone can ride him.
"When it comes to the music side of things… when you put out an album, you just never know what's going to happen. People who say they know are ridiculous. You could have the hottest song on the world, but some event or misaligning of the stars can affect it. You have 100% control of your product, but not over what it's going to do. It's never been a huge focus for me. I tend to just go with my gut and sometimes that works great, and sometimes I just get by."
MORE: The UK's Official Top 40 biggest albums of 2017 so far
Your 2013 Christmas album, Wrapped In Red, is one of the better festive records of recent years. Please don't tell us that's been left in the Sony years?
"No are you kidding!? That was my favourite record other than this one. I love Christmas albums because there are no rules. We did a new Christmas song for my children's book (called River Rose and the Magical Christmas), which could go on that album to be honest.
"I'd be down for making another Christmas album with this new team. For Wrapped In Red, I asked to work with Greg Kurstin. I mean, even though he's Jewish and doesn't know these songs, he understood me [laughs]! I just thought it'd be a great record to make with him, and it was, I love it. It'd be really interesting to see what we could come with this new team. I'm so up for anything these days, I'm just like, let's do it!"

Kelly Clarkson's The Meaning Of Life is out now.
Article image: Vincent Peters