It started with the call from PWL, Tuesday 1pm…
Lauren, it's been cancelled.
What?
It's called off.
What do you mean?
The whole show has been cancelled. There's too much mud, they can't prepare the ground in time for tomorrow so they're not allowing anything to take place in Hyde Park. We're devastated.
So that's how we found out.
OfficialCharts.com were media partners of what was about to be the greatest retro pop fest ever. Hit Factory Live - the show put together by music industry legend Pete Waterman to celebrate 25 years of his record label, PWL. A bill packed to the rafters with household chart names of the '80s and '90s - Rick Astley, Bananarama, Steps, Sonia, 2Unlimited, Jason Donovan, Sinitta.
Musical marmite, admittedly. You were either positively squealing about July 11, or well, you've already run a mile, not even got so far as reading this sentence.
Needless to say, Official Charts staffers were in the former camp.
Yes, we were 24 hours away from all our pop dreams coming true – a moment we've been waiting exactly 23 years for, Kylie & Jason reuniting to sing Especially For You, especially for us.
But now we were sat in the office. Numb. Not even upset yet, just numb.
We've been working on this project for months! Everything done, confirmed, booked, printed, paid for. What on earth were we going to do with the 15 giant (!) banners propped up in the meeting room that were supposed to be being couriered over to Hyde Park right now to be hung around the site? The T-shirts? The 'I heart Kylie & Jason' signs? We can't exactly save them and use them for the next board meeting.
Tragedy, indeed.
So we did what every other gut-wrenched ticket holder did and headed straight to the Hit Factory Live Facebook event page to wallow. Wallowing is so much better when done communally. God bless the invention of social media. Social media was made for devastated pop fans.
And that's where the beginnings of a gathering were forming.
Shocked fans had flown into London from all corners of the globe specifically for this concert, and now there were numerous cries for help. What do we do now? Where can we go?
Already a venue was being discussed by fans – the City Of Quebec pub, just across the road from Hyde Park. Super lovely fan/event organiser Lynne had set up a Facebook event for it, "The cancellation of Hit Factory Live was so disappointing for us all. I saw posts on Facebook from disappointed fans travelling to London, not just from the UK, but internationally. I just felt something needed to be done to cheer everyone up!"
And willing party-goers were signing up. After all, we've taken a day off work, we might as well make the most of it.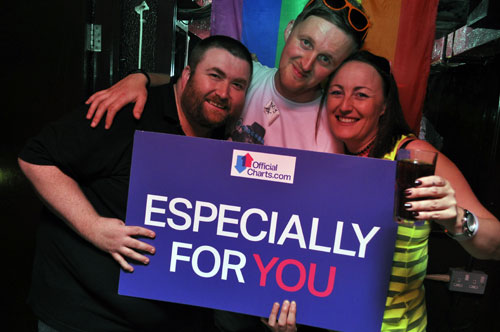 Is this you? Log on to www.facebook.com/OfficialCharts to tag yourself or to look at the other shots!
Hesitant at first, I confess I didn't RSVP immediately. With these kind of things it's always wise to wait, get a feel for it first, it might not gather any momentum, or could be full of weirdos! I'll hold out and see what happens overnight.
By the time I logged back on yesterday morning, there were already around 100 people fully signed up, and a DJ had been recruited. The job application took the shape of a Facebook post 'I'm going to bring 130 PWL tracks with me'. Yep, that's CV perfection right there.
A few phone calls later and I'd rounded up some of my own friends who had already made the trip from Manchester to London for the Hyde Park show, and we agreed we'd give this bad boy a whirl. What's the worst that could happen?
Now, what could I contribute to this little shindig? Armed with a collection of very, very special, and lovingly crafted PWL-themed signs from Official Charts HQ - ie; the painfully redundant ones we were supposed to be taking to Hyde Park -, I hailed a cab to the City of Quebec pub. T'would be a crime for these not to be put to use.
The pub was a bit of a quiet old man's boozer upstairs, had we come to the right place? I saw a handwritten notice saying 'PWL party this way', and struggled my way downstairs with my cumbersome box of themed paraphernalia.
The door at the bottom of the stairs flung open and BOOM – the Hit Factory exploded in my face.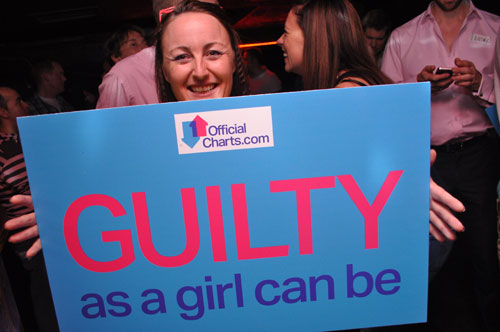 Is this you? Log on to www.facebook.com/OfficialCharts to tag yourself or to look at the other shots!
A rave up. An actual rave up. A brilliantly dark and sweaty basement (the type of place you might normally stagger to after hours for some indistinguishable minimal techno and a night cap), blasting out Bananarama at 5pm.
I died.
And here it was in this dingy Central London basement I met the most wonderful, hilarious, like-minded people, who shared my lifelong love for Kylie & Jason. With no windows to the outside world, the shameless euphoria ran riot and we danced the night away to some truly joyful SAW pop music.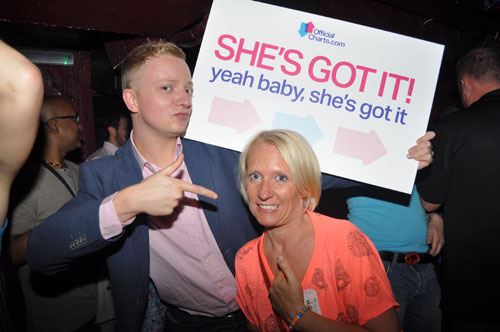 Is this you? Log on to www.facebook.com/OfficialCharts to tag yourself or to look at the other shots!
The atmosphere was electric with revellers bouncing around the dancefloor, and as the piece de resistance were unveiled from their cardboard box, the crowd went bonkers.
Mobbed from all angles, my new virtual friends were grabbing for the signs "Oh my god, this one is sooooo me!" [said holding a 'Still Know Every Steps Routine!' sign]
The ridiculous photoshoots began – the pink 'Jason Donovan Was My First Crush' placard went down particularly well with ladies and gents alike.
Party organiser Lynne commented "The party was a roaring success. It was amazing to see people hitting the dance floor just after 2pm and they carried on for almost 12 hours!"
Taking a quick breather in the upstairs bar to regain my composure after losing my mind on the dancefloor to Kylie's under-rated gem What Kind Of Fool, I met a lovely and excitable Steps fan (and gutted Hit Factory Live ticket holder) called Dougie – he's been to see Steps live nineteen times. Yes, nineteen times! And what made Dougie come down here today?
"I had to make the most of it. The date was booked, the train tickets were booked, I had to come down! And I didn't expect to find what I've found, I've had a brilliant time, brilliant, brilliant time."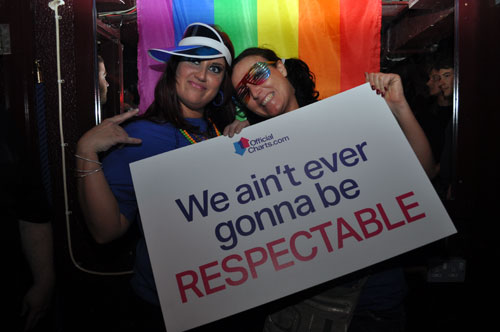 Is this you? Log on to www.facebook.com/OfficialCharts to tag yourself or to look at the other shots!
And if you were at Hit Factory Live now, Dougie, what do you predict would have been your highlight?
"Jason and Kylie singing Especially For You, I probably would have ended up in some hospital in London having a fit, it would have been out of this world. And it will happen, one day. It will, I believe."
Amen, Dougie.
Fellow attendee Graeme Simpson said "I am so proud of all of us! Turning a bad situation into something positive and making life-long friends!"
So there you have it, in the face of giant pop adversity, the Brits did what the Brits do best… We kept calm, and we partied on.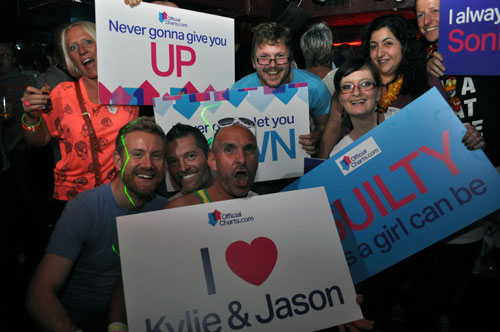 Is this you? Log on to www.facebook.com/OfficialCharts to tag yourself or to look at the other shots!
2012 is all about celebrating 60 glittering years of the Official Singles Chart - and who can possibly ignore the impact of PWL and the era-defining Stock Aitken Waterman sound as part of that history. The Official Charts Company and OfficialCharts.com offer our heartfelt congratulations to Pete and the Hit Factory family for 25 poptastic years of one of the most important pop labels in UK chart history.
Please note last night's impromptu Unofficial Hit Factory Live gathering was organised by Lynne whose friend has two little boys who are seriously ill. The event was to raise money for the MPS Society – the only UK charity supporting those affected by rare genetic disorder Hunter Syndrome, and other related conditions. You can donate an amount by texting MPSS01 £1,2 etc to 70070. Or you can donate online at www.mpssociety.co.uk.