"Hello, you there?" was a line we couldn't resist opening with on our phone call with Jax Jones. The catchy call-and-response is sung by London singer Mabel on his latest single Ring Ring, which this week becomes his fourth single to be certified Silver for sales of over 200,000. "Things feel good at the moment!" he tells us in genuine awe.
Making beats in his bedroom in London from the age of 15, a career in music was the only option for Jax (real name Timucin Lam) – though being a pop star was never part of the plan. Inspired by guitarists The Edge, Johnny Marr and Fraser T Smith's work on Craig David's Born To Do It, he sought out work as a songwriter and producer. His stints playing guitar for N-Dubz, as part of Domino Go (a band who were dropped before they released anything) and co-writing hits for other acts eventually led him to become a dance artist in his own right. "I've never had another job, though I once did two weeks as a Christmas temp at Marks & Spencer," he recalls. "I've been lucky to make a living off music since I was 21. I'm 31 now."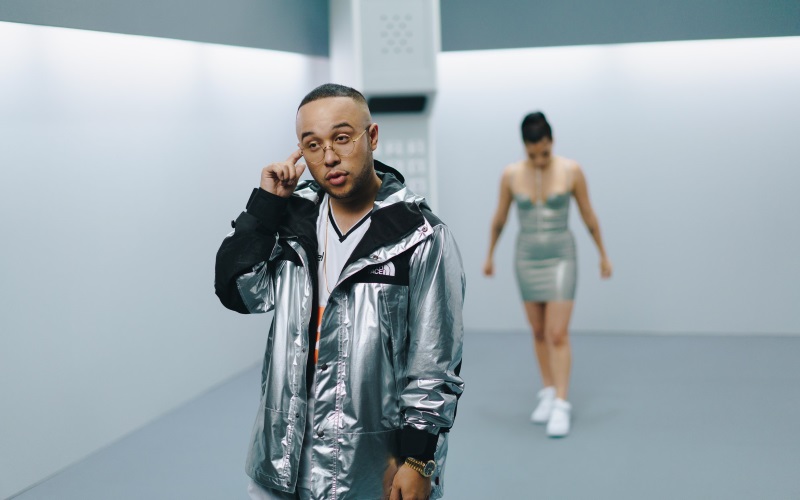 Ten years of preparation have meant Jax arrived on the pop scene in 2016 as a fully formed artist from the off. After featuring on Duke Dumont's Number 1 single I Got U, he scored a Top 5 hit of his own shortly after with the Raye-assisted You Don't Know Me. Since then, his playful lyrics, ridiculously catchy hooks and bold visuals make him one of the few pop acts today with a genuine sense of fun about them. "For me, being an artist is like a vehicle," he explains. "I can make great visual content, I can make great music, I can dress in a way that inspires people… it's a great way to express yourself."
MORE: The Official Top 40 biggest songs of 2018 so far
Jax says he constantly has "about four or five songs on the go", but where does his knack for radio and club friendly hooks come from? "Funnily enough, I think that part is just me," he says. "I've worked with some incredibly traditional songwriters like Eg White – [Will Young's] Leave Right now is one of my favourite songs ever – and Toby Gad. Their songwriting is about exploiting a beautiful voice. In dance music, you don't always have that luxury – it's more about a feeling. Even when I was making beats as a 15 year old, I always tried to give the sounds a catchy, round hook. It's also about the music I listen to – even when I pick up an album, I just love the singles."
Chiefly a fan of '90s beat techno, which he DJs in his sets across the world, Jax has always kept one eye on pop music, believing the genres inform each other. "I was obsessed with Taylor Swift's Red album for a bit," he says. "I'm sure there aren't many DJs out there that listen to techno who would admit that! It's great pop song writing. I like to make pop music that isn't informed by pop music, if that makes sense. I try to change the game, not play the game."
Jax's second hit followed immediately after You Don't Know Me with the Demi Lovato and Stefflon Don-assisted Instruction, but it wasn't until follow-up Breathe that he felt like he'd cut through to the masses. He explains: "After You Don't Know Me, people were like, 'oh right, okay…' but after Breathe people were more like, 'okay, I like this guy!'. That song earned me the kind of kudos you look for as a musician. I've always dreamed of being someone like Calvin Harris, who is incredibly consistent. People started regarding me as someone who makes hits, which is so gratifying as a musician."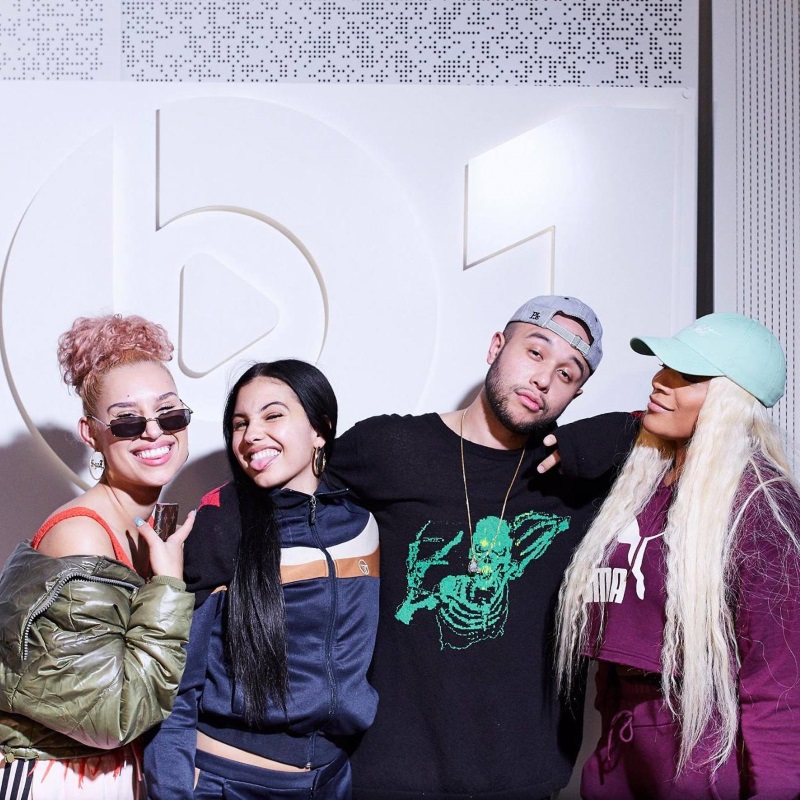 L-R: Raye, Mabel, Jax Jones, Stefflon Don
Is the pop world cut throat? "Yeah I guess so. The thing that can happen is you get swayed if different directions, when you want to keep just focused on the music. There's a tendency to go out and party and become a victim of your success. I always try to go back to when I was a teenager in my room and what it felt like to make records. It was all about making the very best thing you can. I still live my life like that now."
His latest single Ring Ring is hovering just outside the Top 10 for its tenth week on the Official Chart. If it misses the Top 10, its longevity in the Top 40 and dominance on radio (as with the Number 13-peaking Instruction) are more than enough for it to be considered a sizeable hit. With four-out-of-four hit rate, is he feeling the pressure for the next release? "The thing about the charts these days is you have to pace yourself. It's like getting on a horse for 10 weeks and constantly racing. It's been competitive this summer with Drake and Calvin.
"In fact, Calvin won't leave us alone," he laughs. "He's getting everyone that I've emailed asking if they'll sing on a record and beating me to it! I emailed Sam Smith with a track about four months ago. Nevermind though, eh?!"
When it comes to future singles – and the eventual album – Jax explains that decisions are made last minute as to what feels right at the time and in the current landscape. "I've got so many songs now and I think they're really strong. I like to try and be one step ahead, but I never want it not to be fun. One of my heroes is Fatboy Slim – he's never made a serious song in his life."
Jax Jones is touring the UK in November this year. For dates and tickets, visit Live Nation. He also plays Fusion Festival in Birmingham on September 2.