The nominations for this year's Ivor Novello Awards have been announced.
Leading the 63rd Ivors, which rewards "excellence in British and Irish songwriting and composing", are Ed Sheeran and Stormzy. Stormzy is up for Best Contemporary Song with Don't Cry For Me ft. Raleigh Ritchie, which recognises "outstanding originality in songwriting", and the Album Award for his chart-topping debut Gang Signs & Prayer. 
Meanwhile, Ed is nominated twice in the PRS for Music Most Performed Work category, with Shape Of You and Castle On The Hill. The award "credits works that received the most broadcast, online and general performance in the UK during 2017." Both songs were in the UK's Official Top 5 biggest songs of 2017 - view the full Top 40 list here.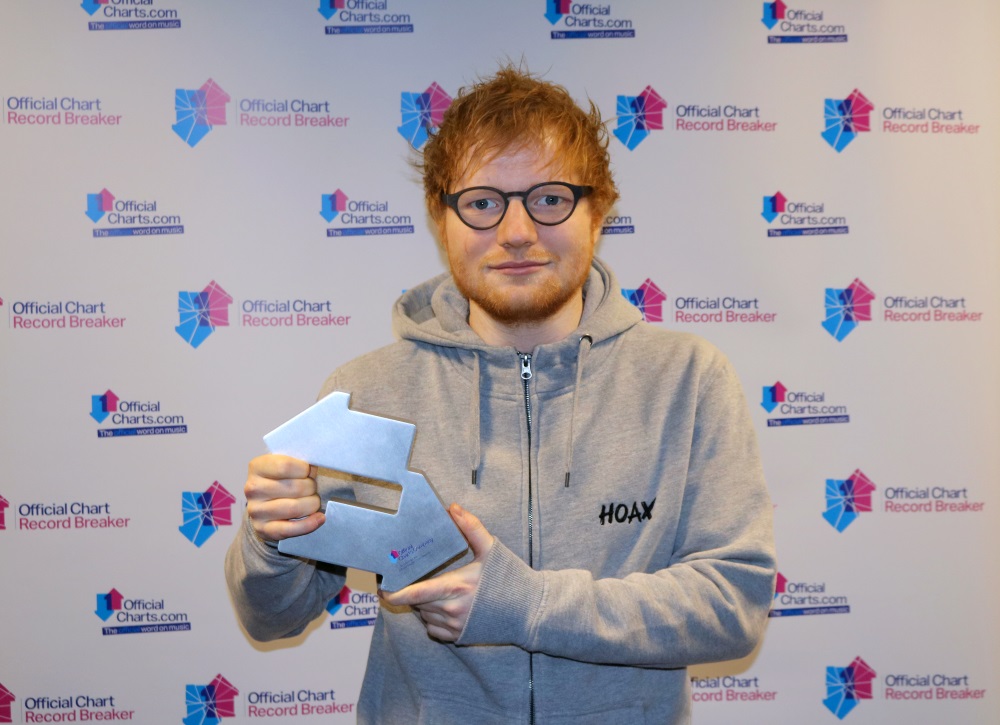 The three songs nominated for Best Song Musically and Lyrically are Everything Everything's Can't Do, Elbow's Magnificent (She Says) and Sampha's (No One Knows Me) Like The Piano, while movie soundtracks IT, Jackie and Paddington 2 are up for Best Original Film Score. 
The winners in each category will be announced at the award ceremony, hosted by Paul Gambaccini, at the Grosvenor House, London on Thursday, May 31.
As well as the below award categories, BASCA will also present awards for International Achievement, Outstanding Song Collection, PRS for Music Outstanding Contribution to British Music, PRS for Music Special International Award, the Ivor Novello Award for Songwriter of the Year, The Ivors Classical Music Award and The Ivors Inspiration Award.
Crispin Hunt, Chair of BASCA, the British Academy of Songwriters, Composers & Authors, said: "BASCA's nominations for the 2018 Ivor Novello Awards are, as ever, a mirror of the eclectic and inspirational reach of current UK music. The Ivors purpose is to recognise and celebrate excellence in British and Irish music writing across Song, Album, Television, Film and this year, Video Games. 
"As the only peer nominated music award ceremony in the country, The Ivors are inherently about musical merit and communication more than promotion and we're especially excited to be able to honour some of the phenomenal talents of the contemporary British music writing scene. Talent admired the world over. Our congratulations go out to everyone nominated today, it's fully deserved."

The nominations for the Ivor Novello Awards 2018 are:
BEST SONG MUSICALLY AND LYRICALLY

Can't Do
Written by Jonathan Higgs, Jeremy Pritchard, Alex Robertshaw and Michael Spearman
Performed by Everything Everything
Published in the UK by Black Butter Music Publishing – BMG
Magnificent (She Says)
Written by Guy Garvey, Craig Potter, Mark Potter and Pete Turner
Performed by Elbow
Published in the UK by Salvation Music Ltd - Warner/Chappell Music Publishing Ltd
(No One Knows Me) Like the Piano
Written by Sampha
Performed by Sampha
Published in the UK by Beggars Music - Young Turks Music

BEST CONTEMPORARY SONG

Cola
Written by Michael di Scala, Alexander Kotz AKA Elderbrook and Dave Whelan
Performed by CamelPhat and Elderbrook
Published in the UK by Defected Music Ltd and Black Butter Music Publishing – BMG
Don't Cry For Me
Written by Michael 'Stormzy' Omari, Varren Wade and Wizzy Wow
Performed by Stormzy ft. Raleigh Ritchie
Published in the UK by Warner/Chappell Music Ltd, Bucks Music Group and Wardlaw Music
Question Time
Written by Dave and Fraser T Smith
Performed by Dave
Published in the UK by Warner/Chappell Music Ltd and Kobalt Music Publishing

PRS FOR MUSIC MOST PERFORMED WORK

Castle on the Hill
Written by Benny Blanco and Ed Sheeran
Performed by Ed Sheeran
Published in the UK by Universal Music Publishing and Ed Sheeran Limited - Sony/ATV Music Publishing (UK) Ltd
Human
Written by Jamie Hartman and Rag ΄n΄ Bone Man
Performed by Rag ΄n΄ Bone Man
Published in the UK by Reservoir Reverb Music and Warner/Chappell Music Ltd
Shape of You
Written by Steve Mac, Johnny McDaid and Ed Sheeran
Performed by Ed Sheeran
Published in the UK by Rokstone Music - Universal Music Publishing, Spirit B-Unique - Polar Patrol and Ed Sheeran Limited - Sony/ATV Music Publishing (UK) Ltd

ALBUM AWARD

A Fever Dream
Written by Jonathan Higgs, Jeremy Pritchard, Alex Robertshaw and Michael Spearman
Performed by Everything Everything
Published in the UK by Black Butter Music Publishing - BMG
Gang Signs & Prayer
Written by Michael 'Stormzy' Omari
Performed by Stormzy
Published in the UK by Warner/Chappell Music Ltd
Moonshine Freeze
Written by Kate Stables
Performed by This is the Kit
Published in the UK by Beggars Music - 4AD Songs

BEST ORIGINAL FILM SCORE

IT
Composed by Benjamin Wallfisch
Published in the UK by Universal Music Publishing
Jackie
Composed by Mica Levi
Published in the UK by Beggars Music
Paddington 2
Composed by Dario Marianelli
Published in the UK by Studiocanal

BEST TELEVISION SOUNDTRACK

Babs
Composed by Rob Lane
Published in the UK by Du Vinage Publishing
SS-GB
Composed by Dan Jones
Published in the UK by Faber Music and Universal Music Publishing
The Miniaturist
Composed by Dan Jones
Published in the UK by Faber Music

BEST ORIGINAL VIDEO GAME SCORE

Hellblade: Senua's Sacrifice
Composed by David Garcia Diaz and Andy LaPlegua
Horizon Zero Dawn
Composed by Joris de Man, Joe Henson and Alexis Smith
Life is Strange: Before the Storm
Composed by Igor Haefeli and Elena Tonra
Published in the UK by Universal Music Publishing
Article image: Rex