Things are hectic in the world of The Chainsmokers. In the 24 hours prior to our interview with them alone, Lady Gaga chirped back at them after they criticised her single Perfect Illusion, and one-half of the duo Drew had his Twitter account hacked.
"My first thought was oh f**k, how do I stop this!" Drew told us of the hack. "It's crazy that that's something we have to deal with in our existence. Someone seriously f**king with you on a social platform that few people used to care about is now creating stories about me apparently saying awful things to my friends."
The duo, made up of New Yorkers Drew and Alex, have had a hugely successful 2016, having turned out three global smashes with Roses, Don't Let Me Down and most recently Closer, which hit Number 1 on the Official Singles Chart for four weeks last month.
As Official Charts belatedly handed them their Official Number 1 Award for Closer (it's okay guys, you were on the other side of the world at the time, we understand), we sat down with the pair to find out how they're handling international fame, and what future smashes they've got tucked up their sleeves.
To say things have taken off for you this year is a bit of an understatement. Is there one particular moment that stands out above the rest?
Alex: "Coachella was a really big one for us. It took a lot of preparation, and in the moment, the whole thing just glided by. A lot of our friends, colleagues and family were there too, so it was just one of those hugely memorable festival experiences that'll be hard to forget."
Drew, your Twitter account was hacked this week. Surely this is a sign you've reached peak fame?
Drew: "It's good and bad. It's good that we're now making art that we really care about and we have this platform to promote it and it's insane, but it's also stressful and it's a learning process. We were with Ellie Goulding last night right as my Twitter was being hacked, and she made me feel a lot better about it. She's such an amazing artist and she's been in this for so long, so she was like, 'this is going to happen to you. It's fake, it'll blow over and people will get it's not you.' The first time it happens though, it's horrible."
MORE: Check out the Official Top 40 biggest songs of 2016 so far
Your song Roses was a big turning point for you. Two years before that, you had a massive hit with #SELFIE, which felt like a bit of a novelty song. We were you worried you'd be stuck in one-hit wonder territory forever?
Alex: "No not really. None of this has been about making hits. We kept our heads down and kept trying to make interesting music. We were definitely relieved though! It was a great feeling to prove the naysayers wrong. We tried not to get in our heads about it because we're both very competitive people and we like to rise to the occasion, so we saw it more as a challenge rather than a burden."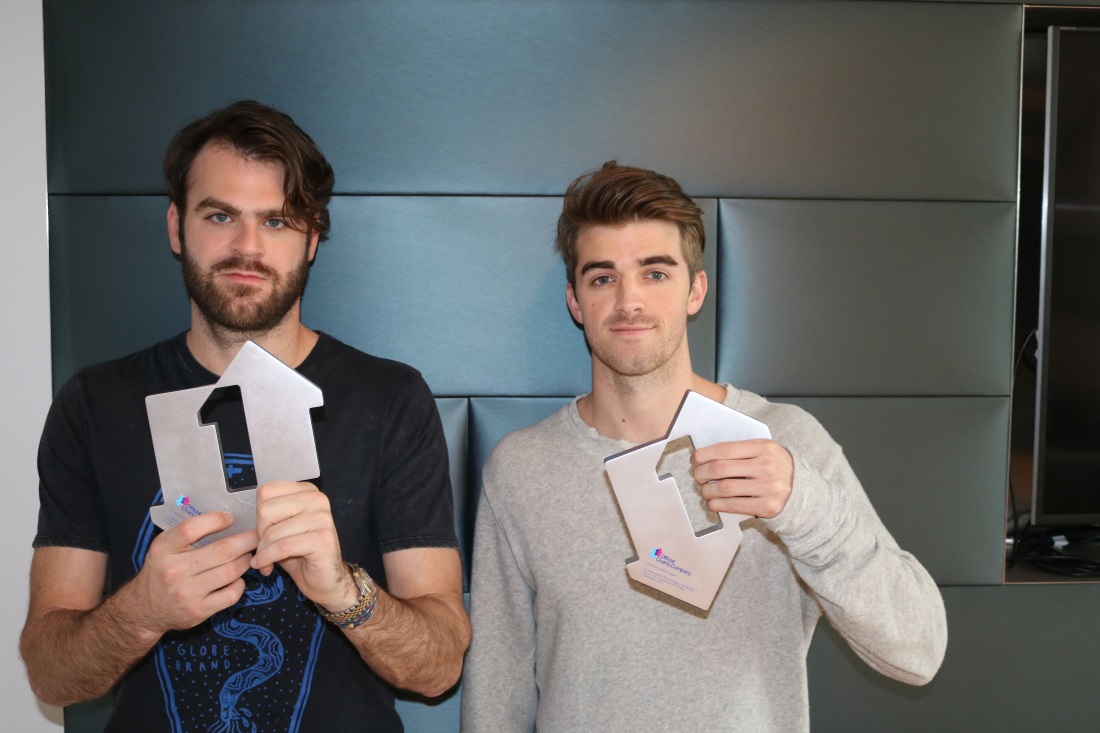 The music you're making now is very different to two years ago; how do you think you've achieved such a successful musical shift?
Alex: "We put out a couple of other songs between #SELFIE and Roses, so we'd found ourselves a core fanbase, but something felt very different when it came to Roses. Our friends really liked it, and luckily we have friends who are really honest and tell us what is dope and what isn't dope. We didn't know it was going to be a hit, but we knew there was something special about that song. It took nine months and lots of work and promotion from our team, but it got there.
"It was great because people were telling us the song was refreshing and how it changed their view on that particular genre of music. Even Ryan Tedder reached out to us and said he thought it was the best song on radio he'd heard in ages. How cool is that?! He's such a cool dude and has so much wisdom he can impart on us youngsters. Our studio sessions turn more into therapy, research and self-exploration which is funny."
Your follow-up to Roses, Don't Let Me Down, was huge, and then Closer went all the way to Number 1 on both sides of the Atlantic. Did you think that would be the song to do it?
Drew: "We knew we'd written something that had resonated with a bunch of people because we played it at Coachella in April, and between then and its release in August, the fans kept asking us when it was coming out. They thought it was called We Are Getting Older. It's amazing to see how well it's done internationally as it feels like such an American song, with its references to Blink-182 and the cities we name check. It's been great to see it go way beyond that."
MORE: See how all of The Chainsmokers' hits have performed their Official Chart archive
The lyrics and melodies in your songs are inspired by R&B and emo punk-pop bands like Blink-182 and Taking Back Sunday. Do you think the kind of emotion in those genres has been missing from dance music?
Drew: "For us, yes, we thought that was missing. But even from the beginning – #SELFIE aside – we were remixing songs by Sigur Ros, Phoenix and Two Door Cinema Club and all these great bands we loved. We were remixing because we weren't such great songwriters at the time, and we wanted to produce songs with vocals. That's where our sound eventually came from. We thought, let's not write big top lines because we're not into that, and let's write some weird shit about our childhood and where we came from and our five ex-girlfriends and college and what it was like to be poor. That's where we're at now with our song writing."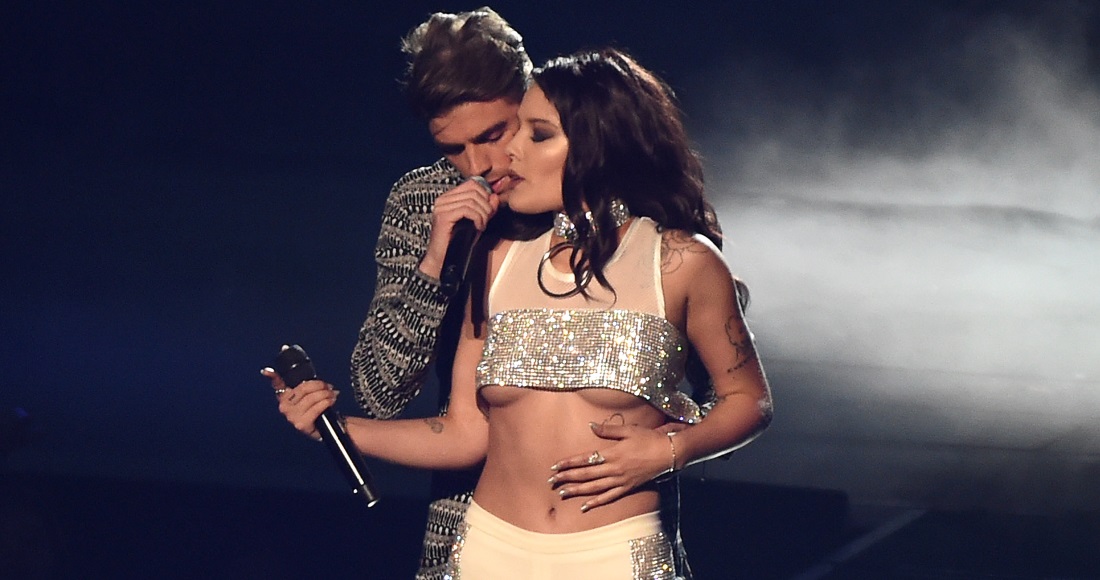 The Chainsmokers performing Closer with Halsey at the MTV VMAs (Rex)
You're such a successful singles act, do you see any value in releasing a full length album?
Drew: "I think there's a right way to do an album. Our fear is we work really hard on 12 songs and only three get the attention they deserve. But at the same time, we want to respect our fans. If enough people want more work from you and you have it, they we should do it. The other thing is, if we released an album and it was promoted the right way, it would give us a chance to regroup artistically and do another album with a totally different concept next time."
You were recently in the studio with Chris Martin, when are we going to hear the results of that?
Alex: "He's so chilled. We're both huge fans of his. He's one of those guys that we never thought we'd get in a room with. He walked in and there was just this energy. If there's any weird vibe or uncertainty, he just wipes it clean. He's so encouraging about things and works hard.
"We were thinking, this poor guy's been roped in to work with us somehow, but he was so inspiring and up for it. We've been so busy at the moment, and he's asking us for new versions of the song. He's such a high level performer that, what he deals with from the fans, show, music and creative perspective, is so macro. We were writing songs inspired by when we wet ourselves in middle school and he's like, world peace – he could actually make that happen!"
Drew: "We're like, 'this is a great song about something real', and he's like, 'Does the world need this song.' We're like, Wooah that's deep! We met in the middle between Chainsmokers and the Coldplay sound in the studio. It's an awesome potential track, whatever happens to it."
Chris Martin will be a big collaboration to top; are there plans to get in the studio with anyone else soon?
Drew: "There's this amazing artist Emily Warren who we wrote Don't Let Me Down with and Until You Were Gone - we have like five songs with her. As far as dream collaborations, I'm creepily obsessed with Bon Iver's music. I'd love to sit down a drink coffee with him for like a week and juts talk about music."