HMV have confirmed the full line-up of 37 limited edition vinyl albums that will be released to commemorate their 100th anniversary.
Saturday July 24 marks the company's centenary vinyl 'Exclusives Day', an event in which record collectors will be able to purchase vinyl in stores (and online from 4pm) that are available for one day only.
Today (July 1) saw the fourth and final group of albums announced for the landmark celebrations, including Kate Bush's Hounds of Love on recycled vinyl, Sam Smith's In The Lonely Hour on silver wax, and Louis Tomlinson's Walls on exclusive picture disc.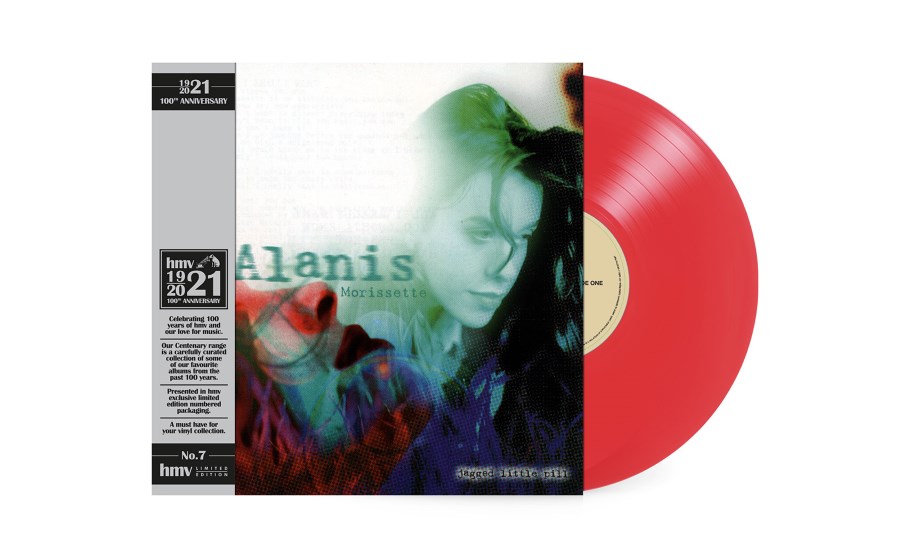 The third wave of reveals saw records from Dolly Parton and The Libertines announced, while the second set of vinyl unveiled included The Prodigy and Simply Red. The first announcement confirmed that Alanis Morissette and Queens of the Stone Age will be joining the party for the iconic retailers 100th birthday.
"Both new vinyl collectors and long-time vinyl fans will be delighted by the exclusives we've managed to secure for later in the year as part of our exciting 100th birthday celebrations," said Phil Halliday, Managing Director at hmv and Fopp."
HMV's 2021 Vinyl Exclusives Day full line-up
Alanis Morissette – Jagged Little Pill / red vinyl / 1500 copies
The Cinematic Orchestra – Ma Fleur / gold vinyl / 500 copies
The Cult – Love / metallic silver vinyl / 500 copies
Dolly Parton – The Very Best Of… / pink vinyl / 1000 copies DELAYED
Father John Misty – Fear Fun / neon orange vinyl / 500 copies
Fontaines D.C. – Dogrel / clear vinyl / 1000 copies
Gary Numan – Exile / silver vinyl / 600 copies
Helloween – Pink Bubbles Go Ape / pink and black splatter vinyl / 1000 copies
Idles – Joy As an Act of Resistance / magenta vinyl / 1000 copies
Jethro Tull – Aqualung / transparent vinyl / 500 copies
John Williams – Star Wars Trilogy OST / bright yellow vinyl / 750 copies
Kate Bush – Hounds of Love / recycled vinyl / 1500 copies
The Libertines – The Libertines / transparent red vinyl / 500 copies
Lou Reed – Transformer / white vinyl / 1000 copies DELAYED
Louis Tomlinson – Walls / picture disc vinyl / 1500 copies
Low – C'Mon / oxblood vinyl / 500 copies
Mavis Staples – We Get By / clear vinyl / 500 copies
Morrissey – Bona Drag / transparent green vinyl / 750 copies
The National – Boxer / gold vinyl / 500 copies
The Offspring – Smash / yellow vinyl / 500 copies
Pixies – Doolittle / coke bottle green vinyl / 1000 copies
The Prodigy – The Fat of the Land / neon orange vinyl / 1000 copies
Queens of the Stone Age – …Like Clockwork / white vinyl / 1000 copies
Queens of the Stone Age – Villains / transparent vinyl / 750 copies
Rancid – …And Out Come the Wolves / silver vinyl / 500 copies
Sam Smith – In The Lonely Hour / silver vinyl / 1000 copies
Saxon – Denim and Leather / red and black splatter vinyl / 1000 copies
Simply Red – Stars / clear vinyl / 1000 copies
Sleaford Mods – All That Glue / pink and turquoise vinyl / 500 copies
Stone Roses – Stone Roses / lemon yellow vinyl / 2000 copies
The Temperance Movement – The Temperance Movement – silver vinyl – 500 copies
The Undertones – West Bank Songs 1978-183: A Best Of / clear vinyl / 1000 copies
Uriah Heep – Look at Yourself / clear vinyl / 1000 copies
Various Artists – The Fly OST / emerald green vinyl / 750 copies
Various Artists – Mad Max OST / dark red vinyl / 750 copies
The xx – xx / glow-in-the-dark vinyl / 1500 copies
Zero 7 – Simple Things / clear vinyl / 500 copies