As pop fans count down the hours to the long-awaited super-collab Bang Bang, we browse the archives and pick out a few classic girls-only team-ups that have done some serious chart business over the last few years. What's your favourite?
Christina Aguilera, Lil' Kim, Mýa & Pink – Lady Marmalade
Not so much a collaboration as a meeting of pop superpowers, Lady Marmalade was the centrepiece of a major blockbuster movie Moulin Rouge, and brought together four of the biggest names in pop, all under one very decadent roof.
It was a big moment for Christina and Pink, both undergoing huge changes in both image and sound. Shortly after this song hit Number 1, Pink's output went decidedly rockier and Christina's squeaky-clean image was gone in the blink of an eye – well, the glimmer of a sequin and the flash of a thigh, maybe.
It was Christina's second Number 1 after debut single Genie In A Bottle, and the first of three for Pink – it's sold over 560,000 copies.
CHART FACT: It was the third time Lady Marmalade had charted. LaBelle took it to Number 17 in 1975, while All Saints made a slightly reswizzled version their second Number 1 in 1998.
Whitney Houston & Mariah Carey – When You Believe
When Mariah Carey scored her first hit in 1990, a full five years after Whitney's first ever Number 1 Saving All My Love For You, Mariah was heralded as Houston's natural successor. Thing is, Whitney wasn't quite ready to hand over the baton of being one of the best voices in the music biz quite yet, and gossip magazines were abuzz with stories that relations between the two were frosty at best.
So imagine everybody's surprise when the two divas teamed up for this hopeful ballad, theme tune from animated movie The Prince Of Egypt. If there had been a hatchet, it was well and truly buried when the ladies took this song all the way to Number 4 in 1998. It was a 12th Top 10 hit for Whitney – and her first for five years – while for Mariah it was a 15th visit to the Top 10, selling over 280,000 copies.
Shortly after Whitney's sad death in 2012, Mariah cleared up those rift rumours for good. "It was great and I don't think people could ever understand our relationship," she told MTV. "There was this supposed rivalry in the beginning, then we did the duet and became friends. I loved her." So there!
CHART FACT: When You Believe was covered in 2007 by X Factor winner Leon Jackson and became an even bigger hit – it was Number 1 for three weeks and sold over 500,000 copies in the UK.
Lady Gaga FT Beyoncé – Telephone
Originally meant for Britney Spears, Gaga reclaimed the track, recruited Beyoncé for guest vocal duties and had a Number 1 with it, selling over 700,000 copies.
CHART FACT: Neither Gaga nor Beyoncé have had a UK Number 1 hit since this hit the top spot in 2010.
Brandy & Monica – The Boy Is Mine
Possibly the "other woman" song to end them all, Brandy and Monica's four-minute of sly digs and assurances that one is better than the other has never made the misery of infidelity sound such fun. It also helped the two American R&B singers break through into the mainstream – being the first Top 10 hit for both of them and selling over 620,000 copies. Remember the version that had the spoken intro? Amazing.
Brandy and Monica reunited for a follow-up 14 years later in 2012, It All Belongs To Me, where they finally throw that cheater out. Took them long enough!
CHART FACT: While The Boy Is Mine topped the US Billboard charts for an incredible 13 weeks, in the UK it had to settle for Number 2. And who beat the warring duo to the top? Why, it was Irish girlband B*Witched, whose debut single C'est La Vie went straight in at Number 1.
Elaine Paige & Barbara Dickson – I Know Him So Well
Years before Brandy & Monica sparred it out over their low-down cheating rat, Elaine and Barbara were getting their claws out for each other with this classic track taken from the musical Chess, penned by Bjorn and Benny from Abba! Though this wasn't your average scrap over a lover – this dramatic duet saw the ladies singing more about themselves than the hopeless bloke they have in common.
I Know Him So Well entered in the lower reaches of the Top 40 before rocketing into the Top 10 and climbing to become a surprise Number 1 – and it stayed there for four weeks! It was both ladies' only chart-topper and their final Top 10.
CHART FACT: I Know Him So Well has been covered by many artists, including Whitney Houston and Spice Girls Mel C and Emma Bunton, but it's only returned to the charts twice.
Steps took their version to Number 5 as a double-A side (ask your mum) with Words Are Not Enough in 2001. More recently, comedian Peter Kay, as alter ego Geraldine McQueen, teamed up with Susan Boyle for a Comic Relief version, taking the song to Number 11 in 2011.
Beyoncé & Shakira – Beautiful Liar
Be-yon-saaaay, Beyoncé. Sha-keeee-raa, Shakira. Not just a meeting of minds but almost a mirror image, two of pop's near doppelgangers finally got in the same room to prove they were actually different people. The video for Beautiful Liar – a third solo Number 1 for Bey and Shakira's second – played on the fact the two stars were lookalikes and included some impressive derriere dancing.
Spending three weeks at Number in 2007, Beautiful Liar ranks on high on both ladies' list of top sellers – it's shifted over 430,000 copies.
CHART FACT: Beautiful Liar knocked another collaboration off the Number 1 spot, albeit a co-ed one. Give It To Me, from Timbaland FT Nelly Furtado & Justin Timberlake, was no match for the Shakyoncé juggernaut.(Shakyoncé? You sure about that? – Portmanteau Ed)
Britney FT Madonna – Me Against The Music
A collaboration that few saw coming, as Madonna had previously said in interviews that feature slots were not her bag. However after Madonna and Britney got hot and heavy at the 2003 MTV Awards, it was only a matter of time before the two recorded together.
Britney played the megastar her finished version of Me Against The Music – lead single from fourth album In The Zone – and Madge thought there was something missing. Herself, basically. Madonna's magic did the trick – it was a 12th Top 10 hit for Britney.
CHART FACT: Busted's Crashed The Wedding held Britney and Madonna off Number 1. Four years later Madonna would team up Britney's former squeeze Justin Timberlake on 4 Minutes – and that did get to Number 1.
Eve FT Gwen Stefani – Let Me Blow Ya Mind
Some collaborations come toward the end of an illustrious career, some hope to help a brand new act take hold and others are the start of something else entirely. For No Doubt lead vocalist Gwen Stefani, turning up to lend a hand on rapper Eve's third Top 10 hit, it was a conscious dip in the toe of a pool filled with bright, clear solo stardom.
While she wouldn't take the plunge until a full three years later, the scene was set. Eve did pretty well out of the deal too, with eight more Top 40 hits to follow, including a regroup with Gwen – they took Rich Girl to Number 4 in 2005.
CHART FACT: Number 4 is Eve's chart peak in the UK, and she's hit it three times – with Let Me Blow Ya Mind (2001), Rich Girl (2005) and with Kelly Rowland on Like This in 2007. Let Me Blow Ya Mind has sold over 290,000 copies.
Barbra Streisand & Donna Summer – No More Tears (Enough Is Enough)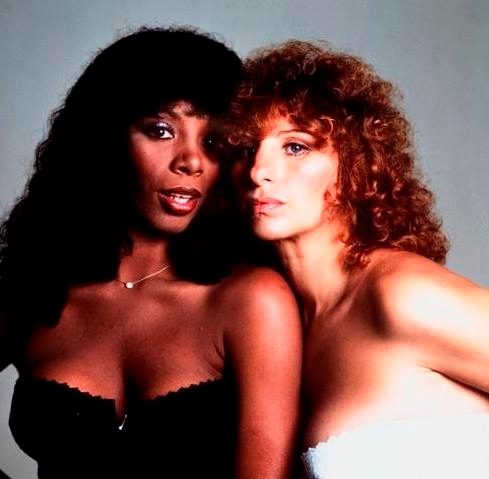 No rundown of female collaboration will be complete without this disco explosion, with two of the biggest voices in music taking it all the way home. The full-length version of this song, from Barbra's 1979 album Wet, is a dehydrating, heart-thumping eight minutes, but an even longer version exists – at almost 12 minutes. We're starting to see white spots before our eyes. Or are they glitterballs? Perhaps the opposite side of the coin to Brandy & Monica's The Boy Is Mine, Barbra and Donna had both had quite enough of their feckless bloke, thank you. No More Tears (Enough Is Enough) – the clue was in the title we guess – was a Number 3 hit.
CHART FACT: Since recording the song, Barbra and Donna never performed the song together live, and there was no video. Donna once said she was so exhausted from a live show the night before they recorded the duet in the studio, she fell off a chair during a take.
Eurythmics & Aretha Franklin– Sisters Are Doing It for Themselves
Although not strictly a girls-only party, thanks to Dave Stewart's essential place in the Eurythmics duo, when it came to front of house this was very much a female affair, so we're letting this one sneak in. Legendary diva Aretha Franklin brought her powerhouse vintage vocals while Eurythmics frontwoman Annie Lennox brought her crystal-clear pipes – and together made a rousing girl power anthem a whole decade before the Spice Girls came along.
The track followed the Eurythmics one and only Number 1, There Must Be An Angel (Playing With My Heart), and was an eighth Top 10 for them.
CHART FACT: Aretha Franklin has had just one Number 1 in the UK and that too was a collaboration. I Knew You Were Waiting (For Me) hit the top of the Official Singles Chart in 1987.
Melanie C & Lisa Left Eye Lopes – Never Be The Same Again
For her third outing as a solo star, Spice Girl Melanie C pulled out the big guns – and boy did it work. Recruiting TLC's rapper Left-Eye – using her full name on this track – Mel went straight in at Number 1, ousting none other than her ex-Spice bandmate Geri Halliwell off the top spot, and scoring her first chart-topper without the girls.
CHART FACT: Never Be The Same Again was the first of two Number 1s for Mel C in 2000 – I Turn To You also made it to the summit four months later.
What's your favourite team-up between female artists? Any big ones you'd like to have seen on our roundup? Let us know!