Frank Carter is bouncing on a battered, red leather Lazy Boy chair in his dressing room. "The end is in sight!" he chirps with a soft smile. In just a few hours, the band will perform the last of their current run of live dates, which at one point saw them play three shows in one day. The last few weeks have building towards this: Brighton's enormous Great Escape festival, where they're headlining the Fender Next stage, and the release of their third album The End of Suffering.
"Or is it the beginning?" band mate Dean Richardson pipes in, given they've just been told that their latest record has debuted at Number 4 on the Official Albums Chart, marking their strongest chart performance yet.  
"It's crazy. Mental. I don't think it's really settled in yet," Frank admits, still bouncing. "Every time it feels like we're walking it in. Our first album was Number 18 and that was completely unexpected. Our second album fell into Top 10 and this is a Top 5. This one, we really worked hard on it."
Frank's third album with his band of Rattlesnakes sees the fiery frontman tackle more sophisticated emotions than his previous work, including struggles with his mental health, and dialling things up to an even wider soundscape than 2017's Modern Ruin. Given its chart performance, were they aiming making an album for the masses this time? 
"We always want to grow our sound. I don't think we every really worry about going broader. If I'm honest, this is the most personal and most introspective record we've done lyrically. I think, naturally, that those problems I'm talking about, everybody goes through them. I'm not the first person to suffer from them and I definitely won't be the last. In that respect, probably turning inwards on our emotions probably made the entire process wider and more open to the masses. It's funny, something you've avoided dealing with for 15 years, and then you start processing it properly and it actually makes a big difference."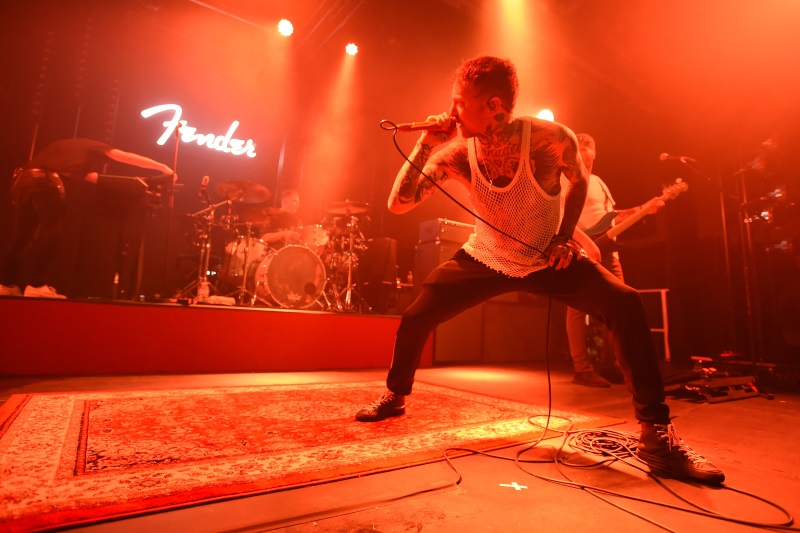 Frank Carter performing on the Fender Next stage at The Great Escape
Lyrically, The End of Suffering is dark, but the overall feeling by the end is one of hope. Is that where you're currently at in your personal life? 
Frank: "This is the thing with life, it's either a celebration or you're kind of in survival mode and damage control. You don't ever really remember the days that you just get by. They seem to drift into insignificance. It's easier, for some reason, to remember the sorrow than it is the celebration because the sorrow lasts longer. Ultimately, the fact that this album exists and we're here to talk about the songs and play them - that's hope in itself. I'm singing about a lot of finality and the darkest moments of my life, but I'm here singing about it - and isn't that in itself such a beautiful thing?"
That must make it a very cathartic album to play live?
Frank: "I get that feeling every night. Every single night. I look a certain way at Dean at least once every performance and I know he's thinking the same as me: that we're so f**king lucky to be doing this. We look out to the crowd - and it happened multiple times in Europe - and there was no difference in the reaction from the crowd from the new songs to those that had been out for five years." 
Dean: "That's when I started getting nervous and thinking this might be way bigger than I expected it to be! You expect no-one to want to hear the new stuff." 
You must feel like a very different band now; what's the biggest change you've noticed within yourselves?
Frank: "I feel different in all ways. In sound and as a person." 
Dean: "I just feel more comfortable. Every time you make something creative you're trying to do something that represents you closely, and this album for me is the closest to what I've always been trying to do. I'm sure in six months we'll come back and do another [record] but for now I just want to play these songs because I enjoy the feeling so much."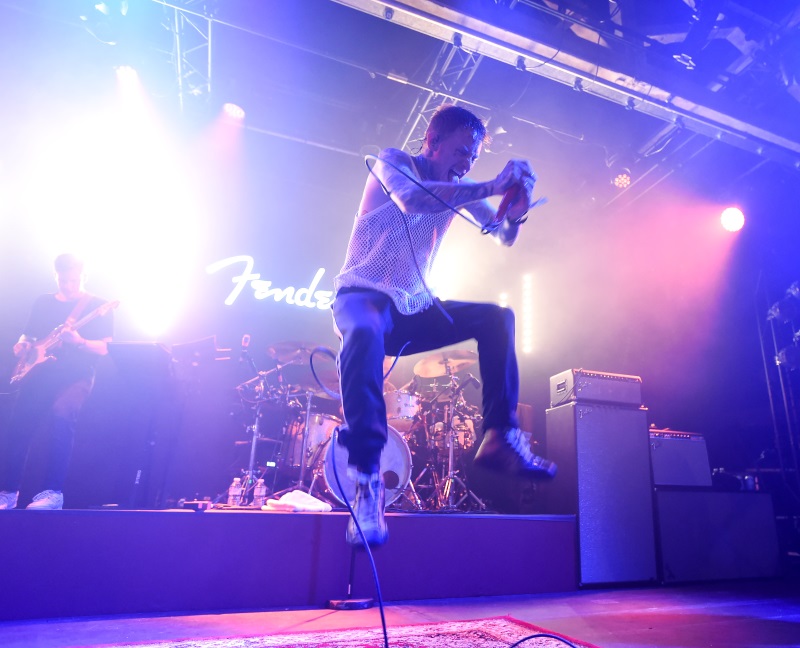 You're headlining the Fender Next stage at The Great Escape tonight; arena shows can't be that far away now, right? 
Frank: "We're still a ways a way from that yet. For me, I never want to expect too much. If you consider yourself an underdog then you get a lot of nice surprises along the way when it all starts working. We're used to being the support band that goes and gets the crowd riled up. I think a lot of young bands have a tendency to believe their inflation happening around them."
Dean: "Everyone focuses on [arena shows] being the goal rather than creating the best art they can and being the best performers. I think we've been good at focusing on that and everything else is just happening around us and it happens a little more organically."
Frank: "We've both been in bands before this one where you've set yourself targets, and it's almost like you can't celebrate any of the success along the way if you don't meet those targets exactly. For us, we did set the target of aiming for a Top 5 with this album because we felt that was a good, natural progression. It felt like a flag in the sand. But we would love to be a future arena/stadium band. The funny thing is, we recently walked out on stage in Prague to an audience of 600 people, and we'd never played a gig there before and we were absolutely astounded. You start realising it's working and it's moving. In bands we've previously been in... it's so rare to see that kind of movement in Europe.
You have a reputation for frenetic, maniacal live shows. Is there a process to get you hyped up backstage that we should be helping with right now?
Dean: "We have a fairly serious playlist called the hour of power. We take it quite seriously. If someone is just chilling in their seat and it's the hour of power, they will be asked to get up. Everyone does their own thing, but the music will pick up tempo, and every will do their thing to prepare for the gig.
Frank: "There's a lot of pacing, stretching... I go really inward and start looking into that thousand yard stare. I've recently been a requesting a two-hour of power and I feel like I need a longer build up." 
Frank, you played The Great Escape in 2007 with your previous band Gallows. Do festivals like this still help out new acts? 
Frank: "It definitely helped me back then. I remember coming off stage and seeing Mike Skinner in the pit and thinking the whole thing was mad. It breaks down a lot of barriers. It can be so hard for an act to come to this, where it's events rather than gigs. You're not always playing to your own crowd which can be a bit of a slog. I remember in Gallows it was such hard work, but it cut my teeth and when we left we were a ferocious band. It was trial by fire and I think bands need it." 
A recent report revealed that 40,000 tracks are now uploaded to Spotify every day. How do you stand out from the noise? 
Dean: "For us it always comes back to live [performances]. If you're only one of those 40,000 tracks going on Spotify every day it would be a lot harder. We've always made our impact at shows and that's what gets people talking. I think there's too much online. You have to do stuff elsewhere.
Frank: "For a band like us, playing these gigs are a f**king challenge. Even on the Fender stage, it's a vibe and people want to see guitar music, but it's still a challenge. You're not gifted a good show at any showcase event, you have to work for it. We love that challenge."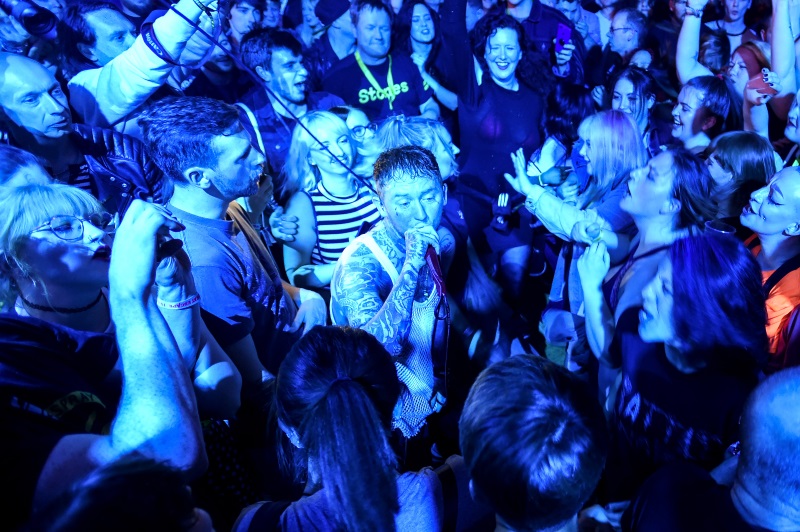 Speaking of guitar music, the instrument is being used in many more ways now than during the birth of punk rock in the 1970s. Does that make live performances trickier? 
Dean: "Definitely, in some respects. When we went to learn how to perform this album after we made it, it was actually quite difficult to decipher what was synth and what was guitar. I'm really interested in that as well, using the guitar but not making it sound like guitar. I think it's important that the guitar evolves. It was clean at one point and later on someone else decided to distort it... it's forever evolving."
The concept of the album is also evolving in the streaming era. Are you sticking to releasing full records for now? 
Dean: "We're talking a lot about the next bit of studio time but we don't know what they will be yet. Everybody is confused about albums at the moment. I think we'll always do them as our biggest flag in the sand. We want to start breaking things up between the albums. Making an album is one of the most draining thing you I ever do. It's sixth months of your whole life. It'd be nice to go to a studio for a week and put that out. An album never disappears from your discography, but an EP can."