We love a good old chart battle – it's in our DNA, after all.
In 2001, the media whipped itself into a frenzy as two huge acts launched their brand new singles.
In one corner, Kylie Minogue, fresh from a storming comeback with her Light Years album. Could Can't Get You Out Of My Head continue her success?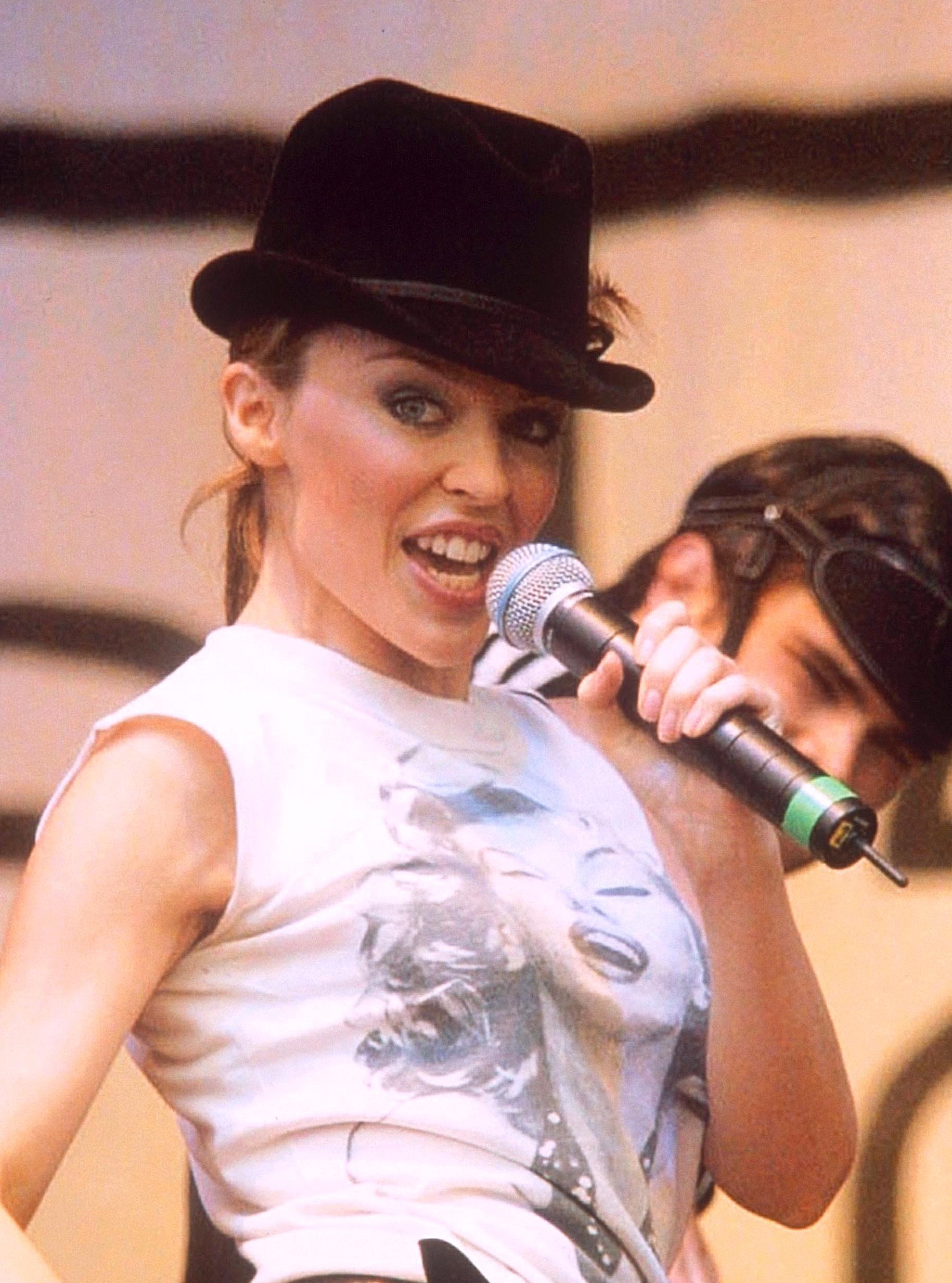 Here's Kylie doing a little bit of promo for what all the cool kids (it says here) were calling CGYOOMH at Radio 1's One Big Sunday. (REX)
In the opposite corner, the final former Spice Girl to go it alone, Posh, aka Victoria Beckham. She had a secret rose tattoo she was dying just to show you, and high hopes for her debut solo effort Not Such An Innocent Girl.
The pair made the headlines all week and even non-fans couldn't wait to see how this one turned out. The battle was all the more newsworthy coming as it did just a year after Victoria's Truesteppers/Dane Bowers collaboration was beaten to the top by Spiller and Sophie Ellis-Bextor.
Although the battle was portrayed as Kylie vs Victoria, in actual fact, Victoria wasn't even Kylie's closest rival – she ended up being a new entry at Number 6. Alien Ant Farm's Smooth Criminal and Shaggy's Luv Me Luv Me both entered higher (see full Top 10 below).
As we all now know, Kylie won the day, and despite all the hype, the race actually wasn't that close at all.
Can't Get You Out Of My Head was an understatement; everyone wanted to get their hands on this song. Kylie shifted an awful lot of CDs in that first week on sale – almost 270,000 copies ahead of Victoria.
Kylie's Can't Get You Out Of My Head reigned supreme for four weeks at the top of the Official Singles Chart. What an amazing month that was.
Not Such An Innocent Girl was to be the second of four solo Top 10s for Victoria. Her most recent was the really very decent double-A side Let Your Head Go/This Groove, which peaked at Number 3. Victoria's first non-Spice entry had been that collaboration with Truesteppers and Dane Bowers. Not Such An Innocent Girl was the first time she'd been all alone.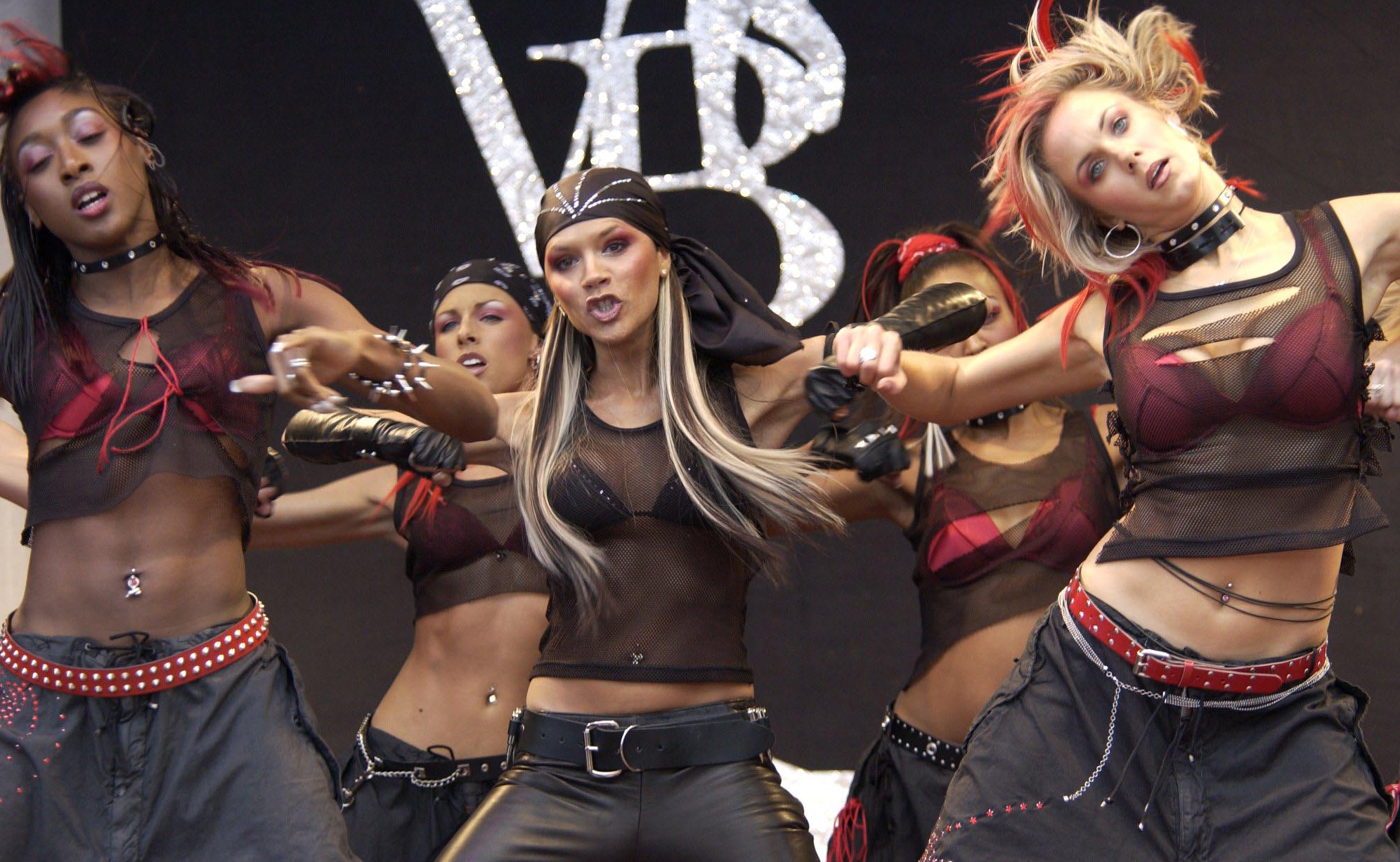 Our VB was at Radio 1's One Big Sunday too, which was held in lucky old Leicester that year. (Richard Young/REX)
Can't Get You Out Of My Head was, of course, Kylie's first million-seller (Especially For You is her other one). She has sold 1.19 million copies of the track, passing the million-selling milestone in January 2002. (Victoria also has two million-sellers, FYI. Wannabe and 2 Become 1 did the biz for Spice Girls.)
The rest of the Top 10
Let's take a look at the Top 10. Click on the chart to see the full Top 100 from this week in 2001.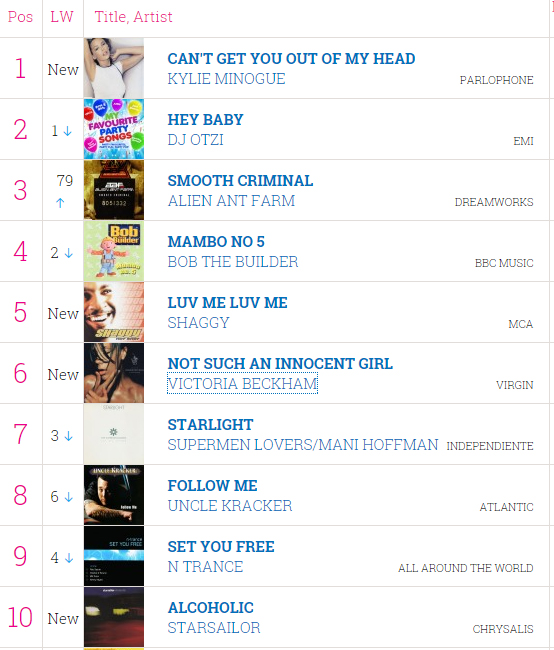 Alien Ant Farm's cover of Smooth Criminal actually out-peaked Michael Jackson's original – he took the track to Number 8 in 1988.
Luv Me Luv Me was Shaggy's seventh Top 10. It was originally recorded in 1998 as a collaboration with Janet Jackson, but she doesn't feature on this version.
Here are the two main events themselves:
Take a look back at some of the Noughties' biggest pop acts in our fake tan and straighteners-tastic gallery: