Comebacks are as big a part of pop as Number 1s, BRIT Awards and million-sellers. No sooner do bands break up or popstars fade from the limelight, and everyone wonders if and when they'll be giving it another go.
The success rate of a comeback can vary, but one band who practically reinvented the concept of a reunion were Take That who, 10 years go, reformed as a four-piece and released their first new material in a decade. They probably had an inkling things would go well – the band had just completed a reunion tour, playing all their original pre-breakup hits, but would their fans still want to hear the songs if they didn't know the lyrics? 
In a word: yes.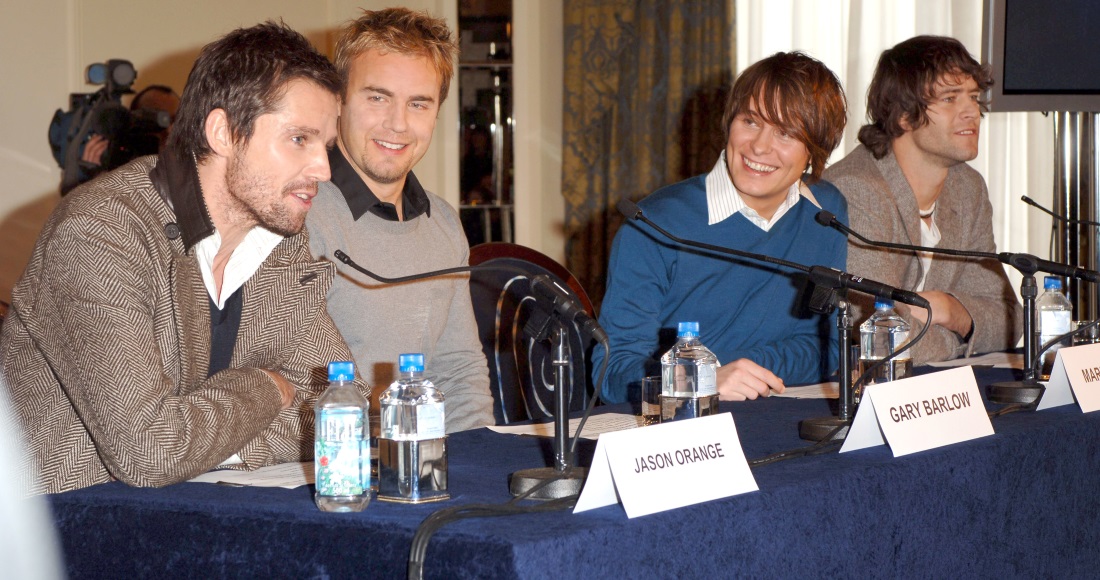 The four reunited members of take That announce their comeback hits tour in 2006 (David Fisher/REX)
As part of our month-long celebration of 60 years of the Official Albums Chart, we're looking back at stories behind some of biggest selling albums of all time, and Take That's Beautiful World ranks highly among them - Click here to see the full list. 
Take That's comeback kicked off in a very modern way – played out on TV. In a special documentary, Mark, Howard, Gary and Jason got together to reminisce about their heyday, while Robbie also shared his memories, albeit separately. The payoff was supposed to be a big reunion at the end of the show, but Rob never arrived, leaving the remaining four facing the future together, which they did with gusto. And once the sell-out hits retrospective tour was over, the guys realised there was a thirst for more TT, and they decided to – oh, you knew it was coming – come back For Good.
But how do you restart a career that ended over a decade ago? Do you try to recreate your old hits and stick to your signature sound? It may have been tempting, but the pop landscape of 2006 was way different from the one they left behind in 1996. With their new status as a 'man-band' and safe in the knowledge their fans had grown old with them, they debuted a new, mature sound with the aptly titled reward for those fans' decade of devotion – Patience.
The song was an instant hit when released in November 2006, spending a month at number 1 and quickly becoming one of the Top 10 biggest sellers of the year. But what about the album?
Working with US writer and producer John Shanks, Take That produced Beautiful World, both a nod to their '90s heritage but bringing them firmly into the now. 
Released in the run-up to Christmas 2006, Beautiful World stormed straight to Number 1, selling 169,000 copies in its first week on sale – but the weekly sales got even more impressive. In the week before Christmas, the album shifted an incredible 443,000 copies, which helped Beautiful World break the million-sales mark after just four weeks on sale.
Click the image below to look at what else was in the chart the week Beautiful World debuted at Number 1. Here's the Top 10: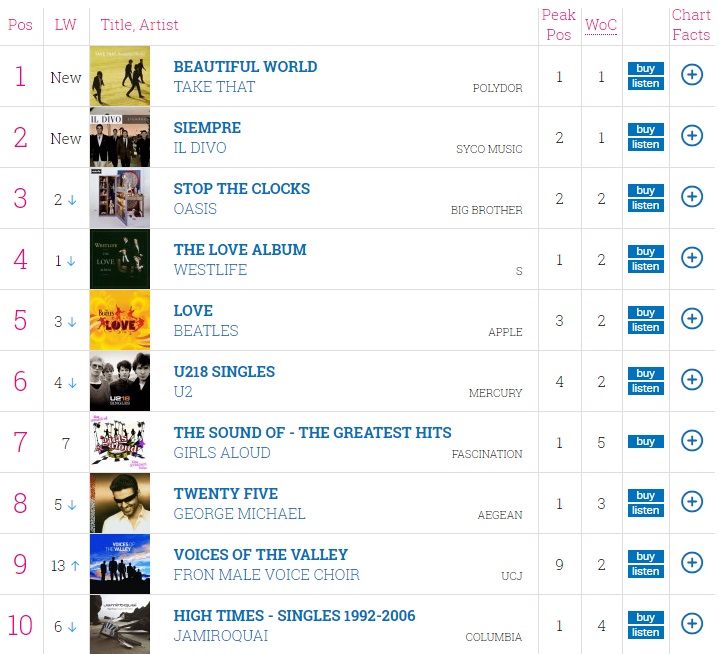 Another Number 1 followed, Shine, with Mark taking lead vocals for the first item since their 1993 Number 1 Babe. Next was I'd Wait For Life, a ballad, that reached Number 17 – huge album sales had, by then, cannibalised any future singles' sales. Until… 
Originally penned for the movie Stardust, Take That's Rule The World didn't appear on the 2006 version of Beautiful World, but following its huge success in late 2007, it was added to a special tour edition. This new version of the album, plus the inclusion of Rule The World, helped sales surge once more, hitting the two million mark in December 2007. Beautiful World spent eight weeks at number 1 in total.
Beautiful World hit multiple milestones, any one of which a regular pop album could only dream of achieving. Patience won the BRIT Award for British Single in 2007, with Shine also taking the award home in 2008. It spawned two Number 1s and, thank to Rule The World, includes a million-selling single – one of the biggest selling singles of all time not to reach Number 1. Beautiful World has shifted an incredible 2.85 million copies to be one of the best selling albums ever in the UK.
Not only that, but it kicked off one of the most successful comebacks in pop, which eventually led to the unthinkable happening and Robbie rejoining Mark, Gary, Howard and Jason for another multi-million-selling collection.
As more and more '90s acts began to make their way out of the wilderness, it's clear Take That started a revolution – who says you have to go away quietly? 
Stay tuned for loads more amazing features, facts and stats on the Official Albums Chart throughout July. Follow @OfficialCharts on Twitter (remember to tell us your #MyFavouriteAlbum and why) and Facebook for the latest updates, and check out the Official Albums Chart Top 100, published on OfficialCharts.com every Friday at 5.45pm.
While we're at it, you can look back through the UK's official biggest selling album of every year since 1956 below: