Pop stars can have many faces over the course of their career, with their musical style evolving as the hits pile up, and one of the biggest shift in style would probably be Pink. Now known as a boisterous pop-rock star, back when she started out, Pink was more about the slick and sassy R&B – and it all kicked off 16 short years ago.
Pink, aka Alecia Moore (the nickname came before the hair colour apparently), was just 20 when she released her very first single, a classic slice of Destiny's Child-inspired, useless man-dissing R&B. Even though the song was a vicious takedown, it had a fairly chilled vibe, but Pink was full of attitude and you could see that fiery personality was waiting to come out.

MORE: See where all of Pink's singles and albums have charted in the UK
She wasn't the highest new entry, going straight in at Number 6, but it was the beginning of an impressive chart career. Pink's scored 28 Top 40s, including 18 Top 10s, three of which went to Number 1. There You Go has a chart sales tally of 173,000 (singles' sales could be quite low back at the turn of the century)
MORE: Pink's Official Top 20 biggest selling singles
Feast your eyes on this cracking Top 10. Click on the image to see the full Top 40: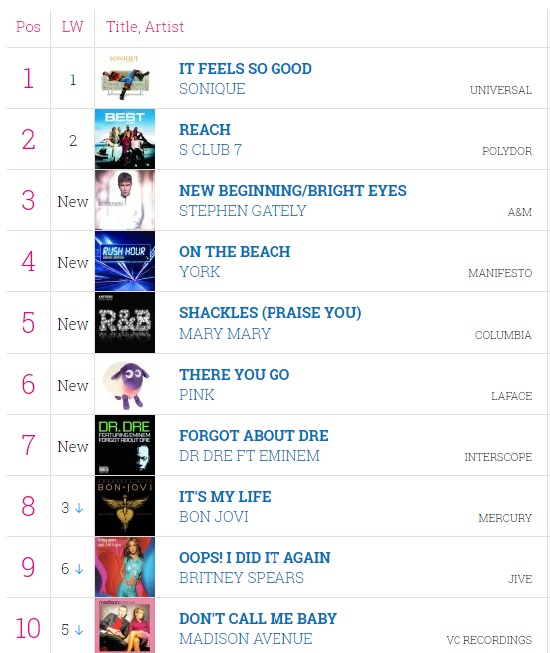 Back in 2000, it was unusual for tracks to climb – once they went in, that would usually be their peak position. This week 16 years ago, there were plenty of new entries. As Sonique and S Club 7 held firm in the Top 2, the highest new track was Boyzone star Stephen Gately with his very first solo single, New Beginning. Stephen had recently come out as gay in the press, so New Beginning was especially poignant.
Dance remixes of old classics are big news in the Official Singles Chart today, but it's no new phenomenon – York's reworking of Chris Rea's On The Beach was new at Number 4. Shackles (Praise You), new at Number 5, was one of the big radio hits of the summer, from gospel duo Mary Mary. The pair would only have one more Top 40 hit.
Another massive song to go into the Top 10 this week was the classic Forgot About Dre, a collaboration between hip-hop heavyweight and future headphones magnate Dr Dre and his protégé Eminem. 
Further down the chart, Stephen Gately's former Boyzone bro Mikey Graham was also giving solo stardom a go, with You're My Angel (13) 😬 and Aqua were back with new single Around The World (26). Plus there were all sorts of other songs you vaguely remember hanging about the chart. See the full Top 40 and beyond.
Relive more Noughties pop in our gallery below. Can you remember all of them?
Article image: Rex