Any pop fan of a certain age worth their salt will remember exactly where they were and what they were doing when they heard Spice Girls' Wannabe for the first time. But few of those in 1996 who tapped their feet and sang along, or turned the radio off in horror, could have predicted just how big an impact that song – and its five singers – would have.
2016 sees the 20th anniversary of the release of Spice, the debut album from Geri, Mel B, Mel C, Emma and Victoria – the Spice Girls – and the birth of a global phenomenon. Their star may have burned brightly for only a short time, but even two decades later, we can still feel the heat. 
To celebrate the 60 years of the Official Albums Chart this year, we look back at the songs that made Spice such a global hit.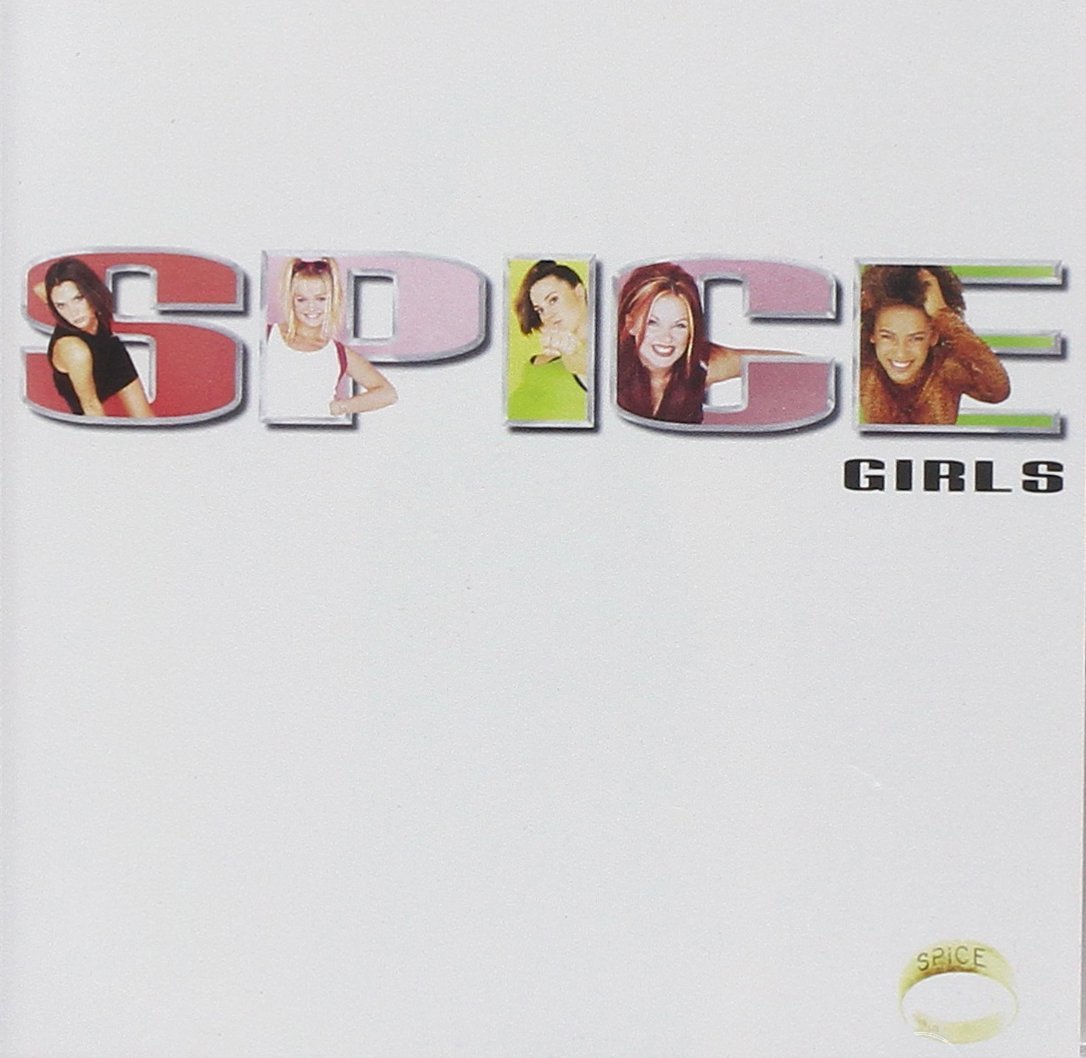 Five rag-tag girls in clothes you could find in any high street if you looked hard enough, an unbridled enthusiasm and a boisterous romp through the hotel in St Pancras station might not sound like the perfect ingredients for a Number 1 single, but somehow Wannabe worked. Apparently, Wannabe was very nearly not the band's launch single at all – some members of the girls' camp wanted Say You'll Be There, while others favoured Love Thing, but any attempt to get one over on the quintet was thwarted, and girl power won through.
MORE: Music icons and TV stars reveal their favourite album of all time
The video was shot in one take and caused a sensation when shown on music TV channels, meaning that on release, the song went straight in at Number 3, before climbing the following week and keeping its residency at the top for seven straight weeks. It would go on to be a million-seller.
It was pretty common for an album to come out straight after the lead single, but the Spices were taking no chances – they wanted to show there was more to them than bouncy pop. Next single Say You'll Be There was a slice of slick R&B and went straight in at the top.
It was time, at last, to see what the Spice Girls were really all about, and when Spice was finally released, it was a big deal, shifting 114,000 copies in its first week on sale. For most albums, things wouldn't get much better than that, but for Spice, sales snowballed.

Queens of posing in car parks in Lycra leisurewear (REX)
In the three weeks before Christmas 1996, Spice sold 901,000 copies alone, shifting 364,000 in its biggest week. And this is before downloads made buying music easier – people queued in a shop for this!
MORE: The UK's official 60 biggest selling albums of all time
Christmas ballad 2 Become 1 cemented Spice Girls' place in pop history, giving them a third straight Number 1, the first of three festive chart-toppers and would, eventually, become the band's second million-selling single.
Most bands might be happy with that, but the Spice juggernaut continued and a double-A side of Mama and Who Do You Think You Are, released as a charity single for Comic Relief, gave the album its fourth chart-topper.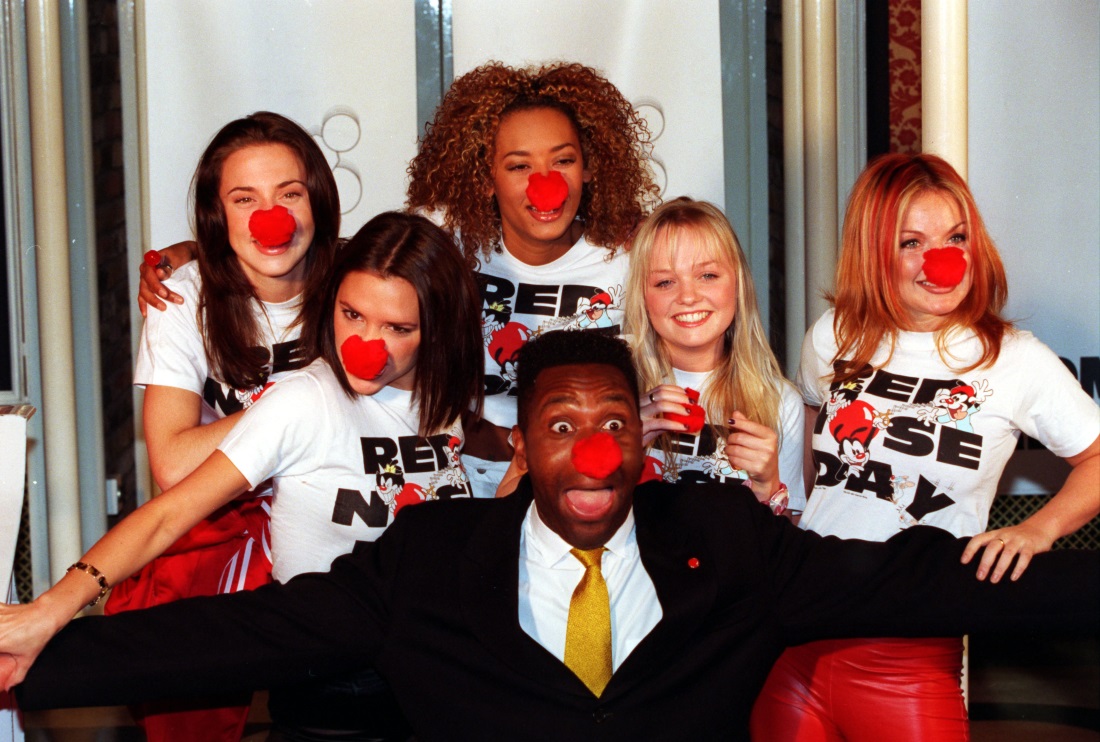 Posh managing to make a red ball on her nose look sophisticated (REX)
The thing with Spice was that while the singles were huge, eve its album tracks became well-known, thanks to the huge appetite for everything Spice Girls. Play If U Can't Dance or Love Thing to even a non-Spice fan and the chances are they'll recognise them.
Spice had a few spells at Number 1, its longest run being eight straight weeks over Christmas and New Year 1996, notching up a total of 15 weeks at the top. It didn't leave the Top 5 once in its first 40 weeks on the Official Albums Chart, and has sold a whopping 2.94 million copies to date, making it one of the UK's best selling albums of all time.
Click on the image below to look at Spice's full, week-by-week run on the Official Albums Chart: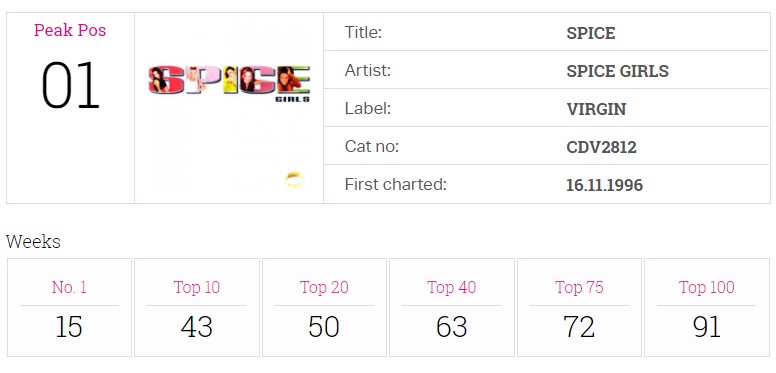 Hang on, Spice wasn't the best selling album 1996? Click through the biggest selling album of every year since 1956 below:
Main image: Andre Csillag/REX