Earlier this month, Fifth Harmony arrived back on to the scene just the we wanted them to; with another sassy finger-snapper in the form of Work From Home.
The track, which looks all-but-certain to become their second UK Top 10 hit this week, heads up their second album 7/27 - named after the date they were formed on The X Factor USA (though they missed a trick in also making it the release date, right?).
What's more they've pulled out the big guns this time, working with mega hitmakers Max Martin and Norwegian duo Stargate on the record, who as pop fans will know, have turned out a fair few hits in their time. 
We caught up with Dinah to find out what else we can expect from, as she put it, the "new version of Fifth Harmony" this year...
Hello Dinah! So Work From Home has taken off in a big way in the UK and the rest of the world; the group must be pretty happy about that?
We are so happy and excited by the reaction to this song. It's amazing to see where it's hitting around the world… we're so blessed and thankful for all of it. And to see it taking off the way it has in the UK… seriously we're so excited!
It's essentially a massively fun pop song, and not a lot of people seem to be doing that at the moment...
We're stepping into a more mature sound with this new version Fifth Harmony and with this album, but this is a fun, flirty song – nothing too serious! We're just enjoying ourselves with this one – especially the music video.
What else can we expect from this 'new version of Fifth Harmony'?
As you can tell from Work From Home, we're stepping into a new era of the group. There's a new sound, new image… we feel like we've been reborn again. We're showing more of our growth, which is one of the reasons we called our album 7/27 – to show how far we've come with this new album from where we started. We're very happy with the sound we're stepping into, especially as it took us like three/four years to find it in the first place!
This kind of success also must inject new energy into the group...
Oh of course, definitely! It happened when Worth It came out as well. The success of that song literally surpassed all our expectations, and to build on that with Work From Home… we're just glad that people are reacting so well to it.
As you say, it's taken you a few years to reach this point, partly because successful US girl groups are a rare thing these days. What's been the main challenge over that time? 
Really, the big challenge for us all has been being away from home. We all left home young and we're all very family-orientated. We only have each other on the road, but the great thing is that when one of us is going through a hard time, you have four girls shoulders to cry on, and they're going through the same thing. Losing family members has been particularly difficult for some of us on this journey, but we know ultimately that this is going to benefit our families in the future.
The video for Work From Home is completely ridiculous yet brilliantly fun. What was it like shooting on what is essentially a building site?
As you can see there a few oiled down men in that video so it was definitely a lot fun, if somewhat distracting for me personally! We tried to incorporate some knowing jokes in some of the scenes which some people have spotted, and we were just trying to be cute and flirty – it was nothing much!
As least one of you must have tried it on with one of the dancers though, right??
Nothing like that, but obviously you do need some chemistry with your dancers in a video. There was no time to hit on them to be honest with you – we had to keep focused on that camera!
Good point. Can we also point out that the video is a health and safety nightmare - where were your hard hats and safety goggles, Dinah?
Oh no we wear any did did we?! [Laughs] Speaking of the video, we actually really enjoyed having Ty Dollar $ign be part of the project. He was such a cool man on set, so I have to give him a huge shout out for being a part of the song. I think he adds a huge amount of flair to it and he basically makes us sound cool!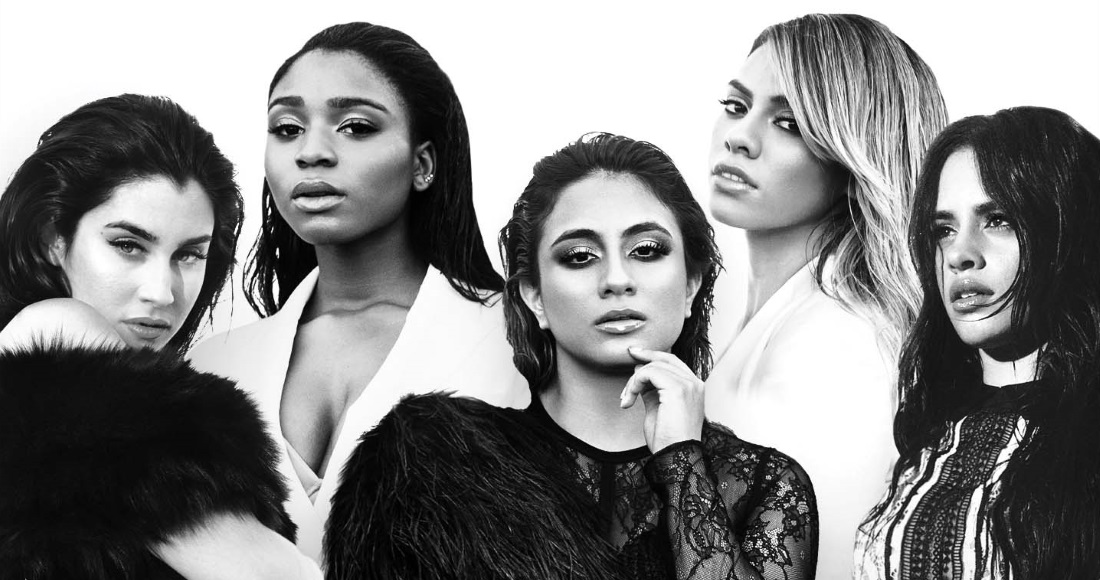 The album is called 7/27, which is the date you were formed on The X Factor USA...
That's right – July 27, 2012. It feels like we've really found ourselves since then – we've come such a long way. We're definitely feeling this new era happening.  
How has your sound evolved since your debut album Reflection?
Reflection was so much fun – it was basically nothing but hype songs! Now it feels like we're stepping into that grown woman status. We're showing more vulnerability and involving our ethnicities more. We're five different girls from five different places, and we've incorporated that into the music this time. We've had more of a say in what we wanted in and out of the album as well. It was great to have a real voice on this project.
We hear you've been working with some big names on the album...
We worked a lot with Max Martin's camp, as well as Victoria Monet (Ariana Grande, Chris Brown) and Stargate (Rihanna plus this incredible list of acts). Working with those kinds of people is such a humbling experience. They have made so many hits, so for us to continue to work with them is awesome.
Tell us about a song on the album that you're really excited about.
I am dying to tell you the name of one of the songs. All I can say about one I love is that it was actually supposed to come out on the Reflection album, and we begged for it to be on this one – that's how attached to it we are. It's a ballad that shows are vulnerable side, and we're actually really singing on it. I'm looking forward to everyone hearing us SING.
Fifth Harmony's Work From Home is out now. The album, 7/27, follows on May 20.
How well do Fifth Harmony know each other? Find out when we tested the group below: