Fifth Harmony have announced they are going on hiatus.
The girl group, who have been together for six years, shared a statement online saying they are temporarily splitting to pursue solo projects. Their upcoming shows through to the end of 2018 will go ahead as planned. 
The message said: "After six years going hard, non stop, we also realized that in order to stay authentic to ourselves and to you, we do need to take some time for now to go on a hiatus from Fifth Harmony in order to pursue solo endeavors.
"In doing this we are allowing ourselves to gain new experiences, strengths and perspectives that we can bring back to our Fifth Harmony family." 
Read the full statement below: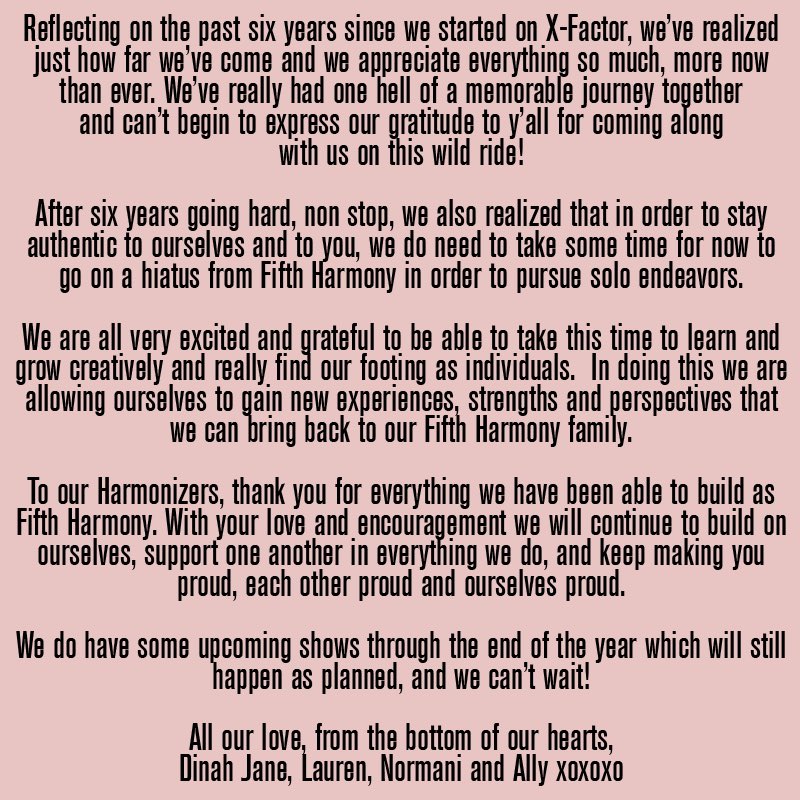 Fifth Harmony were put together on The X Factor USA in 2012. Their breakthrough hit arrived in 2014 with Bo$$ and they went on to land Top 10 hits with Worth It and Work From Home before member Camila Cabello left to embark on a solo career in December 2016.
Their most recent album and first as a four-piece, 2017's self-titled collection, reached Number 10 on the Official Albums Chart. View Fifth Harmony's Official UK Chart history in full here. 
Watch back our interview with Fifth Harmony from 2015, when we asked the group just how well they knew each other: