The treasured Number 1 spot is never more hotly contested than the last couple of weeks in the year – the hallowed Official Christmas Number 1. Grabbing a Christmas chart-topper is a surefire way to ensure you go down in the history books.
Some songs sound like they should've been Christmas Number 1s, or huge festive smashes, but didn't go the distance. Hold tight on your one-horse open sleigh and prepare to be shocked by Christmas songs that maybe weren't as big a hit as you think.
All I Want For Christmas Is You
Think classic Christmas Number 1 and maybe you'll recall Mariah's modern classic from 1994. Widely (correctly) regarded as the ultimate Christmas song, yes, it's sold over a million; yes, it's returned to the Top 40 every single year since 2007; and, yes, it's Mariah's top seller in the UK, but… Not a Number 1. No. I know.
The highest it's managed is Number 2, in 1994, when East 17's Stay Another Day beat it to top the festive chart rundown. Last year, it made the Top 10 a third time.
MORE: See all Mariah Carey's hit UK singles and albums
Last Christmas
George's whispered "Merry Christmas" in the first verse is the stuff of legend, but Last Christmas is perhaps the most famous festive near-miss of them all.
On original release in 1984, it entered at Number 2 and stayed there for five weeks, kept off the top by the original Band Aid's Do They Know It's Christmas.
Last Christmas was reissued in 1985 for another go, making it to Number 6. It's a million-seller and has the distinction of being the biggest selling single ever in the UK not to make Number 1. It's returned to the Top 40 nine times, and following the death of George Michael at the end of 2016, revisited the Top 10 for the first time in 21 years. 😢 
MORE: Wham's full archive of hit UK singles and albums
Fairytale Of New York
The soundtrack to any tinsel-inspired drunken argument, this classic first charted 28 years ago, peaking at Number 2 behind Pet Shop Boys' Always On My Mind. It's a million seller and has returned to the Top 10 three times, in 2005, 2006 and 2007 and the Top 20 nine further times, reaching Number 15 in 2016.
Christmas Wrapping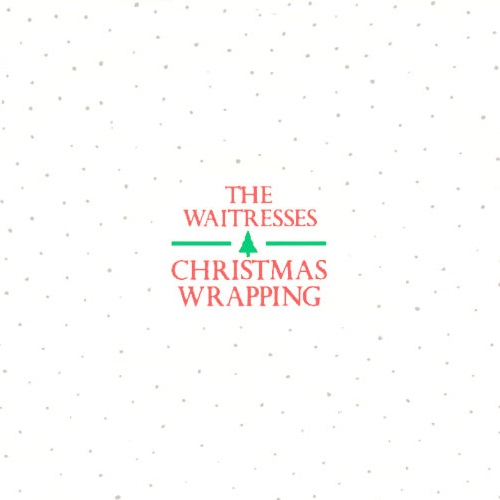 Another alternative Christmas message, Christmas Wrapping has, shockingly, never made the Top 40. Nope, never.
The original version, by no-nonsense American band The Waitresses, was released first in 1981 and didn't chart at all. Another go in 1982 reached Number 45. It returned to the Top 100 for the first time at the end of 2016!
The closest it got to being an Official Christmas Number 1 is appearing as the B-side to one. Spice Girls covered it in 1998 and plonked it on their first post-Geri release Goodbye, which as we all know was the band's third Christmas Number 1 in a row – a feat only the Beatles can also claim.
White Christmas
OK, so you may be seeing a lot of Bing in our Christmas rundowns. Dear Uncle Bing's wish for a little bit of snow on Christmas Day is one of the most famous songs in the world, yet was never a Number 1.
It's the oldest million-seller too – having been in circulation since 1942. It had to wait 35 whole years before it got a shot at the charts, though, reaching Number 5 in 1977.
Happy Xmas (War Is Over)
Beatle John Lennon's Happy Xmas (War is Over) isn't the cheeriest track in the world, we've got to admit, but being a bit reflective is what Christmas is all about, isn't it?
Happy Xmas (War Is Over) has been a Top 10 hit three times – twice for John & Yoko in 1972 and 1980 and then for the finalists of Pop Idol in 2003. The 1980 rerelease following the death of John Lennon is the one to hit the highest – peaking at Number 2 behind St Winifred's School Choir with There's No One Quite Like Grandma. Oh yes.
Happy Xmas (War Is Over) last made the Top 40 in 2007.
MORE: See all John Lennon's charted singles and albums
Silent Night
A standard of many a dull Nativity play, yes, but it's also been a Top 10 hit twice!
Bing Crosby pops up here again, taking the track to Number 8 in the very first Christmas Number 1 race in 1952. Al Martino may have won that year with Here In My Heart, but you never hear that at a Christmas party do you?
Thirty-six years later, Bros fared better with their emotive reinterpretation, hitting Number 2 in 1988. Sadly they did not sing it at their two comeback concerts in 2017.
Winter Wonderland
The jaunty, optimistic Winter Wonderland has been around since 1934 and covered by big names like Leona Lewis, Aretha Franklin, Eurythmics, Diana Ross and Michael Bublé. But it's hit the Top 40 only once, and for none of those acts.
Johnny Mathis took it walking in a winter Top 20, reaching Number 17 in 1958, changing quite a few (too many) lyrics along the way. Johnny did eventually have a Official Christmas Number 1 in 1976, with When A Child Is Born. Here's a lovely rendition of Kings of Christmas Michael and Rod belting it out.
MORE: Search for your favourite Christmas song to see its entire chart history in our archive
Santa Claus Is Coming To Town
You know the Jackson 5 version, and you may be a fan of renditions by Bing Crosby (hello again Bing!), Frank Sinatra, the Beach Boys, and perhaps even Dannii Minogue. But Santa Claus Is Coming To Town has charted just twice.
The Carpenters had a modest hit, reaching Number 37 in 1975. Its only other appearance is thanks to none other than Bruce Springsteen. Yep, the Boss reached Number 9 in 1985 with a double-A side of My Hometown.
O Holy Night
This rousing number has been covered by just about everyone who ever held a microphone, but reached the Top 40 just once.
And who made it? Susan Boyle? Celine Dion? Kelly Clarkson? Whitney Houston? Well, no. None of those. The only ones to have a hit with it? Ladywell Primary School (!) reaching Number 39 in 2012.
Santa Baby
A saucy Christmas classic that's been trilled by all the greats – Eartha Kitt, Mariah, Madonna, Kylie, Ariana, and most recently Gwen Stefani. It's never made the Top 40. Not once.
Eartha Kitt's version found some new fans in 2016, and she took it to 63, the nearest the song's got to the top flight (Kylie reached a new peak of 72 last year, so well done both.)
MORE: All Kylie's UK hit singles and albums in her Official Chart archive
I Wish It Could Be Christmas Every Day
Originally released in 1973, this Christmas staple never made it higher than Number 4. The Official Christmas Number 1 that year was Slade's Yuletide classic Merry Xmas Everybody, leaving Roy Wood and the backing vocalists from Stockland Green School in the cold.
A reissue in 1983 took it to Number 23, and since downloads were included in the Official Singles Chart, it has broken back into the Top 40 eight times – it hit Number 23 in 2016.
What's your fave Christmas classic? Did it chart as high as you think? Search our all-seeing, all-knowing database and all will be revealed.
Let us know what makes your bells jingle on Facebook and Twitter, using #XmasNo1 so we can see you!
Relive every song that did make it to Christmas Number 1 in our gallery of festive chart-toppers past: