The King of rock n' roll Elvis Presley claims a massive Official Chart feat today, as the latest album from the late legend, If I Can Dream, passes one million sales in the UK. 
The collection of orchestral reworkings of some of Elvis' best known hits has just tipped past one million sales (not including streams) on Friday, March 4 - more than 38 years after his death. 
If I Can Dream was a staple at the top end of the Official Albums Chart last Christmas, logging two weeks at Number 1 and 12 weeks in the Top 10. 
It's taken just 18 weeks for the record to reach the milestone, and remains inside the UK Top 20 this week at Number 11. Click here to see If I Can Dream's week-by-week chart run. 
Executive producer and Elvis' former wife Priscilla Presley said: "Once again the UK has shown how much they love and adore Elvis. This is an album that Elvis always really wanted to do and he would be so pleased to know that we have touched one million fans. I want to thank you with all my heart, helping us realise an unfulfilled dream."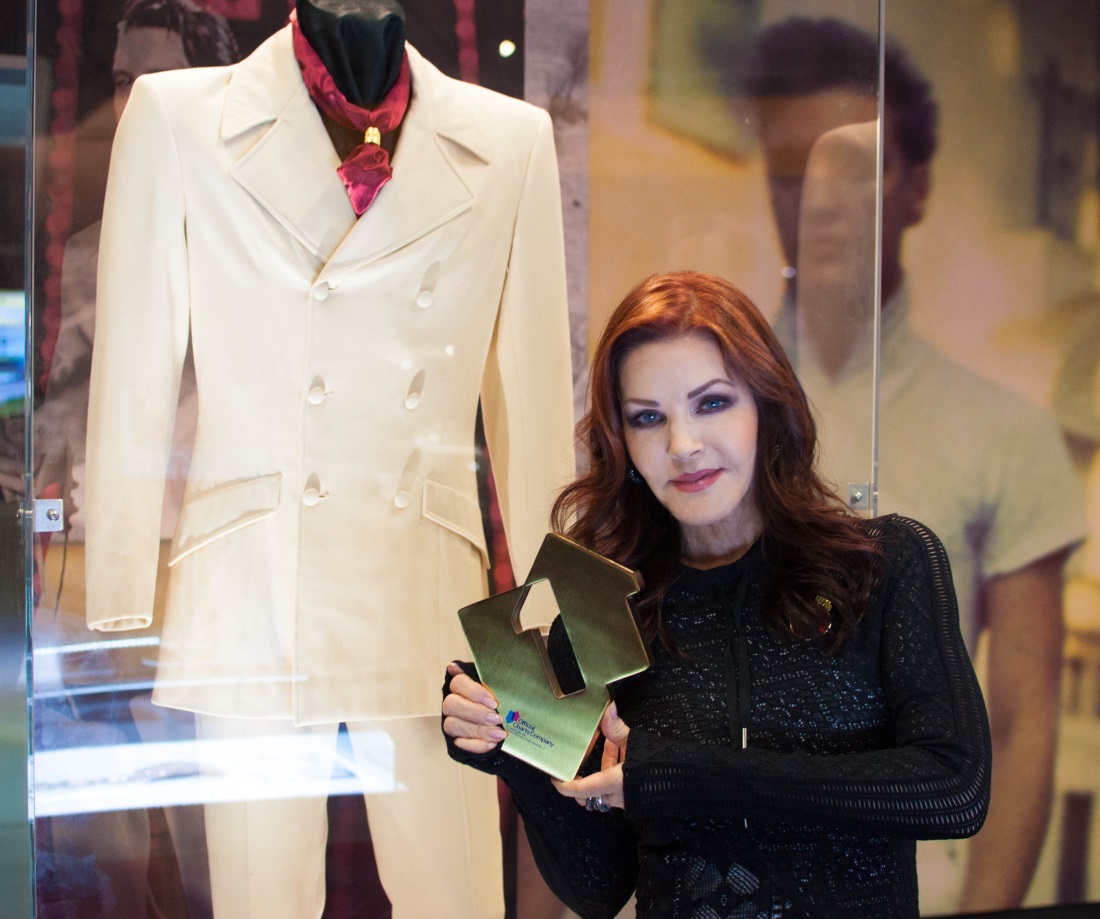 Priscilla Presley with her Official Number 1 Album Award at the Elvis at the O2 Exhibition in London.
If I Can Dream gave Elvis at 12th UK Number 1 album and set a new chart record when it debuted at the top last November, giving him more chart-topping albums than any other male solo artist in UK chart history. 
The record logged 79,000 chart sales in its opening week, but its biggest sales week came seven weeks after, which it notched up just under 175,000.
If I Can Dream joins an elite club of albums to have passed one million sales in the UK. Recent records that have also managed it in the last two years are Adele's 25 (the UK's fastest million selling album), George Ezra's Wanted On Voyage, Sam Smith's In The Lonely Hour and Ed Sheeran's x. 
There are reports that a follow-up to If I Can Dream is on the way later this year; but in the meantime, a massive 60-CD boxset of his complete works plus rarities is being released on March 18 – more info on there here. 
Last summer OfficialCharts.com revealed Elvis' biggest selling singles of all time - see the full Top 50 rundown here.