It's every Elvis fans dream: a definitive box set of The King's back catalogue has been announced for release later this year. 
Elvis Presley - The Album Collection will be released on March 18 via Sony Music Entertainment and it includes a mammoth 60 CDs, featuring restorations of 57 Elvis albums plus three discs of rarities from the '50s, '60s and '70s. See it in all its glory below: 
MORE: Check out Elvis Presley's Official Top 50 biggest selling singles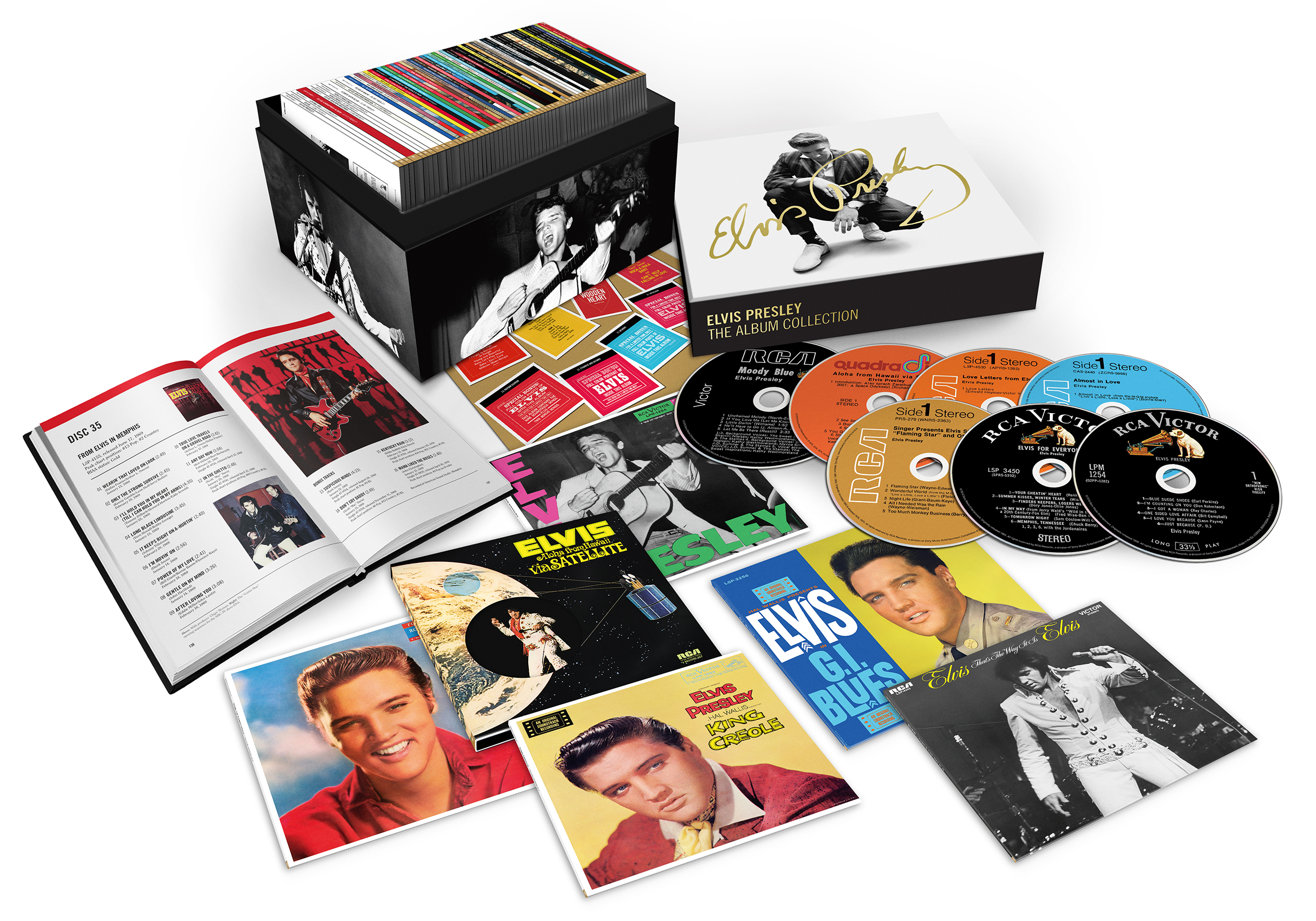 The deluxe set, which celebrates the 60th anniversary of his first album on RCA Records, includes his fabled Sun Sessions (recorded in Memphis prior to major label signing to RCA), his first RCA sessions in 1956 and his studio, 17 soundtrack titles and live albums, including On Stage (1970), Elvis As Recorded Live At Madison Square Garden (1972) and Aloha From Hawaii Via Satellite (1973).
The treasure trove for fans also includes a 300-page hardcover book featuring commentary penned by Elvis scholar John Jackson, discographies and recording session details including dates, locations and more. 
MORE: Check out Elvis Presley's full UK chart history
Elvis' works have been reissued sparingly in the digital era, with various themed box sets, legacy editions and budget releases all appearing in the last decade, making this the first time his entire catalogue has been made available as they were originally meant to be heard. 
The release follows the huge success of Elvis' latest album If I Can Dream, a re-working of some of his biggest hits by the Philharmonic Orchestra. The collection topped the Official Albums Chart for two weeks in November last year and was the fourth biggest album of 2015, shifting 881,000 combined units. 
Elvis Presley - The Album Collection comprises of...
Elvis Presley (1956)
Elvis (1956)
Loving You (1957)
Elvis Christmas Album (1957)
Elvis' Golden Records (1958)
King Creole (1958)
For LP Fans Only (1959)
A Date With Elvis (1959)
Elvis' Gold Records Volume 2—50,000,000 Elvis Fans Can't Be Wrong (1959)
Elvis Is Back! (1960)
G.I. Blues (1960)
His Hand In Mine (1960)
Something For Everybody (1961)
Blue Hawaii (1961)
Pot Luck (1962)
Girls! Girls! Girls! (1962)
It Happened At The World's Fair (1963)
Elvis' Golden Records Volume 3 (1963)
Fun In Acapulco (1963)
Kissin' Cousins (1964)
Roustabout (1964)
Girl Happy (1965)
Elvis For Everyone (1965)
Harum Scarum (1965)
Frankie And Johnny (1966)
Paradise, Hawaiian Style (1966)
Spinout (1966)
How Great Thou Art (1967)
Double Trouble (1967)
Clambake (1967)
Elvis' Gold Records Volume 4 (1968)
Speedway (1968)
Elvis Sings Flaming Star (1968)
Elvis (NBC-TV Special) (1968)
From Elvis In Memphis (1969)
From Memphis To Vegas/From Vegas To Memphis (2 discs, 1969)
Let's Be Friends (1970)
On Stage (1970)
Almost In Love (1970)
That's The Way It Is (1970)
Elvis Country (I'm 10,000 Years Old) (1971)
Love Letters From Elvis (1971)
C'mon Everybody (1971)
I Got Lucky (1971)
Elvis Sings The Wonderful World Of Christmas (1971)
Elvis Now (1972)
He Touched Me (1972)
Elvis: As Recorded At Madison Square Garden (1972)
Aloha From Hawaii Via Satellite (2 discs, 1973)
Elvis (Fool) (1973)
Raised On Rock (1973)
Good Times (1974)
Elvis: As Recorded Live On Stage In Memphis (1974)
Promised Land (1975)
Elvis Today (1975)
From Elvis Presley Boulevard, Memphis, Tennessee (1976)
Moody Blue (1977)
'50s Rarities (new collection)
'60s Rarities (new collection)
'70s Rarities (new collection)
Article Image: Rex/Shuttershock