After taking Glastonbury by storm with their "legends" slot over the weekend, ELO's greatest hits album All Over The World has hit a massive sales landmark, OfficialCharts.com can confirm.
The retrospective has tipped sales of one million (1.005m as of today, June 28 according to Official Charts Company data), hitting the milestone some 11 years after its release.
Thousands turned out to watch the British rock band at Glastonbury last weekend, where they played their biggest hits including Evil Woman, Showdown and Mr Blue Sky in the famous "legends" slot, previously played by the likes of Dolly Parton and Lionel Richie.
All Over The World - The Very Best Of ELO was originally released in 2005, entering the Official Albums Chart at Number 11 before climbing to Number 6 the following week. 
It has since enjoyed 112 weeks in the Top 100, having been re-released in 2011 and again earlier this month, entering inside the Top 5.
Click on the image below to look at the full, week-by-week UK chart run of All Over The World: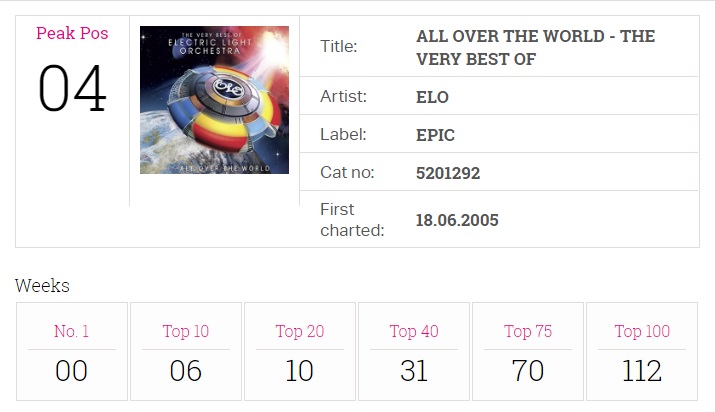 MORE: Look back at ELO's full Official UK Chart history here
Here's a breakdown of All Over The World's sales since its 2005 release:
Total physical sales: 858,931
Total album download sales: 138,787
Individual track downloads: 674,894
Individual track streams: 23,024,405
What's more, there appears to be plenty of life in the record yet; their Glasto slot has set the album on course for a new chart peak this week, currently at Number 2 as of today's sales flash.
ELO aren't the only act enjoying post-Glasto success on the Official Albums Chart; Adele is on course to reclaim the top spot following her headline set, while a string of albums from performers including Muse, Foals and Tame Impala are set to to re-enter the Top 40. 
MORE: Coldplay close Glastonbury with help from the Bee Gees - watch


Article image: Rex