Ed Sheeran has announced a brand new, 15-track project.
The No.6 Collaborations Project includes the UK's current Number 1 single with Justin Bieber, I Don't Care, plus Cross Me a new track with Chance the Rapper and PnB Rock which is released at midnight (May 24).
It's a departure from his previous three studio albums +, x and ÷, though the concept stems from an early mixtape released before Ed was signed in 2011, the No.5 Collaborations Project, which peaked at Number 46 in January that year.
"Since then, I've always wanted to do another, so I started No.6 on my laptop when I was on tour last year." Ed stated in a press release, "I'm a huge fan of all the artists I've collaborated with and it's been a lot of fun to make."
No details have been revealed about the other collaborators yet, but the tracklist has been officially made public: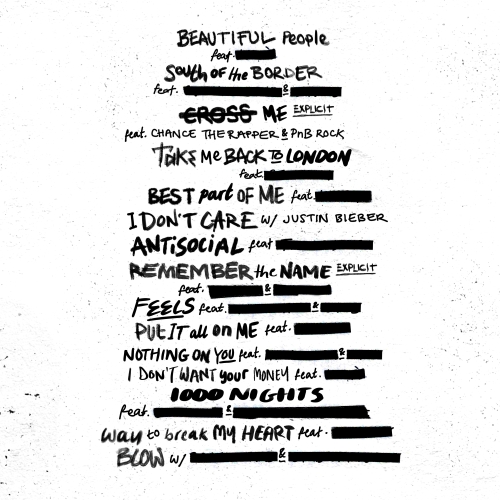 Last summer, Ed confirmed that an 'experimental' body of work was in the pipeline, something "that's not what I usually do, that just clears the air a little bit."
No.6 Collaborations Project is set for release on July 12, and is available for pre-order from midnight local time on May 24. See Ed Sheeran's full Official Charts history here.