Dua Lipa is coming into her own, leading a new generation of female artists bringing powerhouse pop music back to the mainstream.
With her second studio album Future Nostalgia arriving soon on Friday April 3, let's take a look at everything we know about the album so far.
The singles
The DL1 era got off to a flying start with Don't Start Now, which peaked at Number 2 for three weeks and has so far spent three months in the Top 10. Don't Start Now has been streamed 68.2 million times since its November release, getting Dua's new chapter off to a strong start.
As an end of year treat, Dua put out the record's title track as a promotional single in December, before the official second single Physical was released on January 31. The track debuted at Number 12 on the Official Singles Chart, while it peaked at Number 1 on the Official Trending Chart.
The concept
Dua is all about blending the past and present with her second studio album, a collection she was keen to build a concept for. When she announced the LP, Dua said: "What I wanted to do with this album was to break out of my comfort zone and challenge myself to make music that felt like it could sit alongside some of my favourite classic pop songs, whilst still feeling fresh and uniquely mine. I was inspired by so many artists on the new record from Gwen Stefani to Madonna to Moloko to Blondie and Outkast, to name just a few."
Dua expanded on the creative process in an interview on The One Show: "I felt a lot more confident doing this album. I really found my feet in the studio; I dictated every studio session I was in and wasn't afraid of being vulnerable and open about what I wanted to say. I wanted to make music that I felt I wasn't hearing on the radio. For me, that was trying to push boundaries, and that was how I felt I could mature as an artist by doing something a little different and something that essentially scares me."
The tracklist
Dermot O'Leary got the scoop on BBC Radio 2 that Dua had recorded over 60 songs for Future Nostalgia, but not all were suited to the overarching concept. 
"Oh my god I wrote a lot," explained Dua. "It was more just honing it in and making sure I had such a cohesive sound. There were songs I loved on the record but didn't end up putting [on] because I felt like they didn't fit."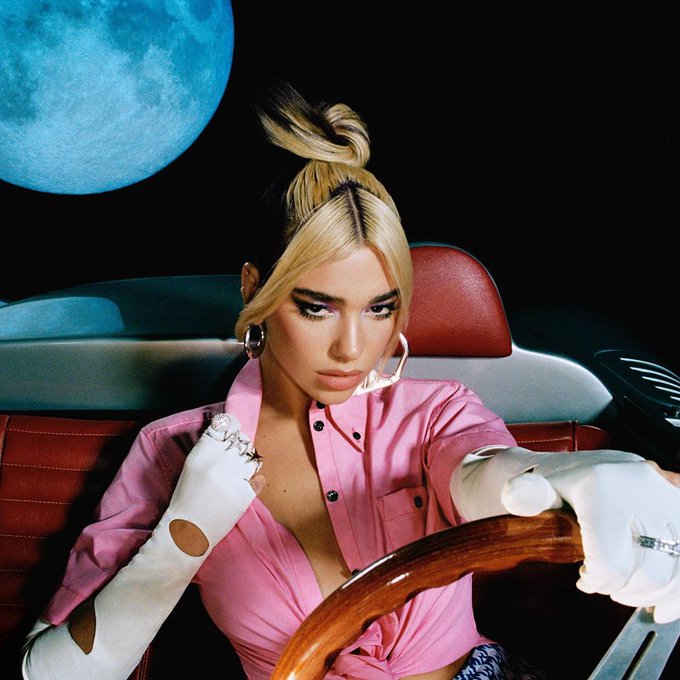 The 24-year-old continued: "Also I ended up not putting any features on the record, but I have some songs that I worked on with other artists that I'm hoping to release soon at some point. When I have a second wind and I feel like 'oh I'm ready to go again', I'll put out a few more songs." 
11 songs did make the cut - view the tracklist below.
1. Future Nostalgia
2. Don't Start Now
3. Cool
4. Physical
5. Levitating
6. Pretty Please
7. Hallucinate
8. Love Again
9. Break My Heart
10. Good in Bed
11. Boys Will Be Boys
The collaborators
"Conceptually, I didn't even know who to contact," Dua said to Dermot O'Leary about any featured artists, but she did know exactly who to connect with when it came to songwriters and producers.
Leading the way on tracks we've not heard yet is Stuart Price (The Killers, Kylie, Pet Shop Boys). So far, we know that the acclaimed producer has worked on two tracks, producing Cool, and producing/co-writing Illuminate. The latter was confirmed by another of the tracks producers SG Lewis on Twitter, while the former information showed up on credits on Apple Music.
Stuart Price is of course famous for producing Madonna's 2005 Number 1 album Confessions of a Dancefloor, one of the primary inspirations for Future Nostalgia. Hung Up is even one of Dua's favourite songs to workout too.
In addition to being produced by Stuart, Cool was co-written with Tove Lo (Ellie Goulding, Lorde, Girls Aloud) and trio TMS (Lewis Capaldi, Little Mix, Jess Glynne).
As confirmed by MTV, Julia Michaels (P!nk, Selena Gomez, Britney Spears) is a writer on Pretty Please, as is Ian Kirkpatrick, co-writer on Don't Start Now and Dua's first UK Number 1 New Rules. 
There's also a sample on the album. According to The Sun, Break My Heart uses the melody of INXS' Number 2 hit Need You Tonight, with the band's members Andrew Farris and the late Michael Hutchence getting writing credits. Break My Heart was produced by Watt (Rita Ora, Justin Bieber, Camila Cabello).
The formats
Future Nostalgia will be available on CD, download and streaming as standard, but Dua also has some colourful vinyl and cassette options coming out too. The nostalgia element of the album will be represented via a gold cassette release, while the album will be pressed on vinyl too: limited edition pink vinyl (via Amazon); yellow vinyl as part of a deluxe boxset (exclusive to her webshop); and HMV are stocking an exclusive picture disc and a clear variant. Urban Outfitters in the US stocked a limited blue pressing, but it sold out within hours of going on sale.