When it comes to streaming, few can pull in the numbers like Drake.
He's regular record breaker on streaming platforms, and his new album Honestly Nevermind is no exception. As it battles for Number 1 on the Official UK Albums Chart, the collection smashed the record for first-day streams worldwide for a dance album on Apple Music.
As you might expect, the release of Honestly Nevermind is fast-adding to his already mighty tally of Top 100 hits on the Official Singles Chart, which now stands at over 130. In the UK alone, Drake has notched up over 5 billion plays across all of his Top 100 entries. Globally, that figure recently topped 50 billion. Look over Drake's complete UK chart history here. 
Drake's most-streamed song is One Dance
Drake's worldwide smash One Dance from 2016 is his most streamed song, with 324 million plays to date. The track, which held the top spot on the Official Singles Chart for 15 weeks, is one of the UK's most-streamed songs of all time.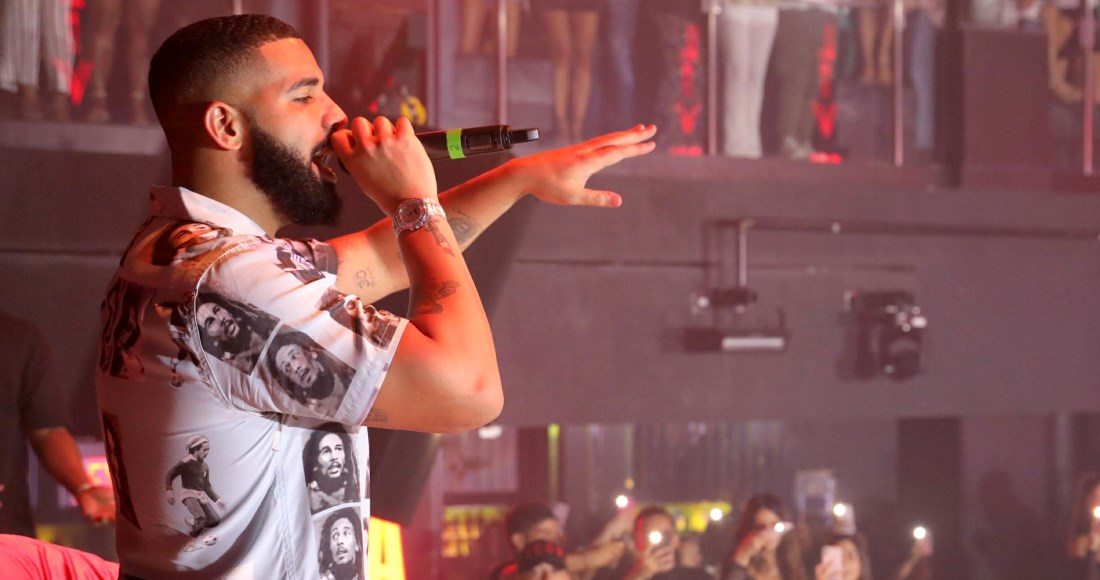 Credit: Startraks/Shutterstock
Drake has two more songs that have broken the 200 million streaming barrier. His second most-streamed track is 2018's nine-week Number 1 God's Plan, with 267 million plays. The song set a record at the time for most global plays in a day on Apple Music, with 14 million streams in 24 hours. 
Meanwhile, in third place is Nice For What, Drake's fourth leader in 2018. The Lauryn Hill-sampling track spent just a week at the summit - a short spell for a Drake chart-topper - but continues to rack up huge plays, currently at 207 million in the UK. 
A frequent collaborator with artists that span pop, afrobeats and British rap, 26 of Drake's Top 40 most-streamed songs are collaborations. His earliest entry on the list is his guest feature on Rihanna's What's My Name, a Number 1 in 2010. His most recent entry is with 2020's Laugh Now Cry Later ft. Lil Durk, which places 19th. 
Drake's Official Top 40 most streamed songs
| | | | | |
| --- | --- | --- | --- | --- |
| POS | TITLE | ARTIST | PEAK | YEAR |
| 1 | ONE DANCE | DRAKE FT WIZKID & KYLA | 1 | 2016 |
| 2 | GOD'S PLAN | DRAKE | 1 | 2018 |
| 3 | NICE FOR WHAT | DRAKE | 1 | 2018 |
| 4 | IN MY FEELINGS | DRAKE | 1 | 2018 |
| 5 | WORK | RIHANNA FT DRAKE | 2 | 2016 |
| 6 | LIFE IS GOOD | FUTURE FT DRAKE | 3 | 2020 |
| 7 | PASSIONFRUIT | DRAKE  | 3 | 2017 |
| 8 | TOO GOOD | DRAKE FT RIHANNA | 3 | 2016 |
| 9 | NO GUIDANCE | CHRIS BROWN FT DRAKE | 6 | 2019 |
| 10 | HOTLINE BLING | DRAKE | 3 | 2015 |
| 11 | CONTROLLA | DRAKE | 18 | 2016 |
| 12 | TOOSIE SLIDE | DRAKE | 1 | 2020 |
| 13 | NONSTOP  | DRAKE | 10 | 2017 |
| 14 | GOING BAD | MEEK MILL FT DRAKE | 13 | 2018 |
| 15 | FAKE LOVE  | DRAKE | 10 | 2016 |
| 16 | HOLD ON WE'RE GOING HOME | DRAKE FT MAJID JORDAN | 4 | 2013 |
| 17 | LOOK ALIVE | BLOCBOY JB FT DRAKE | 17 | 2018 |
| 18 | TAKE CARE | DRAKE FT RIHANNA | 9 | 2011 |
| 19 | LAUGH NOW CRY LATER | DRAKE FT LIL DURK | 4 | 2020 |
| 20 | JUMPMAN | DRAKE & FUTURE | 58 | 2015 |
| 21 | GREECE | DJ KHALED FT DRAKE | 8 | 2020 |
| 22 | MONEY IN THE GRAVE | DRAKE FT RICK ROSS | 13 | 2019 |
| 23 | GIRLS NEED LOVE | SUMMER WALKER FT DRAKE | 41 | 2018 |
| 24 | DON'T MATTER TO ME | DRAKE FT MICHAEL JACKSON  | 2 | 2018 |
| 25 | NO STYLIST | FRENCH MONTANA FT DRAKE | 19 | 2028 |
| 26 | KMT | DRAKE FT GIGGS | 9 | 2017 |
| 27 | BLEM | DRAKE | 10 | 2017 |
| 28 | F**KIN' PROBLEMS | ASAP ROCKY FT DRAKE/2 CHAINZ | 50 | 2012 |
| 29 | WANNA KNOW | DAVE FT DRAKE | 51 | 2016 |
| 30 | SIGNS | DRAKE | 14 | 2017 |
| 31 | MIA | BAD BUNNY FT DRAKE | 13 | 2018 |
| 32 | WHAT'S MY NAME  | RIHANNA FT DRAKE MIGOS FT DRAKE | 1 | 2010 |
| 33 | PORTLAND | DRAKE FT QUAVO & TRAVIS SCOTT | 27 | 2017 |
| 34 | WALK IT TALK IT | MIGOS FT DRAKE | 31 | 2018 |
| 35 | ONLY YOU FREESTYLE | HEADIE ONE & DRAKE | 5 | 2020 |
| 36 | MARVIN'S ROOM | DRAKE | 102 | 2011 |
| 37 | ONLY  | NICKI MINAJ/DRAKE/LIL WAYNE | 35 | 2014 |
| 38 | HEADLINES | DRAKE | 57 | 2011 |
| 39 | THE MOTTO | DRAKE FT LIL WAYNE & TYGA | 80 | 2011 |
| 40 | TEENAGE FEVER | DRAKE | 37 | 2017 |
©2022 Official Charts Company. All rights reserved.

Article image: Rex/Shutterstock