It's a tale as old as time, but everybody has a favourite Disney song. While the studio's early blockbusters didn't officially release singles, so missed out on big chart hits, over the last couple of decades almost every big Disney movie has had at least one chart-worthy song on its soundtrack.
As we look back a few Disney hits that made the chart, Mary Poppins and Sleeping Beauty may have missed out, but there's good news for some more modern classics, plus a few hits that might surprise you. 
Gareth Gates – Suspicious Minds
This Elvis cover was one half of a double-A side, with Gareth and Will Young duetting on a reworking of the Beatles' Long and Winding Road. On this one, however, Gareth was on his own, and it appeared on the soundtrack of rollocking sci-fi comedy animation Lilo & Stitch. It was the third of four Number 1s for Gareth, hitting the top in October 2002. Bonus fact: Three out of four of Gareth chart-toppers were cover versions. Unchained Melody, this, and Spirit in the Sky, with the Kumars, in 2003. It's sold 310,000 copies.
Eternal – Someday 
Back in the '90s, it was fairly common for songs from Disney movies to be recorded by different artists for release in particular countries. This track, from the Hunchback of Notre Dame in 1996, got the Eternal treatment in the UK and across Europe, while All 4 One tackled it in North America. The song itself was supposed to be sung by Esmerelda in the movie, but was cut from final release, but it did make the end credits. It was Eternal's ninth Top 10 hit – they had 12 altogether – and it reached Number 4, selling 120,000 copies.
High School Musical – Breaking Free
While not a theatrical release, Disney's High School Musical was a global phenomenon back in 2006. The smiley gang of impossibly beautiful angelic teens managed a few entries in the Top 100, but this was the biggest, which peaked at 9 and sold 177,000 copies.
Peabo Bryson and Celine Dion – Beauty and the Beast
Believe it or not, but this classic ballad was the UK's first introduction to Celine Dion, giving her her very first chart hit here in 1992. Taken from… well, if you can't guess which film it was from, we can't really help you, this song has been covered by Ariana Grande and John Legend for the new live-action version of the animated classic, which has yet to break the Top 40. Peabo and Celine's version peaked at Number 9 and was the first of 26 Top 40s for Celine, plus it won a much-deserved Grammy. We haven't seen the last of Peabo yet btw.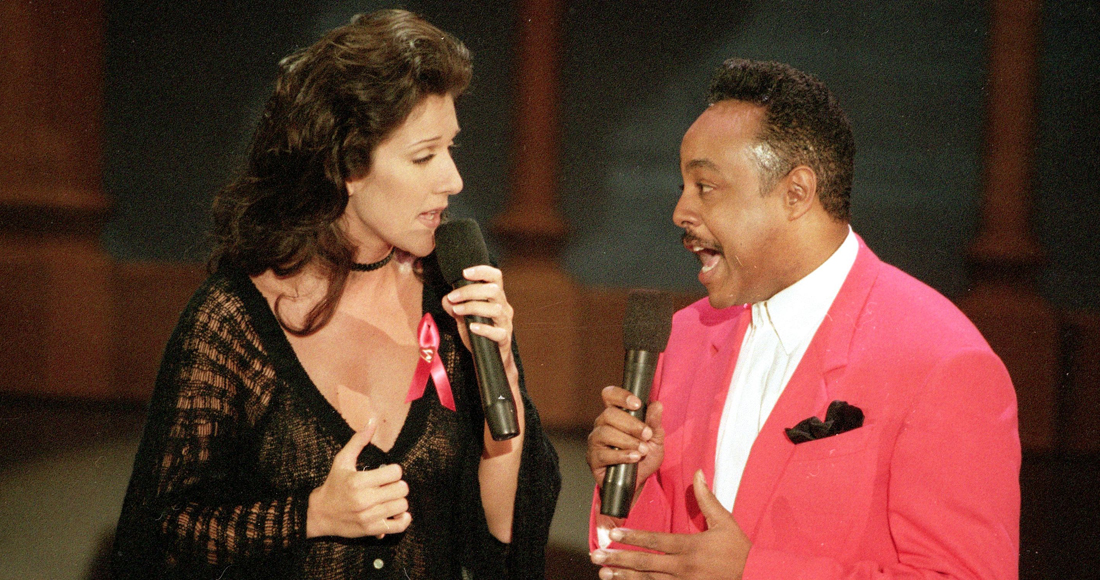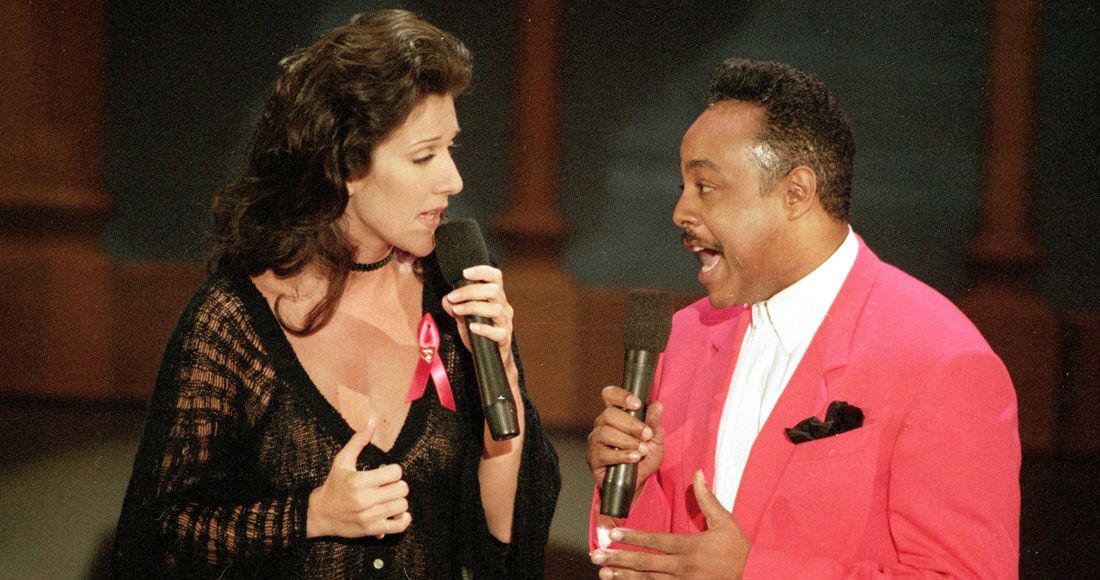 Back in the days when Celine matched her outfit and hair colour
Idina Menzel – Let It Go
There can't be many people out there who haven't had this one bawled at them by a toddler in the last few years. The rousing theme from 2013 smash Frozen, expertly sung by Idina Menzel in the movie, was one of the biggest songs of 2014 yet never reached the Top 10, kept out in the cold at 11. It's sold a whopping 810,000 copies and has notched up 40 million plays on streaming services. 
Elton John – Circle of Life
The future knight was honoured to do the entire soundtrack for 1994 blockbuster The Lion King, and Circle Of Life was the big one, reaching Number 11, with Can You Feel The Love Tonight close behind with a Number 14 peak. 
Peabo Bryson and Regina Belle – A Whole New World
Yep, Peabo's back to give your Disney soundtrack a bit of a zhuzh, this time teaming up with his old mate Regina Belle for this dreamy love song from the Disney reimagining of old-school fairy-tale Aladdin. The song hit Number 12 in January 1994 and was very memorably covered 13 years on by Peter Andre and his then-wife Katie Price in a bid for Christmas Number 1. Sadly, Santa wasn't smiling on them that year and, like the original, it also had to make do with Number 12.
Kristen Bell – Do You Want To Build A Snowman?
Frozen's icy grip on the Top 40 continued with this other track – this time with Anna doing the singing instead of Elsa – and hit Number 26.
Vanessa Williams – Colours of the Wind
This song from the Pocahontas soundtrack gave Vanessa her second UK hit, following Save The Best For Last – which, coincidentally, first charted 25 years ago this week. Colours of the Wind reached Number 21 in 1995.
Other notable Disney chart entries
Expecting to see some other tracks in the rundown? Well, there are a few that bubbled under…
Frozen's Let It Go just missed out on the double – Demi Lovato's version reached 42, impacted by the success of the original track, and has sold 170,000 copies. More recently, Alessia Cara's rendition of How Far I'll Go, taken from Moana, peaked at 49. Remember when Stevie Wonder teamed up with 98º for True To Your Heart? Don't worry, Stevie probably doesn't either. Anyway, their song, from Mulan, got to 51 in 1998.
And if there's one Disney song that deserved to be a Number 1 smash, it's the iconic Under The Sea, from The Little Mermaid. But darling it's better down where it's wetter – and Under The Sea stayed deep in the chart, peaking at Number 90 in 1990, for Sebastian C. The song was only released at the time as a 12" single in America, so that it managed to creep into the UK chart thanks to a handful of import sales is pretty impressive in itself.  
At the moment, Ariana Grande and John Legend's 2017 rework of Beauty and the Beast is sitting pretty at 100 – there's every chance it'll climb now the movie's out…