Lucy Liu. And my girl Drew. Cameron D and Destiny. Charlie's Angels, come on.
Question!
Which song was Number 1 today in 2000, giving the USA's hottest girl group their first ever chart-topper and causing dance floors up and down the country to throb with the sound of a zillion revellers screaming "I bought it!" at the top of their lungs?
Why, it was, as you can see above, Destiny's Child's sassy declaration of financial stability Independent Women Part I. Thanks to its inclusion in the Hollywood blockbuster Charlie's Angels – starring, yes, you've guessed it, Lucy Liu, Drew Barrymore and Cameron Diaz – the track went straight in at the top.
We do some serious number-crunching and look back at the stats and facts around Beyoncé, Kelly and Michelle's very first chart-topper.
1
It was just a single week at the top for Independent Women; S Club 7's wintry heartwrencher Never Had A Come True soon came along and it was all change at Number 1.
109,370
In its first week on sale, Independent Women cleared 109,370 sales, over 17,000 ahead of LeAnn Rimes' Can't Fight The Moonlight, who had to make way at Number 1 for the three-headed Destiny's Child juggernaut.
2
Independent Women was the first of two Number 1s for Destiny's Child – their second, Survivor, followed straight after.
35
Independent Women spent seven weeks in the Top 10, and 11 in the Top 40 altogether. The band spent 35 weeks in the Top 10 throughout their career.
MORE: Destiny's Child's hit UK singles and albums in their Official Chart archive
5
There have been 5 members of Destiny's Child, although not all at the same time. With founding members Beyoncé Knowles and Kelly Rowland,  band started out as a foursome, before LeToya Luckett and LaTavia Roberson left. They were replaced by Michelle Williams and Farrah Franklin. Farrah didn't last very long – a slight disagreement about luggage meant that Destiny's Child soon had a bit more room on the tour bus, continuing as a trio.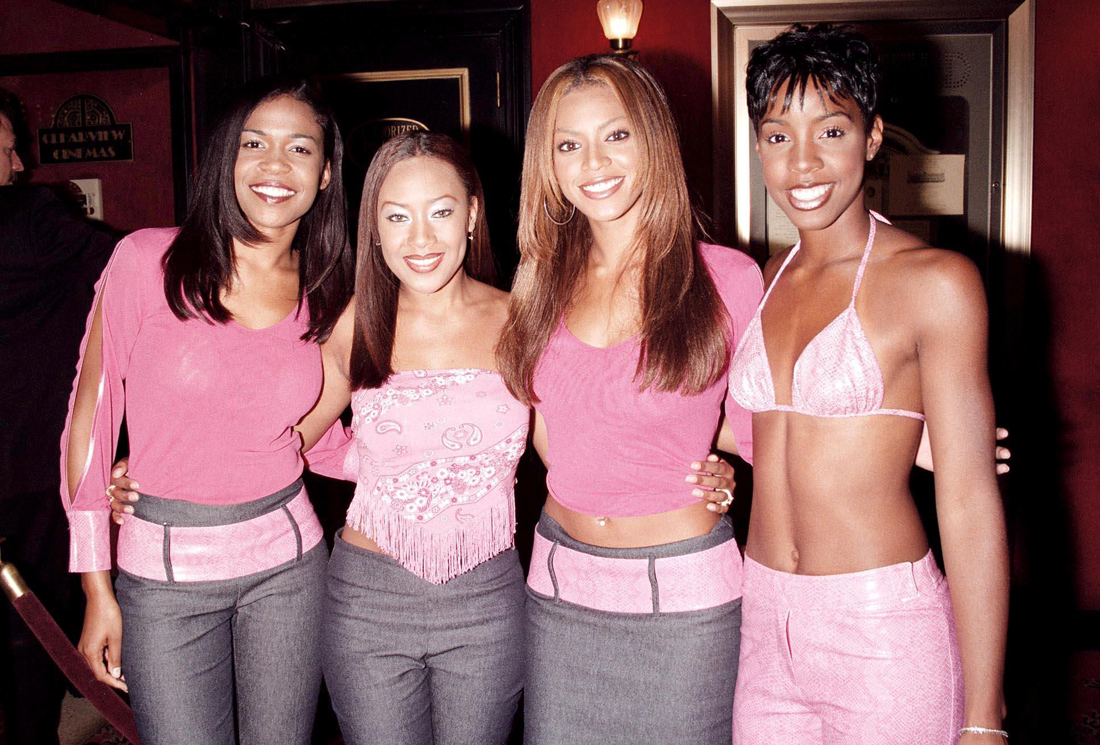 Four to the floor: Before finding their biggest success as a trio, Destiny's Child were a foursome. Here they are with Farrah Franklin, a few months before she moved on. (Startraks/REX)
423,696
The bulk of the song's sales have been in physical format, with over 423,600 of those little plastic discs lying around in CD racks up and down the country.
7,485
Independent Women has been downloaded nearly 7,500 times this year alone – it's already beaten last year's tally of 6,412. 
12
Destiny's Child managed 12 Top 10s, including their two chart-toppers. 11 of their Top 10s were consecutive: from Bills Bills Bills in 1999 right through to Girl in 2005. Girl was their last one.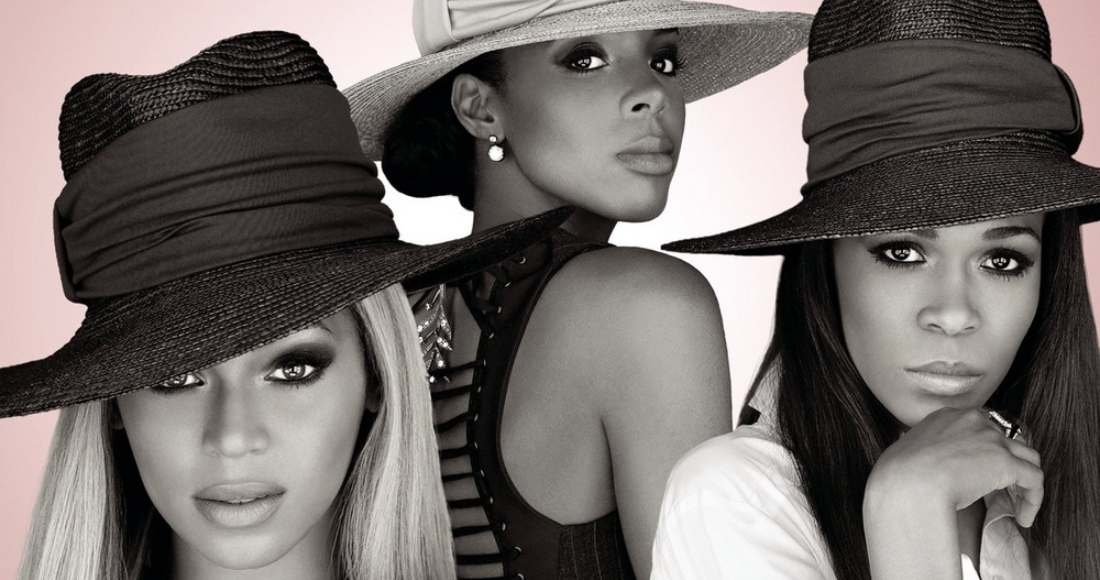 7
Outside of Destiny's Child, its members have scored seven Number 1s on their own. Beyoncé leads the way with 5 – starting with Crazy In Love in 2003 – and Kelly has two, her first being 2002's Dilemma with Nelly. Michelle hasn't landed a Number 1 of her own yet, but there's still time.
MORE: Beyoncé's Official Chart archive
512,660
Taking into account streams, downloads and physical sales, Independent Women has notched up 512,660 chart sales. It's Destiny's Child's top-selling single in the UK.
MORE: The Official Destiny's Child and Beyoncé Top 40 revealed
The rest of the Top 10
Click on the image to see the full Official Singles Chart Top 100 from this week in 2000.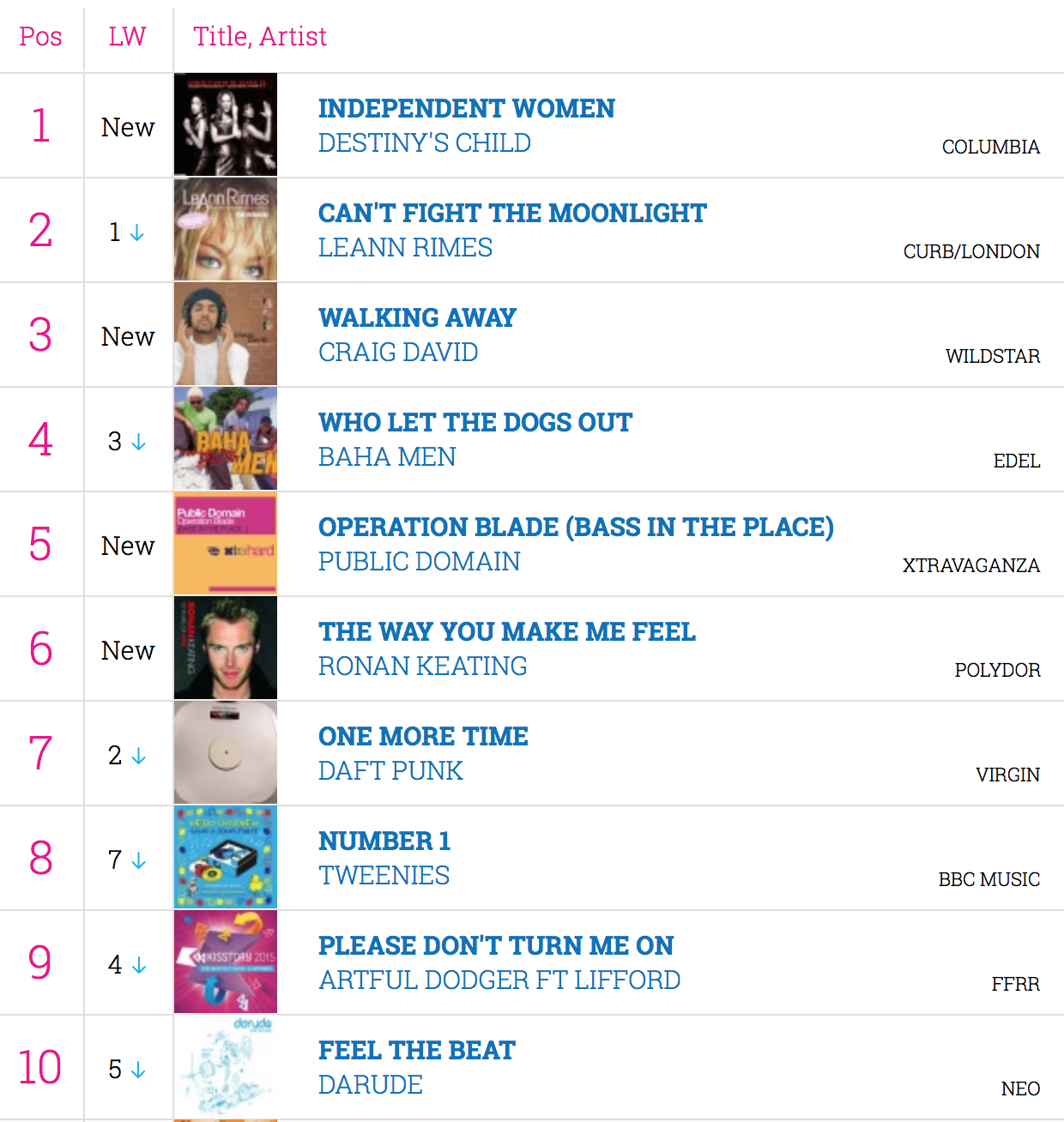 This time last year…
Click with all your might on the image to see the full Top 100, ruled by Band Aid 30's Do They Know It's Christmas, from this week in 2014.