It's been 18 months since Conor Maynard scored his fifth consecutive Top 10 hit with R U Crazy, the first single from his forthcoming, not-yet-finished second album.
Next week (April 20), he finally returns with a follow-up in the form of Talking About, which sees him put a fresh twist on the classic '90s garage sound with help from none other than Craig David himself. 
We called up with the singer (waking him up from a lie-in in the process) to find out more about him new record, why he took the extended break and whether him and Craig are now officially BFFs. 
Hi Conor! We're loving the '90s garage sound of your new single, Talking About. Were you nervous coming back with something your fans weren't necessarily expecting from you?
"I can see why people might think it's different for me, but we sort of intentionally put this out first because we actually thought it was the safest choice. There's a lot of stuff on my new album that's a bit weird, different and out there. We wanted to make sure radio would still play one of my songs, and we thought Talking About sounded a bit more commercial and fits in with what's going in music right now."
Radio 1 have playlisted it, which must be encouraging?
"Yes that was great news! I was pretty happy when I heard about that. What people often don't realise is there are a lot of politics in the music industry. It can almost be demoralising when you realise how little it can be about music sometimes. Radio stations can change their priorities or don't like the direction you've gone in. I've had songs like Can't Say No which radio ate up, but they didn't really take to R U Crazy. I think as long as you're still connecting to the public, you can get past the politics of radio. The success of R U Crazy in a way proved that."
The solo male popstar arena is a bit crowded at the moment. You took an 18-month break after releasing R U Crazy; were you waiting for things to calm down a bit?
"I know what you mean, but in the real pop-pop field I don't feel like there are many men flying the flag. I actually don't think there are enough male pop stars! Right now it feels like the time for bands. Young girls love a band, and that's tough to compete with. Bieber hasn't released anything recently, and until recently Olly Murs was pretty quiet. You just have to hope the music you've created is good and entertaining enough to catch peoples' attention."
Craig David co-wrote Talking About; how on earth did that come about?!
"The fact that it happened at all is still incredible to me. I remember I would listen to his second album Slicker Than Your Average on our family Walkman."
You had a family Walkman?
"We really did. That album really stayed with me, and I remember re-visiting it back when I was 15/16. Then recently, I covered Fill Me In during my support slot on Jason Derulo's on tour. Someone put the performance up on YouTube and Craig saw it and tweeted me… I fangirled pretty hard! A few weeks later these producers Mojam sent us this song Craig had written for me and I instantly loved it, so we set up a studio session with me and Craig to record it."
Did you record any more songs together?
"We did. There may well be more songs with him on the album, but it's not finished yet and I'm not sure what will make the final tracklist at the moment."
Craig David also appears in the song's music video; is he as ripped in the flesh as he looks on camera?
"He really is. I remember when I first met him, I thought, 'is he going to sing or beat me up?!' His body is crazy, which is mad because he parties really hard as well. After a night of partying I want to have a Dominos and cry."
You said the album isn't finished yet; when can we expect it?
"We're going to keep releasing singles until we think people will want an album. The approach these days isn't really to plan anything too solidly. Our aim to create as many single-worthy songs as possible and put the album out when it feels right."  
When you sat down to start album two, what did you hope achieve?
"It's been three years since my last album and I was 19 when it came out. So much has changed since then; I've moved four times, I have a home studio and I now produce and write a lot of my own songs. I've actually written and produced a song that's being set up to be a single down the line, which is great. There's more of a personal touch on this album, which is what I wanted. The last album was quite collaboration-heavy, which I loved, but I think people will get to know me a bit more on this record."
Are there any genres, artists or albums in particular you've been listening to that have been a source of inspiration for the record?
"It's hard to mention specific names because when I'm looking for inspiration, I basically just go on YouTube and fall into a black hole clicking on a million different videos and suggested links. That usually results in me feeling inspired from all sorts of different things. A lot of it is by unknown artists, so hopefully I'll be bringing something fairly fresh to the masses."
What's a song on the album you're really excited for people to hear?
"I put out a clip of the song I wrote on Snapchat and produced called Catch Me Here. That one and a song called My Version Of A Heartbreak are the two I'm most excited about at the moment. They're probably the most personal to me."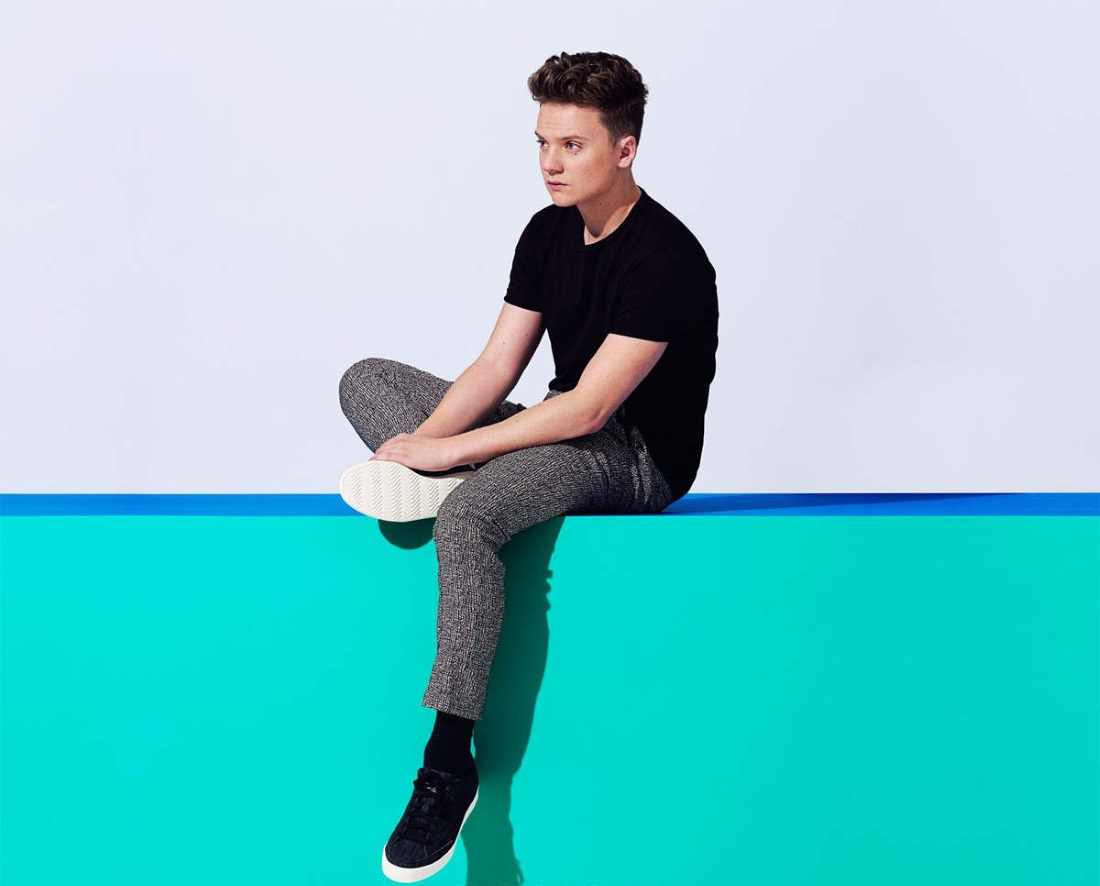 You've also been working with Timbaland on the album, though not face-to-face. How's his email etiquette?
"It was one of those things that was all sent over email, so in theory I could have been completely catfished. I don't even know how he was on email because it was all done through the label! It was so weird when he sent the demo over because it's him singing it, and his voice is so different to mine. We might actually leave some of his vocals on the track but either way, I hope the demo leaks because he sounds great and so different on it."
Does the song have that classic Timbaland sound to it?
"What surprised us about the song is how un-Timbaland it sounds. I don't think it's immediately obvious that he's behind the song."
Talking About is out next week. What happens after that?
"We're planning to hit with another single pretty quickly this time – no more 18 month breaks between songs! The next single is produced by Labrinth which is exciting. It's very weird song, although I've been told not to say 'weird', so let's just say, 'different'. Either way, I think it's a great track and I'm excited!"
 Talking About is released on April 19