When it comes to live performances, there are few who can command the stage quite like Whitney Houston did.
This week sees the release of her first ever live album Whitney Houston Live; a CD/DVD of her best performances put together by Clive Davis - the man who discovered, signed and mentored Whitney throughout her career.
We spoke to the music mogul - who is also responsible for the careers of Aretha Franklin, Rod Stewart, Alicia Keys, Christina Aguilera, Kelly Clarkson, Jennifer Hudson and many, many more – about his fondest memories of Whitney and what the future holds for music's big voices. Here's what he had to say:
"From the very first time I met Whitney when she was a young teenager, I don't think she was conscious of how great she was. Music was always her passion but somehow that's never come out in stories about her. She listened to music morning, noon and night. When we got together – apart from going over material for her records – we'd always listen to lots of music together. She was very much aware of everything that going on in the industry and how it was evolving.
"Music was dominant through every period of her life. She didn't really go to many social events; it was family, church and music that really permeated her. It gave her a very natural ability as a performer that I don't think she was conscious of. In fact, I don't think she was ever fully aware of how great she was, which I think is part of what made her so compelling to watch.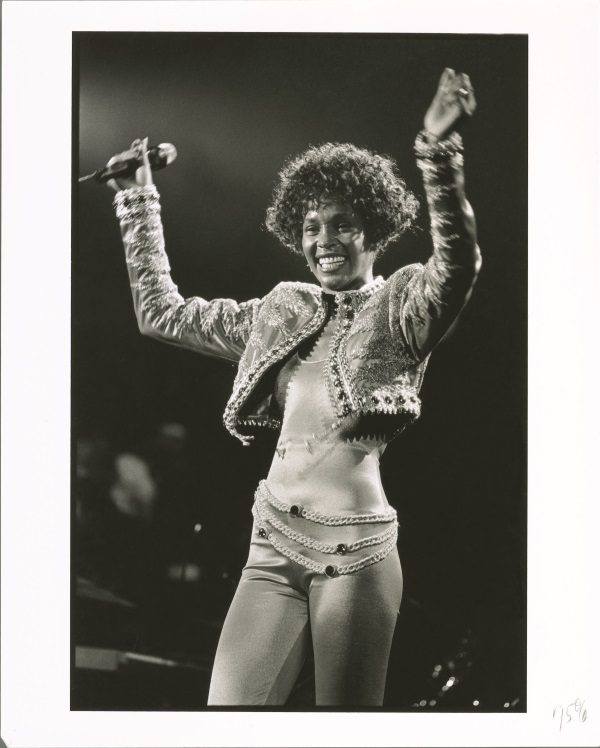 "Whitney was the greatest singer of her generation; and that's why I wanted to be so personally involved with this album. She never released a live album, and while there are artists who do very well in the studio with meticulous preparation that they perhaps can't duplicate live, Whitney during her live performances took her songs to another level.
"The album and DVD is a spectacular document; and one that starts from the very beginning of her career. It starts when Whitney was 19, two weeks after I signed her. I brought her on to national television on the Merv Griffin Show. You see Whitney – and I'm aware that I'm using superlatives here but I think they're appropriate - at 19 delivering Home with such perfection just after I introduce her as the singer for the next generation. She had this incredible soul, lyrical sensitivity and beauty and you see that develop over the years - whether it's in concert or at an awards show or on TV.
"[The album] is full of really indelible performances that prove she not only had the power and soul for ballad singing, but also the ability to carry off up tempos. I don't think I know of another singer who feels so at home with big ballads or on songs like I Wanna Dance With Somebody.
"Being there from the very beginning with Whitney - whether she had seven Number 1s or broke every record with her first two albums - she always felt like she had a lot prove throughout her career. It's certainly been emotional to look back and see her growth and watch back some of her best performances. There's one in particular at the 1994 American Music Awards where she combines I Loves You, Porgy with And I Am Telling You I'm Not Going and I Have Nothing from The Bodyguard. It's an 11 or 12-minute medley that you just don't see anymore. Her prowess to the camera and her stunning beauty matched with that voice… it's really something.
"Whitney was undoubtedly the voice of her generation, but I'm still hopeful these days that there are other artists who can achieve similar heights. I really do believe in the power of the voice. You have artists like Adele who are fabulous, and music remains as important in peoples' lives as it always has. Songs themselves are being bought, downloaded and streamed in numbers never seen before, but admittedly it's come at the expense of the album.
"Whether it's Jennifer Hudson, who has a spectacular voice, or Aretha Franklin who was recently voted the greatest singer of all-time, I think they'll always be a place for a big singer who speaks for their generation. I love that Aretha performs Adele's Rolling In The Deep on her new album. Rob Stringer [Chairman] at Columbia Records told me Adele was thrilled with it, and I think it's shows how those sorts of artists – like Whitney – are timeless.
"I'm great believer in the power of the voice and always will be. You look at the awards shows today and you see 100 people in the production of a performance, on this album, you see Whitney at awards shows commanding the stage all by herself. I remember the American Music Awards performance raising the hair on my arms. She gave me goose bumps. And if I'm honest, when watching it back, she still does."
Whitney Houston Live: Her Greatest Performances is out now.