2016 has been a tough year to be a music fan, with some of pop and rock's brightest stars passing away in the last 12 months. Indie lost one of its greats recently, when Inspiral Carpets's drummer Craig Gill died aged just  44, back in November.
A huge part of the Madchester scene. Inspiral Carpets still have a legion of devoted fans, and following Craig's passing, they shared their favourite photos and stories on Facebook, as they tried to get their heads round what had happened. It's testament to the power of social media that these personal tributes soon became a bigger conversation – could they honour Craig by getting Inspiral Carpets to Christmas Number 1?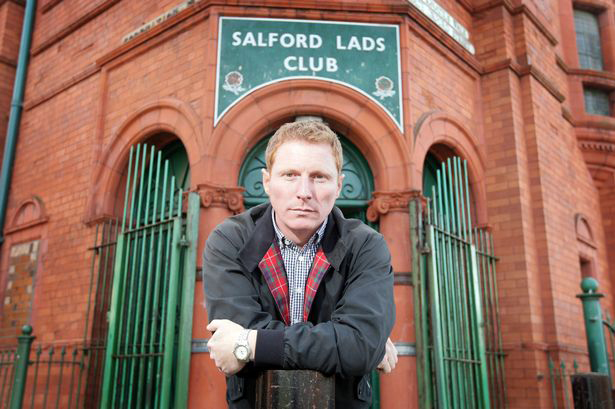 Inspiral Carpets' drummer Craig Gill, who passed away in November
The song they chose was Saturn 5, one of the band's most well-known tunes, which peaked at Number 20 upon original release in 1994.
MORE: Take a look at all Inspiral Carpets' hit singles and albums in their archive
We spoke to Dante Friend, who's been helping coordinate the campaign, about why Saturn 5 is the perfect contender for a festive chart-topper.
Inspiral Carpets' drummer Craig Gill passed away last month – what can you tell us about him and how much he meant to fans?
All of the fans felt that they knew him personally as a friend, having seen him play for 30 years in the music game. And the band are known for treating all their fans as if they're their friends. In the 'Madchester' era the crowd could relate to the guys on stage – they were normal people just like them, but making brilliant music and exporting it worldwide."
Why did you decide to enter the Christmas Number 1 race?
"One of Craig's childhood friends, Rob McCoy, said 'Let's get it to Number 1', and we said OK, yes, we can do anything! And here we are, three weeks later still going strong!
"We wanted to honour Craig and his legacy and it felt like the right thing to do. Craig joined the band aged 14 and died so young, aged 44. It's a tragedy."
What do the other members of the band think of the campaign?
"At first they thought 'oh, that's nice', but after a couple of days they realised the fans were absolutely serious and completely driven on this. They back us 100%, although they won't be promoting the track themselves at this stage – they are still in shock naturally.
MORE: How to get a Christmas Number 1 - tips and tricks
How have you been promoting your campaign?
"Through social media. A huge Facebook group with 35,000 people all ready to download. Vlogs from other credible bands such as Shed Seven, countless tweets from celebrities and other bands from the Eighties, Nineties and Noughties who still have great followings.
"There's been no real budget and it's not a re-release, so we've badgered radio stations for airplay and got the song played at football stadiums up and down the country."
You've got some serious celebrity backing too, haven't you?
"All the Manchester bands – Stone Roses, Oasis, James, the Charlatans – have all been very vocal, promoting the campaign to their fans. Shed Seven have been heroes. Lightning Seeds, the Farm, Cast, Blossoms, Lauren Laverne and all the BBC 6 Music DJs, and plenty from Absolute Radio too. It's been a campaign full of love towards the band and towards Craig."
MORE: Christmas Number 1 2016: The contenders revealed
Out of all the band's back catalogue, what made you choose Saturn 5 for the race?
"It was the most 'commercial' song. We want the track to be Number 1 not just get into the charts. It's such an upbeat song, so different to anything you hear these days. 2016 has been an awful year for lots of people, let's try and end it on a positive note.
"If the 'new generation' of fans hear it for the first time they would fall in love with the music too."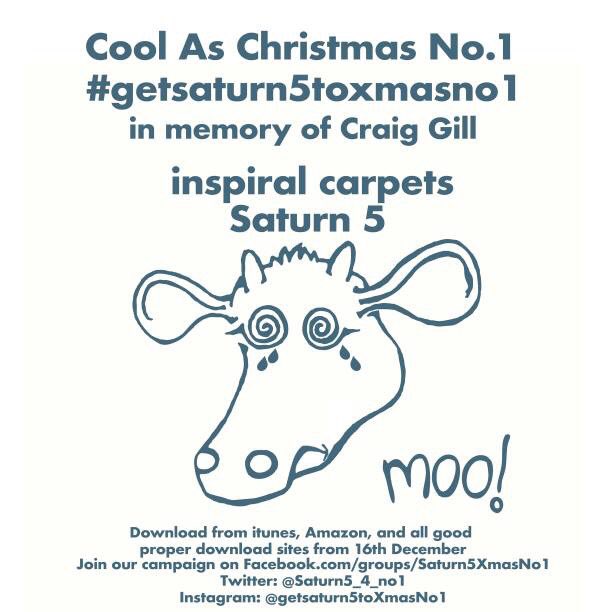 Who do you see as your biggest competition?
"To be honest, Christmas week is a lottery. Anything can happen. All we want is the indie music-buying fans nationwide to download the track and spread the word. It's not a corporate venture, this is fan-led and hopefully some royalties will trickle back to Gilly's family."
What makes Inspiral Carpets deserving of the Christmas Number 1?
"They're one of the bands that makes British music great, normal guys who worked hard all their lives and provided so much pleasure to millions of people around the world. We're saying, it's not all about just the major labels."
MORE: Look back at Every Official Christmas Number 1 ever in our gallery
What would it mean to you to land the Christmas Number 1?
"For all Inspiral Carpets fans it would be a source of pride. For his kids, they can say "Look, my daddy is Number 1 in the charts." Christmas is an awful time to lose people, but here's a chance to do something great. There will be no champagne being drunk, it will just be a look up to the sky and a nod to say 'here, that's for you mate'."
You can find out more about the campaign to get Saturn 5 to Christmas Number 1, and where to buy the song, on the group's website or Facebook page. 
Who do you think will be this year's Official Christmas Number 1? Vote in our poll: