Unless you've been living under a rock, or somewhere with absolutely abysmal 4G signal, you'll know that Kate Bush scored last week's Official Number 1 single with Running Up That Hill. The surge of interest in the song, thanks to its inclusion on Netflix show Stranger Things, also saw Kate break three Official Chart records in the process.
Kate now boasts the longest time taken for a track to reach Number 1, the longest gap between Number 1 Singles and the title of oldest female ever to top the Official Singles Chart. Casual.
And now Cher, the previous oldest female title-holder, has weighed in on Kate's unexpected victory.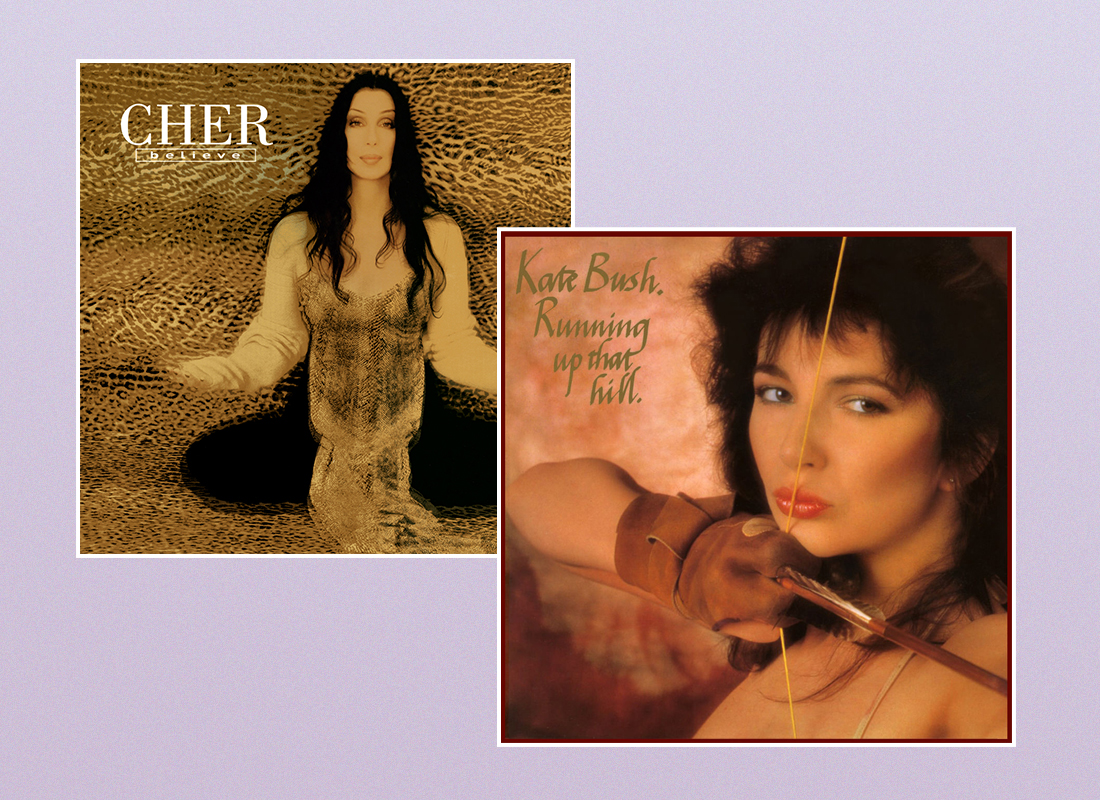 Cher was 52 years old when Believe went to Number 1 in 1998 (remember those iconic Top of the Pops performances in various iterations of animal print, seven weeks on the trot?) But, at almost 64 years of age, Kate's now topped that title by over a decade.
So, what does Cher make of it all?
Taking to Twitter, Cher said: "Bravo Kate. Records Are Meant 2 Be Broken. Remember Back In The Day, When Women Had SHORT SELL BY DATES?!
"We Had 2 Fight Our Way Through The Testosterone Curtain,& We Did it So The Girls Who Came After Us Could Sing As Long As They Want To. With Mega Respect, Me." [sic].
Amazing. Way to smash the patriarchy and systemically-ageist society in a single tweet, Cher.
WATCH: Kate Bush becomes 3 x Official Charts Record Breaker with Running Up That Hill
View this post on Instagram
Responding to news of her Official Number 1 single last week, Kate wrote on her website: "I'm overwhelmed by the scale of affection and support the song is receiving and it's all happening really fast, as if it's being driven along by a kind of elemental force.
"I have to admit I feel really moved by it all. Thank you so very much for making the song a No 1 in such an unexpected way."
This all comes as Netflix tease what could be a brand new version of Running Up That Hill in the brand new trailer for Season 4 Volume 2. The track, which features as the teaser's soundtrack, features a beefed-up production with additional synths and drum track.
Watch the new Netflix Stranger Things Season 4 Volume 2 trailer featuring Kate Bush's Running Up That Hill below:
Is there a new version of Running Up That Hill on the horizon?! 👀

Don't tease us like this, @NetflixUK 😭 https://t.co/0CsVapnQsV

— Official Charts (@officialcharts) June 21, 2022