Captain Sir Tom Moore, the war veteran who raised almost £33m for NHS charities during the coronavirus lockdown in spring 2020, has died aged 100 after testing positive for coronavirus.
His daughters Hannah and Lucy confirmed Moore's death in a statement. Moore was treated for pneumonia over the past few weeks and last week tested positive for Covid-19.
Moore won the nation's hearts last April by walking 100 laps of his garden before his 100th birthday, raising £33 million during the first national lockdown.
In a statement, Moore's family said: "It is with great sadness that we announce the death of our dear father, Captain Sir Tom Moore. We are so grateful that we were with him during the last hours of his life; Hannah, Benjie and Georgia by his bedside and Lucy on FaceTime.
"We spent hours chatting to him, reminiscing about our childhood and our wonderful mother. We shared laughter and tears together.
"The last year of our father's life was nothing short of remarkable. He was rejuvenated and experienced things he'd only ever dreamed of.
"Whilst he'd been in so many hearts for just a short time, he was an incredible father and grandfather, and he will stay alive in our hearts forever."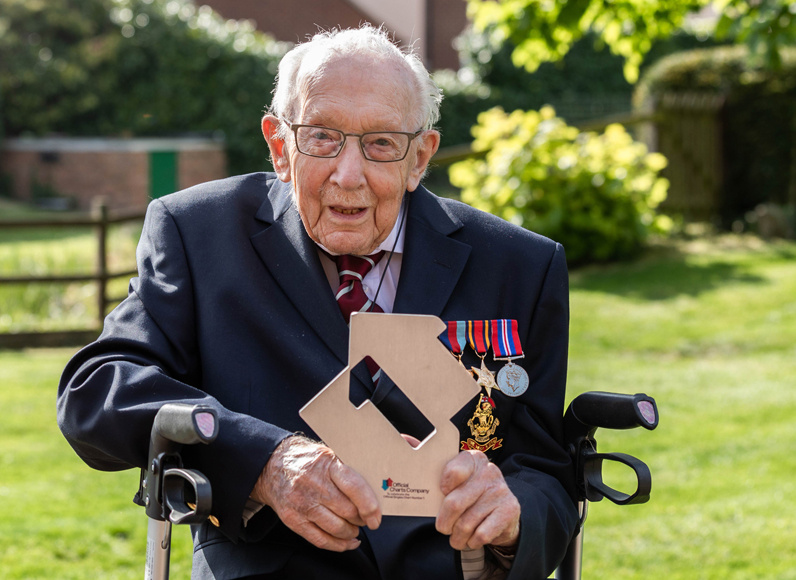 The Duke of Cambridge praised him as a "one-man fundraising machine", while Boris Johnson said Moore's "heroic efforts have lifted the spirits of the entire nation".
Moore's determined nature saw him break two records: he became the oldest person to get a Number 1 single in Official UK Singles Chart with his rendition of You'll Never Walk Alone, and he raised the most money ever for doing a solo charity walk.
His take on the Rodgers and Hammerstein classic, made famous by Gerry and the Pacemakers in 1963, was recorded with Michael Ball and the NHS Voices Of Care Choir.
At the time, Moore said: "[The NHS] have done so much for me and they're doing such a magnificent job at the moment under very difficult circumstances. I think we've got to accept that what's going on at the moment is very serious. I think we must also remember that things will get better. Eventually things will get better and the sun will shine again." 
Watch the moment BBC Radio 1's Scott Mills broke the news to Moore of his Number 1 single below: 
Relfecting on Moore's historic chart success, Martin Talbot, chief executive of the Official Charts Company, said: "The news of Sir Captain Tom Moore's death is so very sad for everyone, not least those of us who worked with him and his team when he became the Official Chart's oldest Number 1 artist in history in April last year, at the height of the 2020 COVID-19 pandemic.
"It cannot be understated how significant his rise to Number 1 was last year. In most weeks, the Official Singles Chart is a reflection of the nation's favourite music, but occasionally an individual or cause comes along which transcends all of that. Captain Tom's chart-topping success reflected just how much the nation had taken this incredible gentleman, his astonishing fund-raising walk and his words of inspiration to their hearts at one of the most challenging points of the nation's history. It was an achievement which not only dominated all of our thoughts in the UK, but which spun around the world too – we received calls about his success from as far afield as Australia and other more remote parts of the world.
It was an honour for all of us at the Official Charts Company to be involved in producing that historic chart, just six days before his 100th birthday last April."
Article image: Emma Sohl