Nigerian-born artist Slawn has been announced as the designer for the 2023 BRIT Awards statuette. 
Following in the steps of acclaimed past contributors like Dame Vivienne Westwood, Anish Kapoor and Tracey Emin, the London-based Slawn becomes the latest artist to add their unique stamp and flair to the BRIT Awards. 
The 2023 BRIT Awards will be handed out next year on Saturday February 11, the first time in the show's history that the ceremony will take place on Saturday (and very handy at that, too). 
Slawn is known for his large-scale canvases, often characterised by the distinctive visages of pop figures, bold colourful forms, and stylish shapes defined with vivid hues. Since leaving university in 2019, he's become a go-to collaborator for many popular music figures, including Skepta, the late Virgil Abloh and drill icon Central Cee.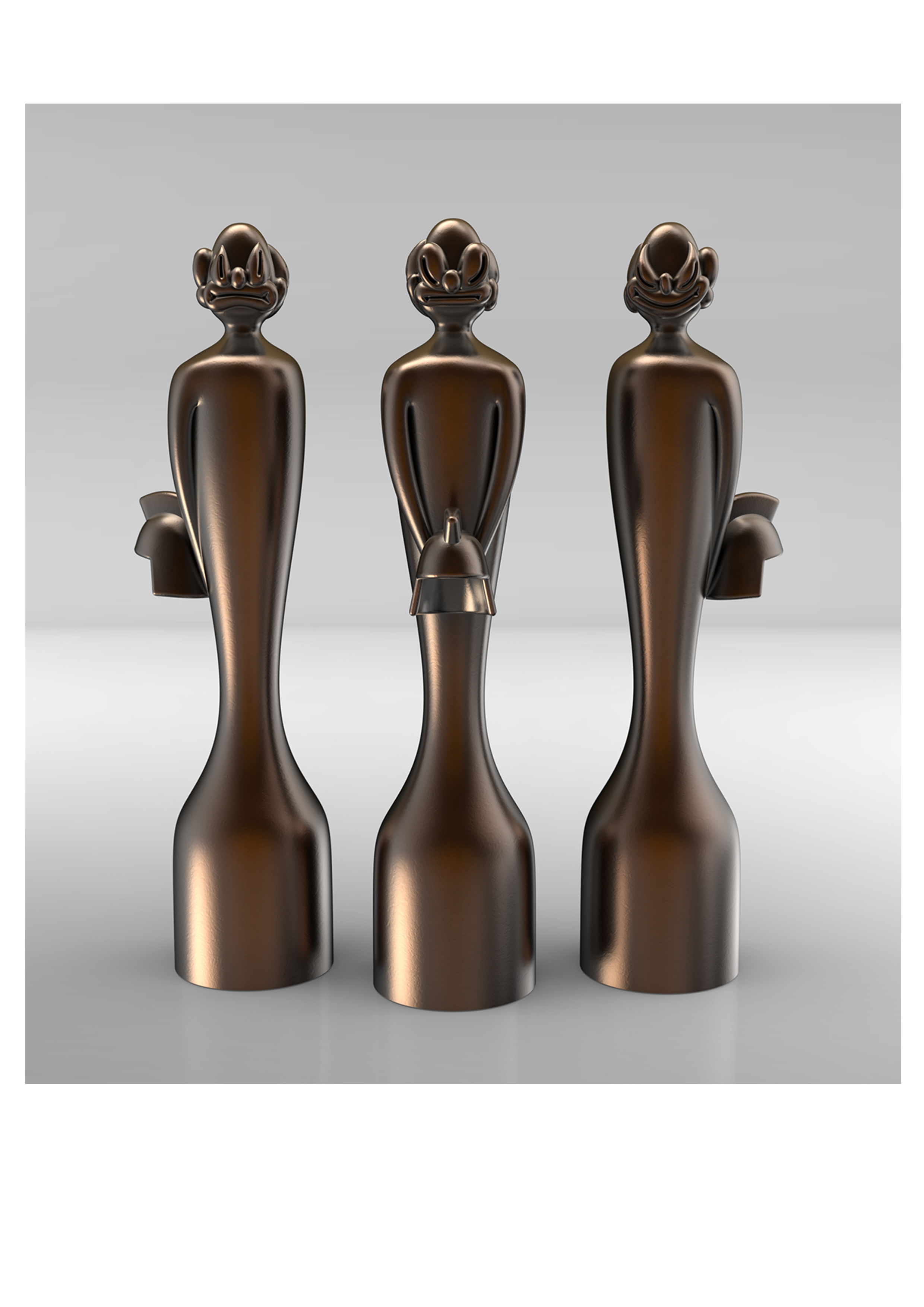 A closer look at the 2023 BRIT Award statuette, as designed by Slawn (Credit: BRIT Awards)
In a statement, Slawn said: "I'm overjoyed and honoured to have been chosen. It is an incredible privilege to have the opportunity to take part in this celebration of fellow creatives since
"The BRITs are an iconic, self-named celebration of British creativity, and a genuine testament to the richness of talent-making and producing music both in this nation and throughout the world. The BRIT Awards are a classic celebration of global talent and a powerful forum to genuinely reflect on the shifting nature of culture and the contribution of people to that culture."
The new e eye-catching design, which sees the traditional helmet of the award removed, was a conscious choice on the part of Slawn, who came up with the concept of "hats off to you."
The bronze design has its roots in his native Lagos, and Slawn says that "I've created something that I am extremely proud of that I feel represents my past, present and future. The placement of the arms and the decision to have three heads meant that I could create an award that shows a different perspective at every angle."
This year's 2022 BRIT Awards saw Adele walk away as the big winner of the night; scooping the gongs for Song of the Year (for Easy On Me), Artist Of The Year and the biggest award of the night, the coveted Mastercard Album of the Year for 30.
Other big wins came from Little Simz (Best New Artist), Sam Fender (Best Rock & Alternative Artist) and last year's biggest breakout act, Olivia Rodrigo (Best International Song for good 4 u).
The Brit Awards 2023 land February 11 2023. Keep an eye on OfficialCharts.com for the full list of nominations.