DNCE are responsible for some the most ridiculously joyous pop songs over the last couple of years. Body Moves, Cake By The Ocean and Toothbrush are all the kind of songs that are useful to have at hand if you're in need of cheering up or having care free moment. 
But, unfortunately, life can't always be about grinding on the dancefloor, hooking up and eating a Victoria sponge on a sun lounger (sigh), which is why DNCE have dialled down the wacky on their new music. 
Fortunately, it's still heaps of fun; new EP People To People is four solid pop offerings that show a band who aren't afraid to experiment. Guided by producer Ido Zmishlany, lead track TV In The Morning is post-sex Prince inspired funk with playful lyrics ("Just don't pluck with me, what's the rush?"), while the minimal production on Lose My Cool is deceptively addictive. 
We caught up with singer Joe Jonas, who is fresh off his first stint as a coach on The Voice Australia (on which he appears alongside Kelly Rowland, Boy George and Delta Goodrem), to talk about the band's new music and upcoming UK and Ireland shows supporting Bruno Mars. 
Hi Joe! So tell us, what was life like Down Under?
"I absolutely loved it. I felt pretty lucky that The Voice was my day job and Australia was a great experience. I spent plenty of time on the beaches and with the kangaroos - I was a proper tourist. I even found myself rooting for Australia in the World Cup every time they played!"
Are you partial to a Tim Tam now?
"I couldn't count how many Tim Tams I've had. I've actually got three boxes in my bag now in case the cravings come back. They just started this Willy Wonka promotion thing where you have to find the golden Tim Tam. The child in me really wants to go to the factory, but it's actually something to do with Shazam which is way too technological for me."
Wait, so there is no golden Tim Tam?
"No there isn't! It's an online thing. I know, I was devastated too."
You were working alongside Kelly Rowland, Boy George and Delta Goodrem on The Voice Australia. How competitive did things get? Are you all still friends?
"Kelly was incredible. Kelly and Boy George… going on stage and performing with them and Delta Goodrem during the intro to the show is crazy. We sang David Bowie's We Could Be Heroes and honestly, I had to pinch myself. Boy George has the best one-liners."
Last week DNCE released a new EP. Why not an album?
"It's a little bit of a few things. Overall, we haven't released music in two years, and we wanted this EP to tell a story, showing a bit more of a serious side to ourselves. We've put the instruments up front… I think you can really hear that we were all together in the studio.
"Also, we wanted to show our fans a different side to ourselves. The feedback so far has been phenomenal. We'll probably release another EP in six months time and show another different side to us. EPs don't put too much pressure on us, but they give us room to grow."  
The music is definitely less in-yer-face, but it's still a lot of fun. How did it come together?
"There's been quite a few songs we've released that have been fun, outgoing, crazy and wild. This music shows we can still take ourselves a bit more seriously, and it's from the heart.  
"We didn't overthink it, and as a result the songs came pretty quickly – not that we rushed it of course - but most songs were done in a couple of takes. We're glad we didn't spend months and months on them as in the past we've got bored of songs we've worked on for too, or you get 'demo lock', where you're not really sure how to finish the song."
TV in the Morning is the lead track on it. What is the best daytime TV show?
"When I'm over in the UK Loose Women is always on TV, which makes me laugh! We've played on it a couple of times. I'm completely obsessed with Ellen though, she always does really funny stuff. We played her birthday episode recently and it was real moment for me because I'm such a fan, plus it was pretty emotional."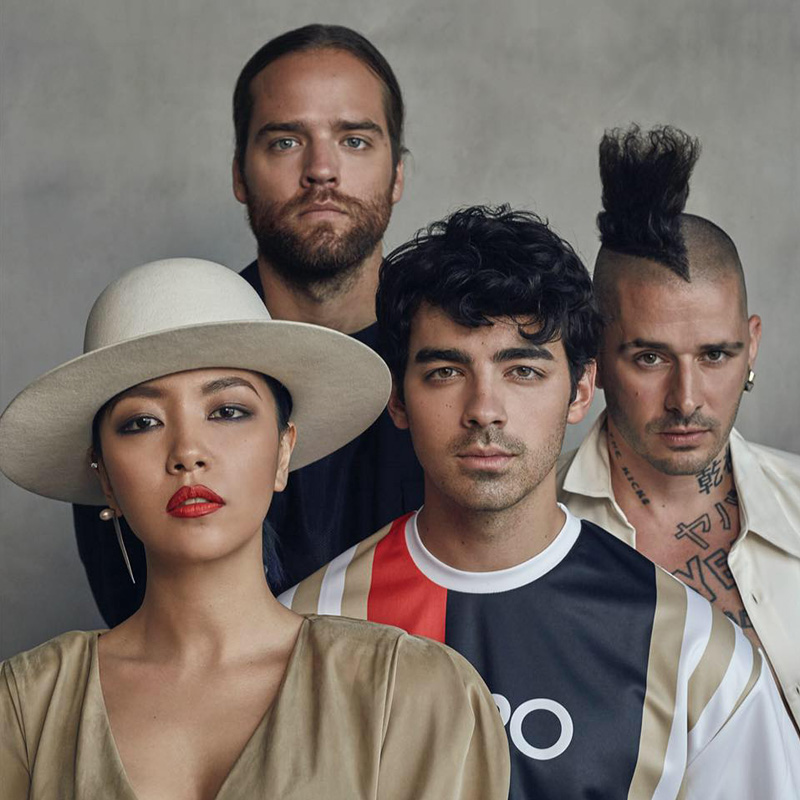 Have you seen Jeremy Kyle?
"Oh god yeah I have. It doesn't seem real is it? I can't believe some of that stuff actually goes on."
There's another song on the EP called Lose My Cool; when was the last time you really lost your shit with someone?
"There's been a few times – in good ways and bad ways. Probably on The Voice, when you have to pitch for these artists, a different side comes out of you because you feel so passionate about the artists. One minute I'm shaking hands with Boy George and Kelly Rowland and the next I'm trying to throw them under the bus. It gets really awkward."
You're currently on with Bruno Mars; is he the easy-going type to be on the road with?
"It's been a blast so far! He's always fun to share the stage with. He always keeps the energy at 11 so you have to really bring it. He came over to my house when he was in Sydney and we got to have a bit of R&R and bounce a few ideas off each other. Obviously he's a fantastic songwriter, singer and musician, but he's also genuinely a nice guy. It's great to see a humble guy in a crazy setting playing these massive shows but still keeping his head on straight. Also, he's such a hard worker – I swear he doesn't stop touring! I get it though, touring is addictive. If I could, I wouldn't stop."
DNCE's new EP People To People is out now.