Everyone's favourite pop-punk band Blink-182 are back this summer with their seventh studio album California - their first LP since 2011's Neighborhoods.  
They may have switched out a member since then (longtime friend of the group Matt Skiba has replaced Tom DeLonge), but if lead single Bored To Death is anything to go by, the band are back to the fast, fun and hilariously fiesty ways of their heyday. 
To celebrate, Official Charts thought it was about time we looked at the trio's most successful singles in their canon. They've racked up 10 Top 40 singles and 5 Top 40 albums in the UK since their 1999 breakthrough, but which songs are the biggest of the lot? Prepare to take a trip down memory lane as we look closer at the Top 3.
3. What's My Age Again?
After a string of largely unnoticed singles in the early '90s, What's My Age Again? was the first time Blink struck gold and found themselves with a smash on their hands. About refusing to grow up because, you know, punk, the song was apparently originally titled Peter-Pan Complex before their label asked them to change it.
First released in 1999, What's My Age Again? got off to a slow start in the UK, debuting at Number 38, but a re-release the following year off the back of the success of follow-up single All The Small Things saw it reach a peak of Number 17. To date its sales stand at 163,000 (244,000 including streaming equivalent sales).
2. I Miss You
Released in 2004 from the band's self-titled fifth album, I Miss You lands more on the emo end of Blink's musical spectrum. In the spirit of the song, members Tom DeLonge and Mark Hoppus wrote their verses separately before bringing them together on the track. The song has sold 293,000 (375,000 including streaming), and is one of two UK Top 10 singles for Blink. Speaking of which...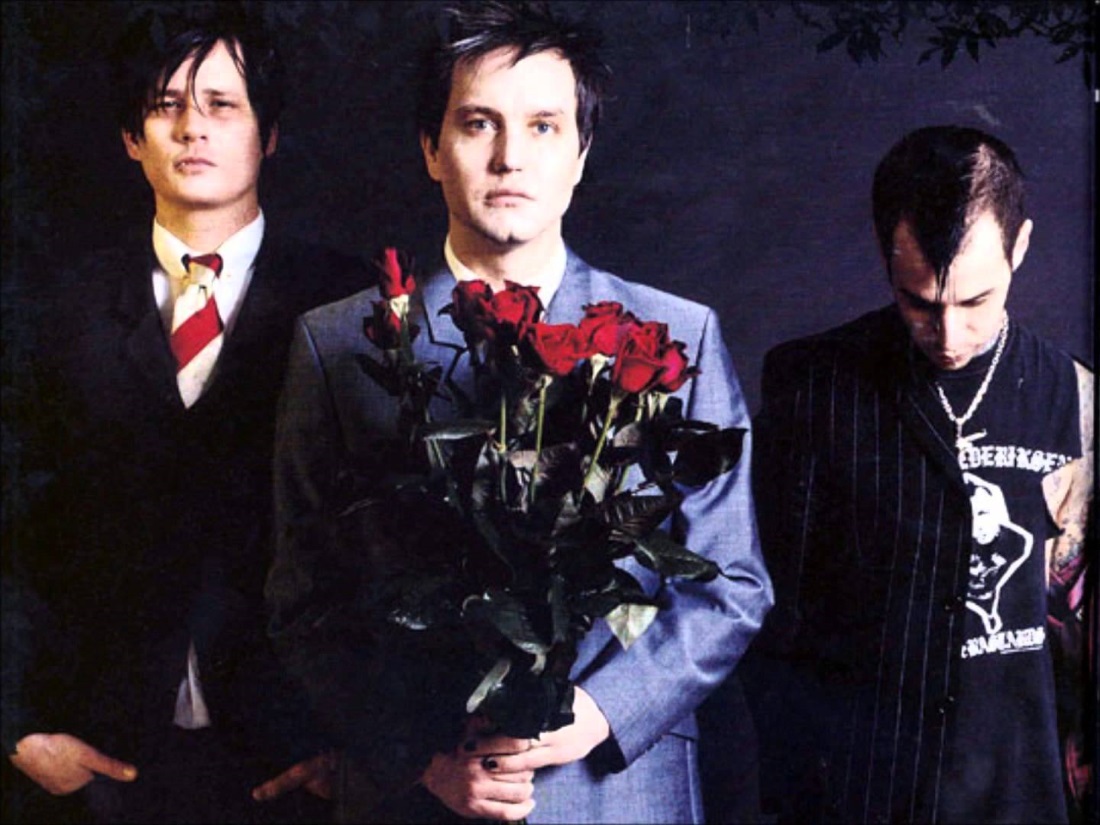 Blink-182 in the I Miss You video
1. All The Small Things
The song that sent Blink-182 stratospheric, All The Small Things was the band's proper UK breakthrough single. Written primarily Tom DeLonge as both an ode to his girlfriend (later wife) Jennifer Jenkins and his favorite punk group the Ramones, it was the last song recorded for their debut album Enema Of The State, put together with the intention of being "really catchy and basic" for radio play.
It certainly did the trick. The song (aided by the brilliant boy band-mocking music video) became and remains their highest charting thus far, peaking at Number 2 in 2000 (beaten to the top by Geri Halliwell's Bag It Up no less) with lifetime sales of 447,000 (585,000 including streaming). Such was the song's cultural impact that it led Jedward to release their own version of it 2010, which reached a lowly Number 80 on the Official Chart. We're sure the band were flattered. 
Elsewhere in Blink-182's Top 10, a special mention goes to their 1997 single Dammit from their second album Dude Ranch, which didn't chart in the UK but still manages to sneak in at Number 10. 
Blink-182's Official Top 10 biggest selling singles in the UK are...
| | | | |
| --- | --- | --- | --- |
|   | TITLE | YEAR | CHART PEAK |
| 1 | ALL THE SMALL THINGS | 2000 | 2 |
| 2 | I MISS YOU | 2004 | 8 |
| 3 | WHAT'S MY AGE AGAIN | 1999 | 17 |
| 4 | THE ROCK SHOW | 2001 | 14 |
| 5 | FIRST DATE | 2001 | 31 |
| 6 | FEELING THIS | 2003 | 15 |
| 7 | ALWAYS | 2004 | 36 |
| 8 | DOWN | 2004 | 24 |
| 9 | ADAM'S SONG | 1999 | n/a |
| 10 | DAMMIT | 1997 | n/a |
©2016 Official Charts Company . All rights reserved.
Blink-182's new album California is out on July 1.