Billen Ted are on a roll right now. After landing one of the biggest hits of the year so far with their dance-pop remix of sea shanty Wellerman, the duo – Tom Hollings and Sam Brennan - are committed to keep delivering music that is, in their words, all about "having fun, good times - and doesn't take itself too seriously".
Their follow-up single When You're Out – released today (June 4) – is exactly that. The track is a fresh spin on Kandi's Don't Think I'm Not, turning the R&B-pop classic into a 2 minute and 30 second sugar rush of dance-pop. The vocals come courtesy rising pop star Mae Muller, whose 2020 single Therapist and EP No One Else, Not Even You are well worth checking out.
In case you missed it, social media is currently awash of 2000s nostalgia, and on When You're Out Billen Ted have managed to find that sweet spot by reworking a gem that feels familiar, but wasn't so successful that they can't play around with it (their version has a new verse and pre-chorus).
Pre-Wellerman, Billen Ted's journey to the top of the charts is an unlikely one; both were members of death metal bands before they turned their hands to dance music. We discussed that and more when we jumped on the phone with the pair and Mae to discuss their new track.
Hands up, whose bright idea was it to rework Kandi's Don't Think I'm Not?
Sam: Me and Tom heard the track - it came on shuffle somewhere, probably down the pub - and we immediately looked at each other and were like, we need to rework this. We've always been in the same circles as Mae and we wanted to do a track together, and the range we made this at made it perfect for Mae and she kindly said yes. Then we had to get the labels and management to sort out all the politics.
Was getting clearance to sample the song tricky?
Tom: It was incredibly difficult! The writers are from America and they were hard to get to at first. There was a lot of waiting and it was looking tricky for a while, but we got to a point where everyone was happy in the end. It's cool to get this track to a new audience – just in time for clubs to open I hope.
Mae: Right? Imagine hearing this song in a club for the first time. I'm not responsible for my actions when that happens.
View this post on Instagram
Speaking of, if When You're Out was a cocktail, what kind of drink are we talking?
Mae: It feels like a cheeky drink, like it's got some pink gin in it. A When You're Out cocktail is a really good idea actually.
Sam: You're right – maybe a pina colada blended with something. We want When You're Out screamed in Wetherspoons up and down the country. Yates, Vodka Revs, let's go.
Tom: Whereas Wellerman is a pint of Mead [laughs]. No, we don't want to slag it off, we just don't want to hear it for a while.
Well, you did help Wellerman become rather a massive chart hit...
Tom: It was a complete accident, there's no two ways about it. With our Billen Ted project, we wanted to a cool dance project and maybe come in with a couple of left-field records. Suddenly it's like, no, you're on the radio tomorrow, you've remixed a sea shanty, you've f**ked it. We threw the cool thing out of the window.
Sam: It was meant to be a fun bit of content that got out of hand. Suddenly it was this massive hit. It's great because it's put us right where we need to be – we've skipped quite a bit of the work in terms of getting songs out and building numbers up. It's how we can now get amazing people like Mae on board.
And your success has arrived at a time when we've all been stuck inside for the most part…
Sam: We're the pandemic popstars! It's weird, over the past year, none of the records that have been successful feel tangible to me. It only feels real when you see it at a show or festival – or Yates'.
Tom: You hear music when you're out, or in an Uber, or down the shops – there's context to it all. We've been seeing all these numbers and data sat in these four walls, it's hard to get to grips with it.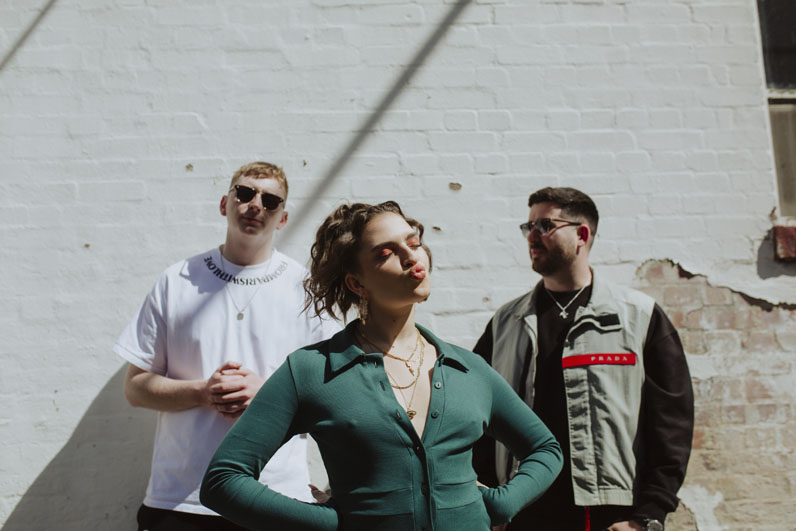 Billen Ted - aka Tom Hollings and Sam Brennan - and Mae Muller. 
Before Wellerman, you had released very little music together. How did Billen Ted form?
Sam: Me and Tom met in 2008 at a festival. We were both signed death metal bands when we were 15-16, and we were playing the same shows on the same circuit. My band was called Heart In Hand, and Tom's was The Arusha Accord.
Life happened, and five years ago Tom phoned me and said he was doing some work at Tomorrowland festival, and said we should have a go at dance music for some fun. We made a track and got signed six weeks later. That morphed into more sessions and into the craft of songwriting and production. It seems to be going alright!
Is there anything from your death metal days you bring into your pop records now?
Sam: "We're definitely not afraid of anything. For example, When You're Out has the most ridiculous drum fill going into the second chorus. We come from a world where we're not really phased by taking risks or trying something completely different.
Tom: In a way, When You're Out is actually mixed like a rock record as well. It hits hard. Our mixing guy used to record and engineer all our metal records back in the day so there's definitely something there in the sonics.
Mae: It's been really nice working with you guys because it is just so much fun. It's rare to find people in the industry these days who are just about good vibes – there's no pressure, it's just fun!