You've got to be good pals to get by in a band. You spend months on the road together, live in each other's pockets doing recording and promo. So it's not entirely surprising when one member decides they want to move on to try something new.
For many groups, the departure of a treasured band member spells the end - or leads to the recruitment of a replacement. Some bands, however, carry on regardless. This week saw the news Lindsey Buckingham would be missing from Fleetwood Mac's upcoming tour, so we looked at other examples of bands soldiering on – but let's start with rock's most argumentative band itself…
Fleetwood Mac
The Mac had a few lineup changes before settling on the classic, imperial five-piece of McVie, McVie, Fleetwood, Buckingham and Nicks. They had huge success, most notably mega-selling Rumours from 1977, but tension within the band led to Lindsey Buckingham leaving in 1987, and the group releasing Behind the Mask without him in 1990. Then Stevie Nicks left.
The remaining members released another album Time in 1995, before Lindsey and Stevie came back two years after, only for Christine McVie to depart in 1998. Blimey. The band carried on with album Say You Will in 2003. Eventually Christine came back too for a world tour and order was restored.
In 2018, there was renewed drama when Lindsey Buckingham was ditched from the band's upcoming tour. He'll be replaced by Crowded House's Neil Finn, and Mike Campbell from Tom Petty & the Heartbreakers. In a statement, the band said: "The band wishes Lindsey all the best … Fleetwood Mac has always been a creative evolution.Dunno about you, but I'm exhausted. Look back at all Fleetwood Mac's hit singles and albums.
Westlife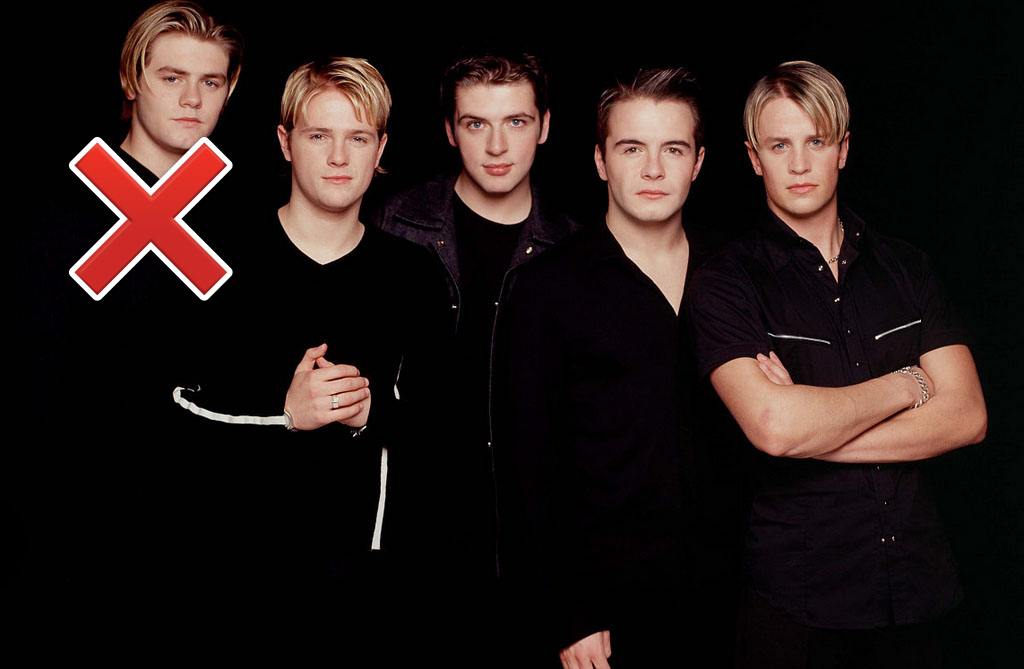 A lovely bunch of lads, but Bryan was determined to fly (without wings).
Of all the band members you'd expect to quit the toothsome, wholesome, Irish fivesome and go solo, did you have your money on Bryan McFadden? Switching out his y for an i, Brian left to go solo in 2004, but rather than draft in a replacement, the boys pressed on as a quartet for another seven years scoring a further eight Top 10s, including two chart-toppers. They even managed to duet with Diana Ross! Remember all Westlife's huge hits, including 14 Numbers 1s, in their chart archive.
Eternal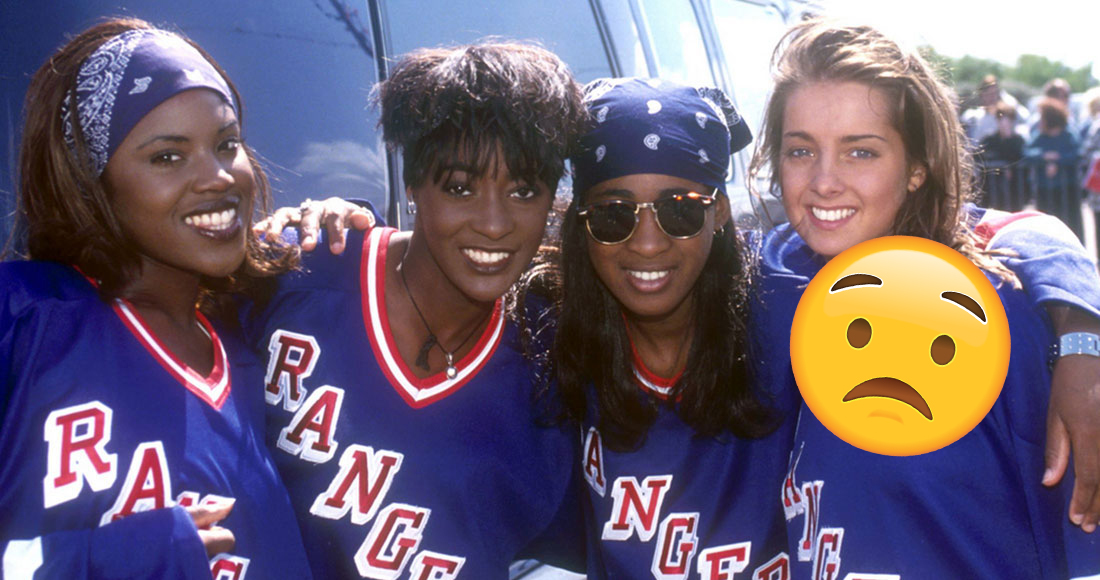 Still devastated. Image: Rex
Shaking up the British R&B scene upon their arrival in 1993 with first hit Stay, Eternal – consisting of sisters Vernie and Easther and their mates Kelle and Louise – scored six Top 40s as a four-piece. After the first album, though, solo yearnings beckoned for Louise, leaving behind a trio to be reckoned with. Eight more Top 10s awaited them, including huge Number 1 single I Wanna Be The Only One. Yeah yeah yeah yeah yeah!
Take That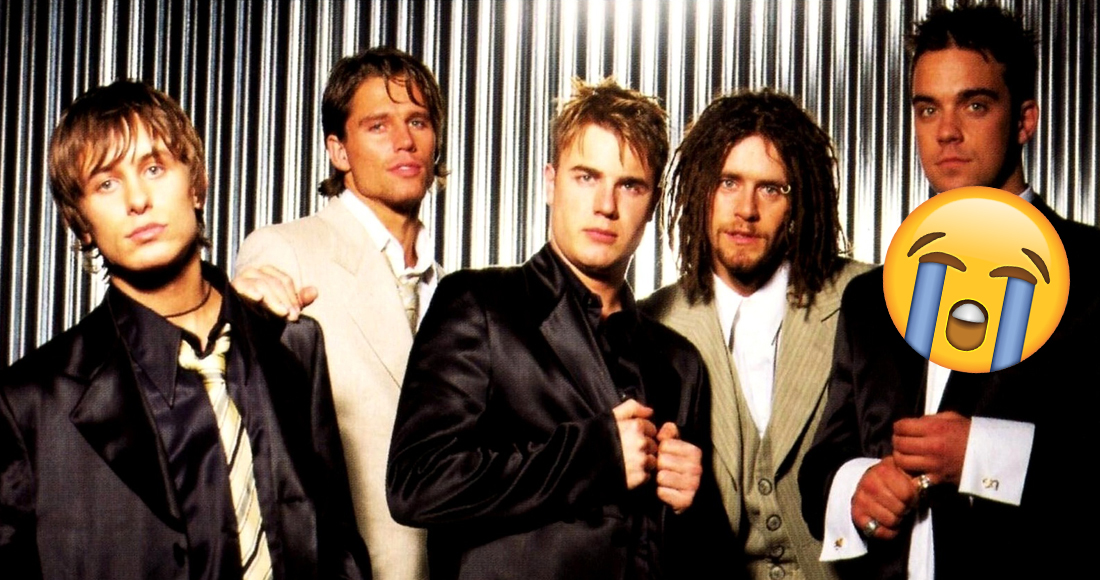 Don't worry, he came back (but not for good). Image: Rex
The ultimate Manchester boyband turned blokeband, Take That have safely navigated the departure of not one, but two members. Robbie Williams was first off in 1995, whereupon remaining members Gary, Howard, Mark, and Jason had one more Number 1 and broke up. Then, and you need to stay with me on this one, the fab four got back together a decade later and had three more chart-toppers, before Robbie returned in 2009 for album Progress.
Once that was over, Robbie again moved on, followed by Jason, who'd decided to hang up his mic for ever. This left them as a trio for the first time, and they scored yet another Number 1 single and have released two albums. Seriously, it's messier than drawing up a wedding seating plan in Take That world.

The Supremes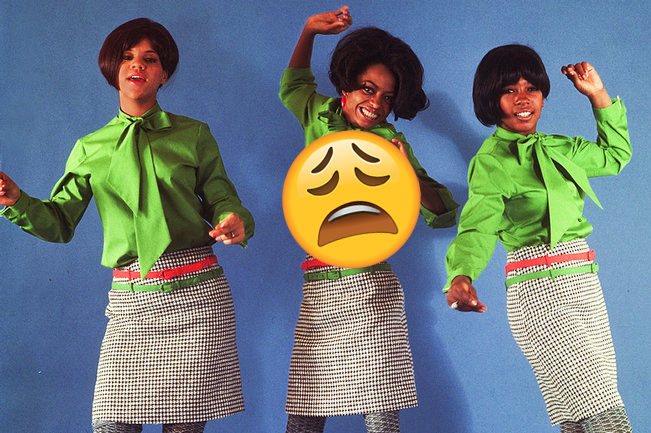 That green blouse was the last straw for Diana.
First they were the Supremes, then in 1967, they became Diana Ross and the Supremes, for reasons I imagine are obvious, and then, in 1970 they were the Supremes once again, when Diana left for a solo career, after 21 Top 40 hits. Not many people remember that the band actually carried on, scoring eight Top 40 hits without Miss Ross, with a new lead singer installed.
In 2000, a reunion of the Ross-Wilson-Birdsong lineup was mooted, but Mary Wilson wasn't happy about the distribution of pay and Diana ended up going on the road with two other members who'd joined the band after she left. The tour got a mixed reception and was cancelled after half the dates were played. Check out all the big hits of the Supremes, Diana Ross and the Supremes, and then the Supremes again.
Genesis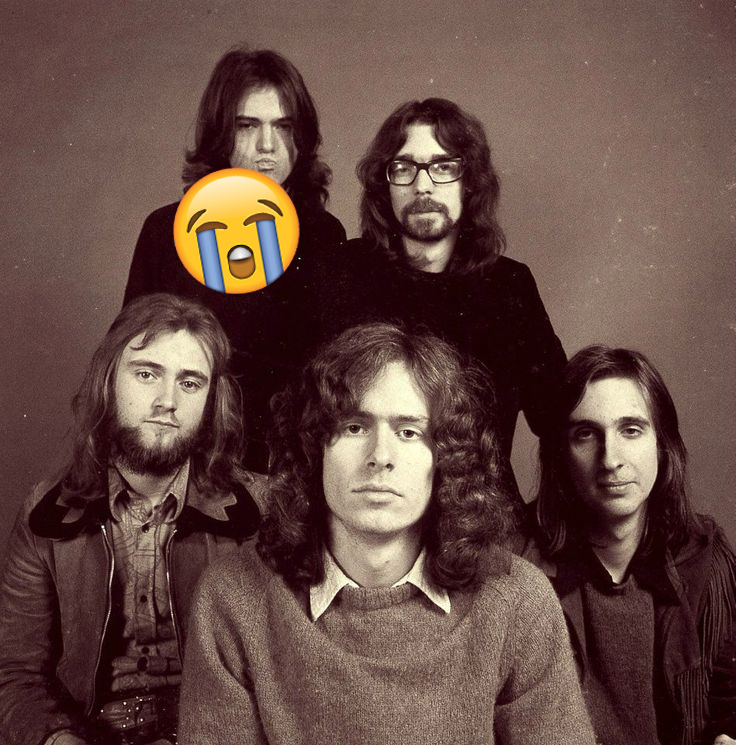 Blimey.
Prog band Genesis scored five Top 40 albums with Peter Gabriel as lead singer, but in 1975 he toddled off to a very successful career, and rather than draft someone else in, drummer Phil Collins stepped up. "There was no animosity. . . I was very close to him," Phil recalled in an interview 40 years later. "… I came in and he was a drummer, I was a drummer – we related. We were soul mates, if you like." Phil carried on drumming for the band too – which led to some very interesting performances on Top of the Pops – and Genesis went from strength to strength, scoring eight Top 10 singles.
One Direction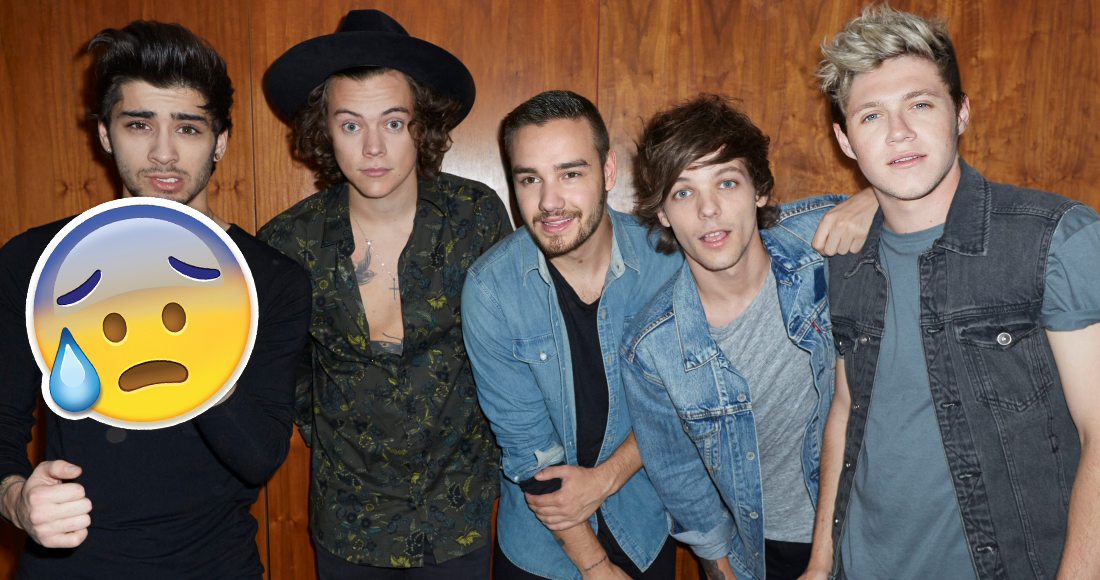 Zayn looks like he's hailing his taxi out of there.
Baby, they lit up our world like nobody else, but that flame flickered slightly when Zayn decided he'd had enough in 2015, after five years with the band. Harry, Liam, Niall and Louis weren't discouraged, though, commenting: "The past five years have been beyond amazing, we've gone through so much together, so we will always be friends. The four of us will now continue." And they did, for one more album, three more Top 10s, and a huge tour, before going on indefinite hiatus in 2016.
MORE: Check out One Direction's complete UK chart history
Fifth Harmony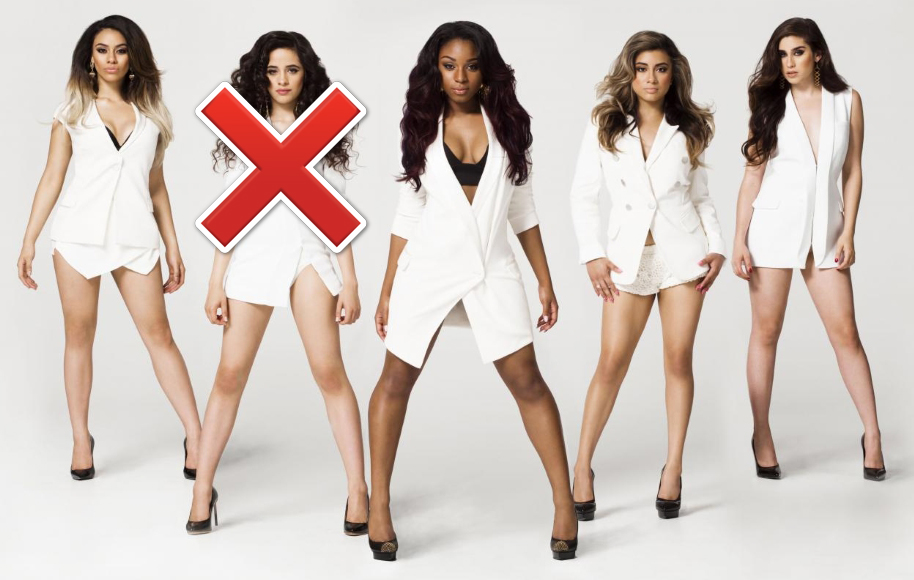 Havana was calling out to Camila.
Camila Cabello's departure from the quintet formed on US X Factor was very now, packed with shade, drama and acrimony. At the end of 2016, the band released a statement that Camila was gone, reinforcing: "We are four strong, committed women who will continue with Fifth Harmony as well as our solo endeavours." Camila, meanwhile maintained she was only ever intending to take a break, and was shocked by the statement. "As sad as it is to see this chapter ending this way, I will continue to root them all on as individuals and as a group," she said. It worked out OK for a while – a sleeker Fifth Harmony scored a Top 10 album and Camila landed a UK Number 1 with Havana – but in early 2018 the remaining members of 5H announced they were going on hiatus to pursue solo careers.

Black Eyed Peas
They'd been on hiatus for a while as they pursued solo projects, but the four-piece became three when the Dutchess herself Fergie decided to call it a day after five Number 1 singles with Black Eyed Peas and leave the boys – will.i.am, apl.de.ap and Taboo – to hold the fort. BEP announced they were ditching EDM and returning to their old sound; new track Street Livin' debuted in January 2018.
S Club 7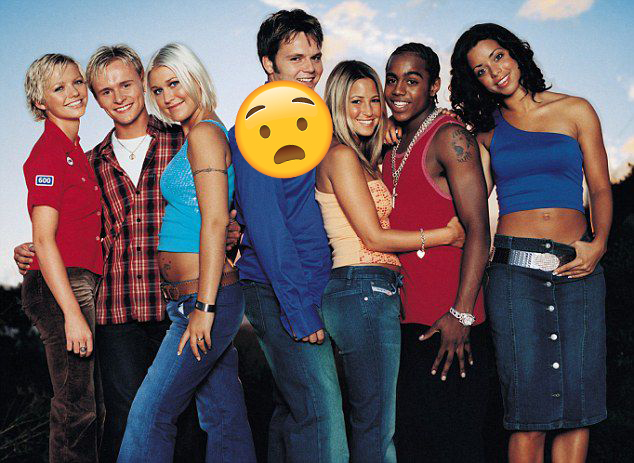 It took a few years but he did bring it all back.
Seven became six when Paul Cattermole decided to "reach" for that fire exit door after three years of chart success. They ditched the 7 for plain old S Club – perhaps not wanting to tempt fate in case another member jumped ship – and went on to make a movie, score another couple of Top 10s, and then break up! They reformed for a reunion tour, and Jo, Bradley and Tina still do live shows as S Club Party.
Spice Girls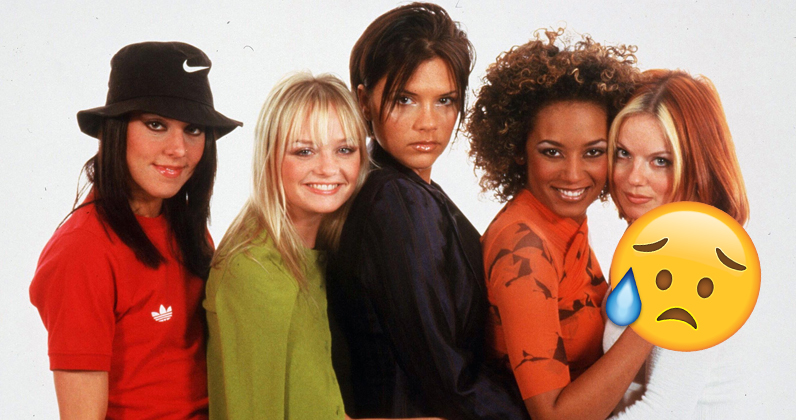 What Geri really, really wanted was a solo career.
Little known darlings of the art scene, the Spice Girls achieved moderate success in the '90s before one of their members decided to totter off in her Buffalo platforms. OK, OK, just kidding: Spice Girls basically took over the globe for two years from 1996, but to years later, tonight was the night when 5 became 4.
Geri Halliwell ditched the band with the most spectacular resignation statement ever in May 1998 – "I have left the Spice Girls, this is because of differences between us…PS I'll be back." – but Victoria, Mel B, Mel C and Emma weren't discouraged. They completed the campaign for second album Spiceworld, went on a huge world tour, and managed one more album, Forever, in late 2000. The fivesome did reform in 2007 for a huge world tour, with Geri brilliantly sucked through the bottom of the stage when it became time for the girls to do their post-Ginger hits.
Destiny's Child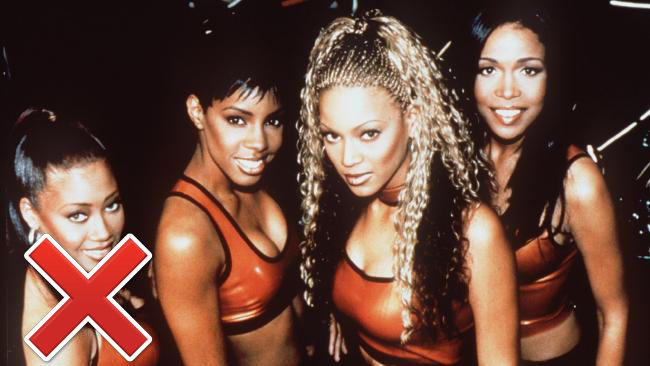 Farrah was soon jumpin' jumpin' for the exit.
Michelle, can you handle this? Kelly, can you handle this? Beyoncé, can you handle this? One who couldn't handle this, however, was Farrah Franklin, who, along with Michelle, had been parachuted in to replace booted-out original members LeToya and LaTavia. After a couple of singles with the band, it was clear Farrah wasn't getting into it, and after a super cringeworthy moment where Beyoncé advised Farrah on her luggage arrangements (below), the group became a trio for the first time – and scored huge global success, with seven more huge Top 10s, including chart-topping Independent Women and Survivor.

OMG this is savage.
Article image: Fleetwood Mac/Rex/Shutterstock