There are some voices in pop that are unmistakable, and when it comes to pipes you know straight away, Anastacia is certainly one of them.
15 years ago the sassy star made her Official Chart debut when her empowering anthem for anyone getting rid of useless boyfriends, I'm Outta Love, entered at Number 7. It went on to peak at Number 6  this week in 2000.
While some popstars might be anxious to distance themselves from their back catalogue, Anastacia has nothing but love for her very first hit.
How do we know? She told us herself! 
Anastacia! Hello! It's been 15 years… How do you feel about I'm Outta Love now?
"15 years! Oh wow! I love I'm Outta Love, I love my first song. I was so lucky though. I don't have any songs that I don't love singing." 
Some artists disown their back catalogue – especially when they've had a long, successful career like yours – but you're still happy to get up and sing it, right?
(laughs) "Oh yeah! I'd never do a concert without doing I'm Outta Love EVER! Like, I think that would be career suicide. For me and my fans."
What do you think would happen if you skipped it on a tour?
"It would be like 'Whaaaaaaaaaa?' It's the song that defines the longevity of my career, that defines me.
"[Everyone] kind of just says 'It's the girl with the long blond hair'. Like, when videos were massive and played a milliton-teen times, everyone knew them."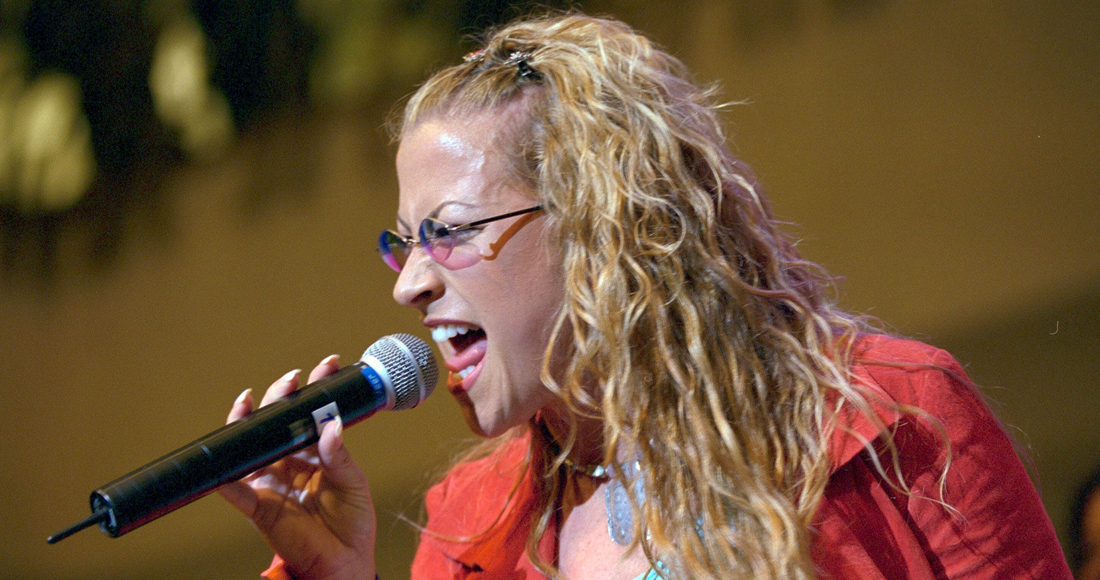 Here's Anastacia belting out I'm Outta Love on promo in 2000. (Jeon Schadeberg/REX)
It really was everywhere, wasn't it?
"It was! Everywhere, every place you went into – whether a baby store or… Ibiza! – it was 'I'm Outta Looooooooove' (she sings a bit to us, which is amazing; we can die happy now).
"It was just one of those songs that caught on and it was a great, great opportunity to have that as an artist and experience that crazy rise to fame, and it's also a song that resonates."
It's been 15 years… do you think it would still be a hit if it were released today?
"Yes, I don't doubt it, I don't doubt it at all.
"Maybe some of my songs wouldn't, not everyone but I definitely believe it would have today, now we're more internet savvy. It was just everywhere."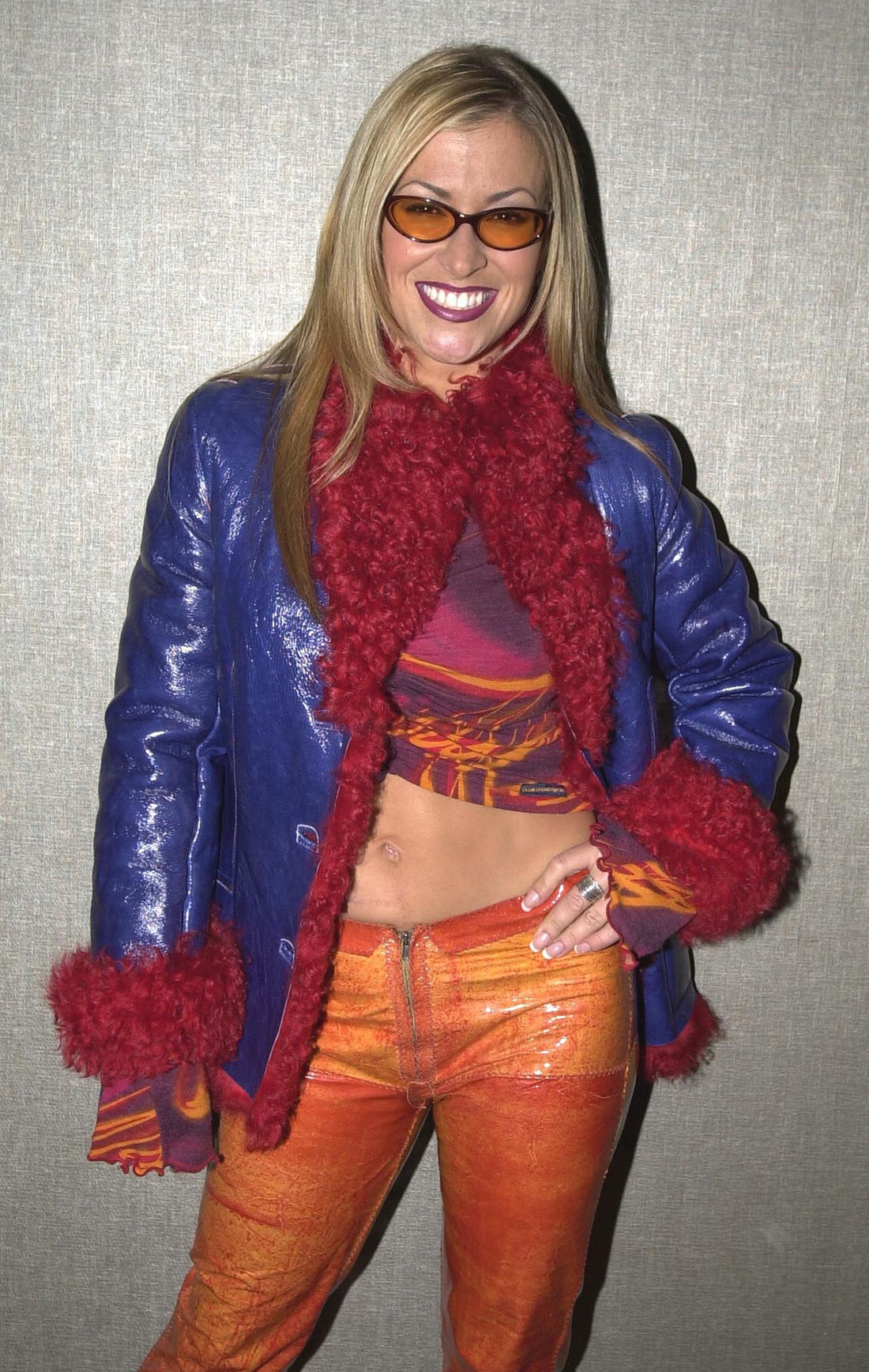 If you can find a more 2000 outfit than this, we don't even want to know. Amazing. (Everett/REX)
The song still has a lot of fans, doesn't it?
"It does! There was this young kid which came to a meet-and-greet and he was telling me how his mum played I'm Outta Love all the time and he goes 'I love that song!' and then he tries to sing it and was, like (mumbles lyrics) 'I'm outta love, sinner free, nah nah nah nah misery'.
"He knew the words but couldn't sing it. It was so sweet, this little English bloke who you'd think would be into, like, Jake Bugg and not me, but his mom's playing of it seeped into his brain enough for him to say, 'Oh I love that song'." 
I'm Outta Love was the first of 12 Top 40s for Anastacia, including three Top 10s (Left Outside Alone and Sick And Tired were the other two).
The track spent 12 weeks in the Top 40 and ended up peaking at Number 6. 
Anastacia is set to release a new album of her biggest hits and other favourites – Ultimate Collection is out in November.
MORE: Anastacia's Official Chart Archive
So Anastacia was all outta love and new at Number 7 – what was happening in the rest of the Top 10?
Click on the image to see the full Top 100 from this week in 2000: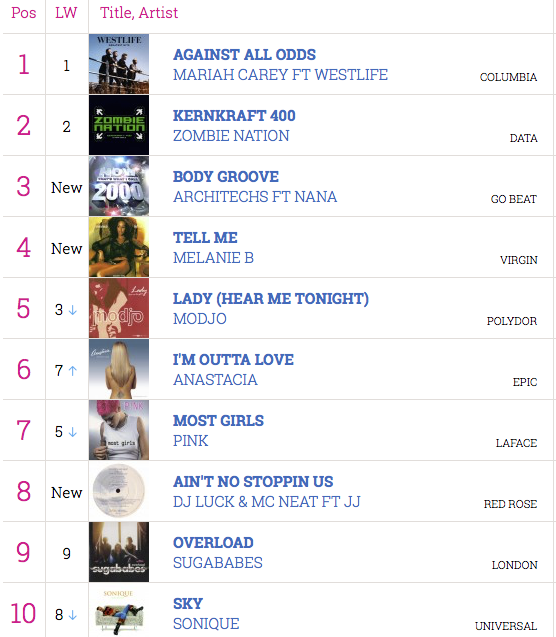 This time last year…
Jessie J, Nicki Minaj and Ariana Grande went straight in at Number 1 with a bang! Click on the image for the full Top 100 from today in 2014.